Publication Number: FHWA-RD-03-020
Date: August 2003

Highway Technology Calendar
The following events provide opportunities to learn more about products and technologies for accelerating infrastructure innovations.
Alkali-Silica Reactivity/Lithium Implementation Workshop
September 3, 2003, Los Angeles, CA
This workshop will provide participants with insight on testing, specifying, and using lithium compounds to curtail or prevent damage from alkali-silica reactivity (ASR) in new or existing concrete structures and pavements. The workshop will also provide a basic overview of ASR, including symptoms of ASR damage in field structures and pavements, mitigation approaches, test methods, and specifications.
Contact: Bob Sugar at the California Department of Transportation, 916-227-7294 (fax: 916-227-7242; email: Bob.Sugar@dot.ca.gov).
Eighth Annual Eastern Winter Road Maintenance Symposium and Equipment Expo
September 3-4, 2003, Manchester, NH
The symposium will feature environmental, safety, and operations tracks. Topics will include road weather information systems, environmental concerns and winter maintenance operations, and motor carrier regulations and their effects on operations. Event sponsors are the New Hampshire Department of Transportation, Federal Highway Administration (FHWA), University of New Hampshire Technology Transfer Center, and the Local Technical Assistance Program.
Contact: Deborah Vocke at FHWA, 410-962-3744 (fax: 410-962-3419; email: deborah.vocke@fhwa.dot.gov) or the Maintenance Bureau of the New Hampshire Department of Transportation, 603-271-2693 (fax: 603-271-6084).
International Conference on Highway Pavement Data, Analysis, and Mechanistic Design Applications
September 7-10, 2003, Columbus, OH
The forum will bring together engineers, researchers, and practitioners from State highway agencies, FHWA, academia, the private sector, and industry to exchange recent developments and findings on the structural performance of flexible and rigid pavements. Topics covered will include the validation, calibration, and implementation of mechanistic design procedures.
Contact: Herman Rodrigo at FHWA, 614-280-6850 (fax: 614-280-6876; email: herman.rodrigo@fhwa.dot.gov; Web: webce.ent.ohiou.edu/ICHP.html), or Bill Kenis at FHWA, 202-493-3149 (fax: 202-493-3086; email: bill.kenis@fhwa.dot.gov).
Fifth National Conferences on Asset Management
September 29, 2003, Atlanta, GA
October 21, 2003, Seattle, WA
Sponsored by the American Association of State Highway and Transportation Officials (AASHTO) Task Force on Asset Management and the FHWA Office of Asset Management, the event will include sessions on tools and technology, GASB 34, data integration, and local government experiences.
Contact: Ernie Wittwer, Sarah Brehm, or Jason Bittner at 608-263-2655 (email: wittwer@engr.wisc.edu; Web: gulliver.trb.org/conferences/asset).
Western Bridge Engineers' Seminar
October 5-8, 2003, Reno, NV
The seminar is a biennial cooperative effort by FHWA and the State transportation departments of Alaska, California, Idaho, Nevada, Oregon, and Washington State. It allows government agencies, consultants, contractors, educators, and suppliers to exchange information on subjects of current interest in the design, construction, and maintenance of bridges.
Contact: Jean Canfield, Conference Manager, at 360-943-7732 (fax: 360-357-9607; email: jeancassoc@msn.com).
Third International Symposium on HPC
October 19-22, 2003, Orlando, FL
Sponsored by FHWA and the Precast/Prestressed Institute, the symposium will address the research, design, construction, performance, and benefits of high-performance concrete (HPC).
Contact: Jerry Potter at FHWA, 202-366-4596 (email: jerry.potter@fhwa.dot.gov) or Lou Triandafilou at FHWA, 410-962-3648 (email: lou.triandafilou@fhwa.dot.gov).
World Steel Bridge Symposium and Workshops
November 19-21, 2003, Orlando, FL
The symposium will cover such focus areas as short and intermediate span bridges, accelerated bridge construction, innovative bridge designs, and inspection and maintenance. The event is sponsored by the National Steel Bridge Alliance and FHWA.
Contact: Darice Elam at the National Steel Bridge Alliance, 312-670-7011 (fax: 312-670-5403; email: elam@nsbaweb.org).
Asphalt Rubber 2003
December 2-4, 2003, Brasilia, Brazil
The conference will cover such topics as asphalt rubber binder properties, hot-mix properties, design guidelines, recycling, and performance modeling.
Contact: Consulpav International at ar2003@consulpav.com.
Fourth National Seismic Conference and Workshop on Bridges and Highways
February 9-11, 2004, Memphis, TN
The conference will provide a forum for exchanging information on current national and regional practices for designing seismic-resistant bridges and highway systems and retrofitting existing structures and highways. An International Forum will feature speakers from various countries that have implemented advanced earthquake design and mitigation technologies and approaches. A Technology Show and Information Display will also showcase innovative technologies for earthquake engineering.
Contact: Wendy Pickering at the University of Illinois, 217-333-2880 (fax: 217-333-9561; email: fourthphseismicconf@ad.uiuc.edu; Web: www.conferences.uiuc.edu/seismic).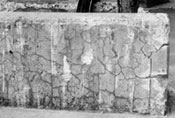 A new FHWA publication, Guidelines for the Use of Lithium to Mitigate or Prevent ASR, provides a detailed introduction to using lithium compounds to combat alkali-silica reactivity in concrete structures (see November 2002 Focus). Copies can be obtained from the: Federal Highway Administration R&T Product Distribution Center, HRTM-03
Email: Report.Center@dot.gov