Publication Number: FHWA-RD-03-014
Date: January/February 2003

Meet the New Mobile Asphalt Lab
The Federal Highway Administration's (FHWA) new and improved mobile asphalt laboratory will be hitting the road soon with an array of state-of-the-art technologies and the goal of promoting long life asphalt pavements for the 21st century.
The renovated trailer's tools will enable FHWA to better further develop and share new asphalt technology with State highway agencies. This new technology ranges from simple performance test equipment to rapid materials testing devices. "We'll be working with States to develop emerging technologies along with demonstrating them," says Leslie Myers of FHWA. This give-and-take of ideas and methods that the mobile lab facilitates can prolong the life and enhance the quality of highways, resulting in better safety and mobility for the motoring public.
Along with bringing new asphalt pavement technology directly to locations throughout the United States, the updated mobile lab's goals include:
Developing, testing, and evaluating Superpave performance prediction specifications.
Supporting State highway agency efforts to ensure high quality construction materials and practices.
Resolving issues related to the implementation of new pavement technology and construction specifications with transportation partners.
In addition, the validation activities to be performed by the mobile asphalt lab will help smooth the transition of State agencies and industry to using the forthcoming 2002 Pavement Design Guide developed by the American Association of State Highway and Transportation Officials. "The lab give States a preview of what they can start to do to begin using the Design Guide and how they can make implementation easier," says Myers.
Once a lab visit has been scheduled at the request of the State, the trailer will travel to the State's particular highway construction site, where lab staff will use the trailer's equipment to test local materials. After the site visit and lab tests, the staff will prepare a report for the State with feedback on the test results and will present it during a closeout meeting.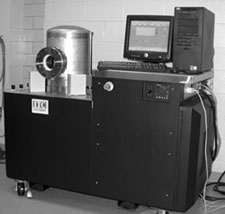 This photo shows the simple performance test equipment.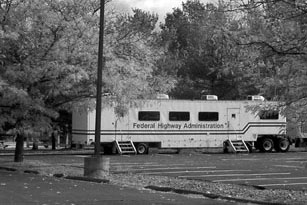 The mobile asphalt lab will start making site visits to States this spring.
New technology in the mobile lab includes simple performance test equipment that provides data for performance-prediction models and supports new pavement design procedures through advanced mixture characterization. Cutting-edge core specimen fabrication equipment is also included, featuring dual-bladed saws and a coring shaft that can be used to make correct-sized specimens for the simple performance test using a dry process (i.e., without the use of water). And an array of rapid materials testing technology includes video imaging equipment that can measure aggregate properties for both fine and coarse aggregates, as well as infrared detection equipment to determine saturated surface dry condition, aggregate absorption values, and apparent specific gravity.
Conventional hot-mix asphalt tests can also be run in the lab, including volumetric testing for Superpave mixtures and in-place density measurements. Advanced testing of performance-related specifications and other innovative contracting practices can be performed as well.
The revamped trailer will participate in the Rocky Mountain Asphalt conference to be held in Denver, Colorado, in February, as well as the World of Asphalt conference in Nashville, Tennessee in March. The trailer currently has invitations from the Arizona, Kansas, North Carolina, and Pennsylvania highway agencies for on-site activities starting in April. For more information on the mobile asphalt lab or to schedule a visit to your State, contact your local FHWA Division office or Resource Center, or Leslie Myers at FHWA, 202-366-1198 (email: leslie.myers@fhwa.dot.gov).