Publication Number: FHWA-RD-03-019
Date: July 2003

Structures Repair Goes Ultrasonic
To increase the safety and useful life of your steel bridges and steel traffic structures, consider going ultrasonic. Ultrasonic impact treatment (UIT) helps prevent fatigue cracking in welds and welded members of new bridges and structures by enhancing the geometry of the weld, introducing favorable compressive stresses, and relieving tensile stresses internal to the weld. Eliminating the fatigue cracking not only increases service life but reduces the overall lifetime cost of maintenance. UIT can also improve the performance of existing structures. Many in-service steel bridges and traffic structures were built before fatigue was understood and therefore have fatigue-prone details, such as cover plates and socket joints. Structure owners must continually monitor these details and often must retrofit them, which is costly and not always effective. Applying UIT minimizes the need for retrofits and extends the life of the structure.
UIT is performed using a hand tool that weighs approximately 8 pounds. This tool is attached to an electronic control box and water cooling system. Treatments can be applied under normal operating conditions, resulting in minimal or no traffic disruptions. UIT also produces little noise, as opposed to other weld treatments, such as hammer peening. The procedure can be carried out in approximately one-tenth the time needed for conventional retrofit procedures.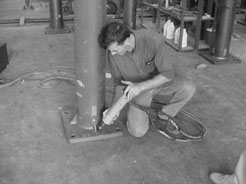 UIT is applied to a traffic signal mast arm.
The use of UIT can allow steel structure designers to employ fatigue-prone details that they would otherwise have to avoid, such as socket joints. UIT can be applied to the socket joint welds, for example, removing fatigue as a concern for that detail. As fatigue-resistant designs are more difficult to construct and more expensive, use of UIT can allow engineers to use more cost-effective designs that are still fatigue resistant.
UIT was invented in 1972 by Dr. Efim Statnikov and used by the Soviet Union in its Naval and Aerospace programs. The technology was first demonstrated in the United States in 1995. In 1996, William Wright of the Federal Highway Administration (FHWA) conducted tests using UIT on full size girder members at FHWA's Turner-Fairbank Highway Research Center in McLean, Virginia. This led to an FHWA-funded research program at Lehigh University, which has studied the effects of UIT on more than 23 full size structural beams. The work, which is also sponsored by the Pennsylvania Department of Transportation, is being performed by Dr. John Fisher. The results of the studies "conclusively demonstrate that the use of UIT technology significantly extends the fatigue life of various road and highway related structures," says Krishna Verma of FHWA. In 2002, FHWA extended the program's funding to cover further tests on the use of UIT on bridge structures employing advanced, high strength steels. "By increasing the fatigue categorization of the welds, designers can take greater advantage of the improved mechanical properties of the steel," says Verma. The Texas Department of Transportation (TxDOT) has also sponsored research at the University of Texas-Austin that examined the fatigue life improvement by UIT of socket joints, which are found on thousands of fatigue-prone traffic structures nationwide.
UIT has been tested on bridges in Georgia and Virginia. "These applications demonstrated that UIT could easily be applied not only in a manufacturing environment but also in the field as a standard maintenance and repair technique," says Verma. In Georgia, the technology was used on a highway bridge at Allatoona Lake that had been in service for 20 years. Numerous fatigue cracks had been found at the main girder beams. Repairs were performed by hole-drilling or welding, following by application of UIT. Some undamaged parts of the bridge were also treated with UIT to reduce the chances of future cracking. In follow-up monitoring, the Georgia Department of Transportation found that UIT had been effective in improving the fatigue performance of the weld repairs.
FHWA and individual State highway agencies have also sponsored demonstrations of the technology across the country. TxDOT is currently sponsoring a research program at the University of Texas that is testing fatigue treatments for traffic signal mast arms. The preliminary results, as reported at the 2003 Transportation Research Board Annual Meeting, show that when treated by UIT under dead-load conditions, mast arm socket joints can be improved by several fatigue categories. TxDOT plans to treat fatigue prone structures with UIT and is also looking into improving the fatigue life of new traffic structures.
To learn more about UIT, contact Krishna Verma at FHWA, 202-366-4601 (fax: 202-366-3077; email: krishna.verma@fhwa.dot.gov).
| | |
| --- | --- |
| | |
| UIT is performed using a hand tool that is attached to an electronic control box and water cooling system. | UIT can be carried out in approximately one-tenth the time needed for conventional retrofit procedures. |