Publication Number: FHWA-RD-03-019
Date: July 2003

Reducing Utility-Related Delays: A Resource Guide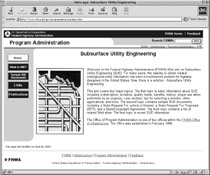 Highway construction projects are often delayed by problems with planning around and relocating utility lines. These delays are costly, time-consuming, and often unnecessary. A number of Federal Highway Administration (FHWA) resources provide guidance on reducing or avoiding these utility-related delays and the accompanying costs.
Avoiding Utility Relocations (Publication No. DTFH61-01-C-00024), a 2002 FHWA report, looks at methods for "designing around" utilities to avoid delays. These design strategies include making geometric and alignment changes and changes to drainage systems, such as moving storm drains, narrowing ditch widths, and adjusting flow lines. To successfully "design around" utility lines, however, highway agencies must know where they are. Subsurface utility engineering (SUE) can help provide this vital information. SUE uses surface geophysical techniques to identify the presence and approximate position of underground utilities. The utility lines can then be exposed so that precise measurements can be taken and other data collected. A recent study found that SUE typically costs less than 0.5 percent of the total project construction cost, saves more than $4 for every $1 spent, and may reduce project delivery time by as much as 20 percent. More information about SUE can also be found in an FHWA fact sheet, Subsurface Utility Engineering: Enhancing Construction Activities (Publication No. FHWA-IF-01-011), or by visiting the SUE Web site.
Avoiding Utility Relocations also looks at the importance of early communication and coordination among utilities and State highway agency staff. Early communication and cooperation allows highway planners to explore highway alignment alternatives prior to project design to avoid the need for major utility relocations. And when utility work cannot be avoided, the construction schedule for that work can be coordinated with the highway construction schedule, to reduce the disruptions to the public and prevent conflicts between contractors.
Strategies for greater communication, cooperation, and coordination (CCC) are explored in the FHWA video, CCC: Making the Effort Works! (see June 2002 Focus). The video looks at the efforts of such States as Georgia, Maryland, and Wisconsin to improve coordination among highway agencies and utility companies. A Viewing and Discussion Guide is also available for use with the video. This guide can be found on the Web at www.fhwa.dot.gov/programadmin/viewer.cfm.
For more information or to obtain copies of Avoiding Utility Relocations, the SUE fact sheet, or CCC: Making the Effort Works!, contact Roger McClellan at FHWA, 202-366-6765 (email: roger.mcclellan@fhwa.dot.gov).