Publication Number: FHWA-RD-03-018
Date: June 2003

Long-Life Concrete Pavements Deliver Quality and Durability
Highway agencies nationwide are realizing the goal of improved quality and durability for concrete pavements by implementing long-life concrete pavement technology, ranging from building extended life, continuously reinforced concrete pavements (CRCP) to employing precast, prestressed concrete panels.
In October 2002, for example, the Illinois Department of Transportation (IDOT) completed a 10-mi (16-km) reconstruction of Interstate 70 in Clark County. The project included new specifications for the use of extended life, 30-year CRCP pavement and high-performance concrete. IDOT's effort to develop a 30-year concrete pavement design had begun in 1997 and was then bolstered by State legislation passed in 1999. The legislation provided for a demonstration project that would include the awarding of 10 contracts utilizing pavements designed for a 30-year life cycle. The I-70 reconstruction was the first contract awarded under the demonstration project.
The $74 million reconstruction included 10 mainline and 1 overhead structures, 2 interchanges, and ramps and a parking lot for a rest area and weigh station. IDOT awarded the project on November 9, 2001, specifying a required completion date of October 31, 2002.
The pavement design consisted of 33-cm (13-in) of CRCP with a 15-cm (6-in) bituminous base course on 30-cm (12-in) of aggregate subbase. To produce a high durability concrete, the aggregate used was restricted to more durable freeze-thaw resistant sources. For the required 30-year design life, the freeze thaw rating expansion limit had to be less than 0.040 percent. The 30-year design specifications also required all tie bars and longitudinal bars to be epoxy coated to prevent corrosion. In addition, the project's specifications called for high-performance concrete to be used for reconstruction of the 11 bridges.
After paving, the pavement was cured for 7 days, versus the typical 3 days. During the curing period, no traffic was allowed on the pavement. The additional days of curing ultimately produced stronger concrete with reduced permeability, making the pavement more resistant to stresses, abrasions, winter freeze/thaw conditions, and deicers.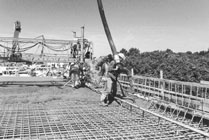 Concrete is poured for a bridge deck on I-70 in Clark County, Illinois.
Work on the project was completed 7 days ahead of schedule, resulting in incentive payments of $245,000. The project comes with a 5-year warranty for the pavements and bridges.
The Minnesota Department of Transportation, meanwhile, has been working to extend the life of its jointed plain concrete pavements. Since 2000, the DOT has been specifying a higher quality aggregate for some of its projects in the Twin Cities metropolitan area. This includes specifying stainless clad dowel bars and limiting the amount of limestone in the aggregate. Instead of a 35-year design life, which had been standard for Minnesota, specifications now call for a 60-year design. A typical design life is 10 to 20 years, so an increase to 30-35 years is quite good. By going even further, Minnesota's new specifications represent a leap ahead in the pursuit of longer life pavements.
In New York State, replacement of the heavily traveled Tappan Zee Toll Plaza in Tarrytown was accomplished using precast concrete pavement. The contractor, Yonkers Contracting Corp., used approximately 1,064 precast panels, which were 25-cm-thick (10-in) single plane slabs. The precast pavement slabs were supplied by The Fort Miller Co., Inc. Work began in October 2001 and was completed in July 2002. On a typical day, work would start at 10 a.m. Two-hundred and seventy- eight square m (3,000 square ft) of pavement would be removed and replaced with the precast panels by 5 p.m. A second shift, starting at 7 p.m., grouted the slabs previously installed. The road had to be reopened to traffic by 6:00 in the morning to avoid a penalty of $1,300 per minute for every minute after 6 a.m. that the plaza remained closed, up to a maximum penalty of $250,000 per day.
| | |
| --- | --- |
| | |
| Traffic is controlled for construction on Illinois Rt. 1 at the I-70 interchange. | Prestressed I-beams are set on eastbound I-70 over Big Creek. |
| | |
| --- | --- |
| | |
| Paving is done on eastbound I-70. | The Township Road Structure is raised over eastbound I-70. |
"Using the precast system allowed the Thruway Authority the ability to replace the toll plaza more quickly and without as much interruption to traffic," says Peter Smith of The Fort Miller Co., Inc. Other benefits of using the precast panels include the controlled concrete fabrication conditions, which resulted in greater quality control and a consistent, high- performance concrete replacement panel. "The owner also realized the benefit of putting in a quality repair that will last," says Smith. While the toll plaza project involved a complete replacement of the road, The Fort Miller Co., Inc., will carry out several projects for New York State Department of Transportation and other agencies this summer where precast concrete slabs will be used to rehabilitate certain sections of roadway. "We'll replace the bad spots with precast panels," says Smith.
The Federal Highway Administration (FHWA) and Michigan State University (MSU) will further investigate the use of precast panels for rehabilitation in a project this summer. Twenty precast concrete panels will be installed on sections of Interstate 675 near Zilwaukee, Michigan, and on Michigan Route 25 near Port Austin. "With this project, we hope to create a rehabilitation alternative that will increase construction speed, thereby decreasing road closure times and user delay and improving safety," says Neeraj Buch of MSU. One of the main challenges is that of dimensional tolerances. The dowel slots in the panel must be cut precisely. Also, the dowel bars in the precast panels must be spaced precisely or the result will be unacceptable rideability. The goal of the researchers is to streamline the installation process and provide guidance for States.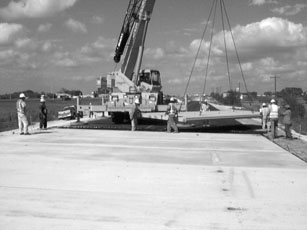 A full-width base panel of 11 m (36 ft) is placed on the northbound frontage road of Interstate 35 in Georgetown, Texas.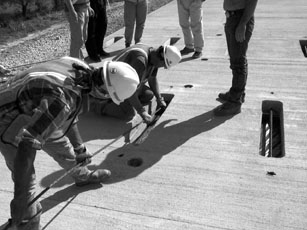 Post-tensioning strands are fed into the ducts at the pockets in the central stressing panels and fed by hand to the anchors in the joint panels as part of a pilot project in Georgetown, Texas.
The planned Michigan project builds upon a precast concrete pilot project in Georgetown, Texas, carried out last year by FHWA and the Center for Transportation Research at the University of Texas at Austin. Sponsored by the Texas Department of Transportation, the project involved replacing 700 m (2,300 ft) of pavement on the northbound frontage road of Interstate 35 (see July 2002 Focus). The project successfully demonstrated that precast concrete panels can be a preferable alternative to conventional construction methods.
For more information on the MSU project, contact Neeraj Buch at 517-432-0012 (fax: 517-432-1827; email: buch@egr.msu.edu). To learn more about Minnesota's long life concrete pavements, contact Curt Turgeon at the Minnesota Department of Transportation, 652-779-5592 (email: curt.turgeon@dot.state.mn.us). For more information on the Tappan Zee Toll Plaza project, contact Peter Smith at The Fort Miller Co., Inc., 518-695-5000 (email: psmith@fmgroup.com; Web: www.fortmiller.com). To find out more about IDOT's Interstate 70 project, contact Scott Lackey at IDOT, 217-466-7263 (email: LackeySA@nt.dot.state.il.us). For general information on long-life concrete pavement technology, contact Mark Swanlund at FHWA, 202-366-1323 (email: mark.swanlund@fhwa.dot.gov).