Publication Number: FHWA-RD-03-018
Date: June 2003

FHWA and FTA Roll Out Nationwide Tunnel Management System
The first nationwide tunnel management system (TMS) is now available in two new manuals jointly produced by the Federal Highway Administration (FHWA) and the Federal Transit Administration (FTA). The TMs also includes a software program that can be used by highway and transit tunnel owners to collect data on tunnel components.
The Highway and Rail Transit Tunnel Inspection Manual and Highway and Rail Transit Tunnel Maintenance and Rehabilitation Manual provide guidelines for inspecting, maintaining, and rehabilitating highway and rail transit tunnels. "FTA and FHWA developed the manuals to provide uniformity and consistency in assessing the physical condition of various tunnel features," says George Romack of FHWA. Assessing this condition is increasingly important, as many tunnels in the United States are now more than 50 years old and will likely require greater emphasis on maintenance and repair to extend their service life. Detailed in the manuals are best practices for maintenance and rehabilitation, which are designed to prolong the service life and reduce operating expenses of tunnels.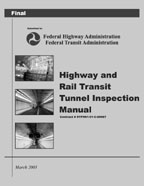 Included in the Tunnel Inspection Manual are definitions of major tunnel components and systems and descriptions of the fundamentals of tunnel inspection, including how to prepare for an inspection and record inspection results. Recommended safety practices are also included. Users will also find suggested standard forms for recording the structural condition codes noted during inspections. Inspection procedures are outlined for structural elements, mechanical systems, electrical systems, and other tunnel appurtenances, including specific defects to look for during inspection. Also included are recommended procedures to follow in the event that the inspection reveals defects that require immediate repair. Repair priority definitions are outlined so that inspectors can classify defects based on definitions for critical, priority, and routine classifications.
The Tunnel Maintenance and Rehabilitation Manual features recommendations for performing preventive maintenance on the tunnel structure, mechanical systems, electrical systems, track components, and other miscellaneous features. The manual also provides recommendations for making structural repairs to various types of tunnel liner materials, including how to slow, stop, or adequately divert water infiltration. A detailed section addresses the various structural repairs that can be made to concrete, such as repairing cracks and spalls. Included in the manual's Appendix is a general discussion of life-cycle cost methodology.
You can take tunnel management a step further with the TMs software program, which is designed to allow highway and transit tunnel owners to monitor the physical condition of various tunnel features. Used over a period of time, the software provides a tool for spotting trends in the performance of particular components of tunnel systems. The software also provides tunnel owners with online access to data documenting component conditions, such as condition ratings, sketches and photographs of defects, inspector comments, repair logs, and costs associated with repairs.
Electronic copies of both manuals and the software are available on the Transportation Asset Management Today Web site (assetmanagement.transportation.org). The site is sponsored by the American Association of State Highway and Transportation Officials, with support from FHWA and the Transportation Research Board. To download the manuals and software, click on "Tunnel Management Systems" and then "Reference." The Tunnel Management section of the Web site also contains articles and reference documents, a discussion area, and announcements of upcoming events, as well as a directory section listing names and contact information for those who have joined the Community of Practice.
For more information on the TMS manuals or software, contact Wade Casey at FHWA, 202-366-4606 (email: wade.casey@fhwa.dot.gov).