Publication Number: FHWA-RD-03-017
Date: May 2003

Pavement Preservation: A Call to Action
Ensuring that roads that are in good condition stay that way is the goal behind pavement preservation efforts nationwide. These efforts are paying off, but highway agency resources are often limited, slowing progress, and there is still much to be done. Recent surveys of road conditions show that 32 percent of major U.S. roads are in poor or mediocre condition. Driving on roads in need of repair, meanwhile, costs U.S. motorists $49 billion a year in vehicle repair and operating expenses. Improving these numbers and establishing a coordinated national pavement preservation research effort brought representatives from across the country together at a Pavement Preservation "Think Tank" meeting held in McLean, Virginia, in February. Attendees represented State highway agencies, industry, the American Association of State Highway and Transportation Officials (AASHTO), Transportation Research Board (TRB), and the Federal Highway Administration (FHWA), among others.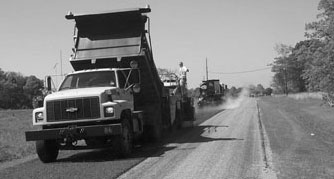 State and local highway agencies are applying more and more preservation treatments to their roads, such as the chip seal shown here.
The new initiative will build upon the work accomplished over the last 7 years by the AASHTO Lead State Team on Pavement Preservation, Foundation for Pavement Preservation (FP2), AASHTO Subcommittee on Maintenance, and FHWA Pavement Preservation Expert Task Group. This work has resulted in greater acceptance nationwide of the need for pavement preservation treatments. Some State highway agencies, such as North Carolina, for example, have created pavement preservation engineer positions. Highway agencies, trade associations, and members of academia have united to form the Midwestern Pavement Preservation Partnership to share knowledge and best practices in pavement preservation. And local agencies and municipalities are applying more and more preservation treatments to their roads to make their investment last longer.
Pavement preservation treatments may include various types of surface seals, thin lift overlays, and crack sealing for asphalt pavements. Treatments for concrete pavements might include crack and joint sealing, diamond grinding, and retrofit dowel bars. The key is to apply the treatments when the pavement is still in good condition, with no structural damage. Placing a treatment too late will result in poor performance, while applying treatments too early can cause other pavement problems and use up funds before they are needed. "Applying the right treatment to the right road at the right time allows highway agencies to get the most out of their maintenance dollars," says Jim Sorenson of FHWA.
Meeting participants noted that building on advances made to date and increasing awareness of the need for pavement preservation will mean addressing some critical issues. These include the need to:
Standardize mix designs and test procedures for pavement preservation treatments.
Provide clear definitions of what preservation is and how it differs from corrective and reactive maintenance.
Increase the amount of data and knowledge available on the performance of pavement preservation treatments. Guidelines are needed on what treatment to use, where to use it, and what the performance expectations are.
TRB's proposed Future Strategic Highway Research Program (F-SHRP) includes one project related to pavement preservation: "Integrating the 'Mix of Fixes' Strategy into Corridor Development." This project will identify current and next generation rehabilitation options and provide assessment tools on how to choose the optimal combination of solutions along a given corridor.
To augment the planned F-SHRP research and other current efforts, meeting attendees recommended that a national workshop be held to develop a comprehensive pavement preservation research program for the next 5 years. A proposal to hold such a workshop under the auspices of the National Cooperative Highway Research Program (NCHRP) 20-07 program is being developed for submission to the AASHTO Subcommittee on Maintenance.
"This meeting brought together the many organizations that have a stake in meeting current pavement preservation research, development, and technology needs," said Sorenson. "The meeting underscored the need and commitment required to implement an asset management philosophy through pavement preservation," noted Bill Ballou of Koch Pavement Solutions and President of FP2.
For more information on the NCHRP 20-07 proposal or pavement preservation activities, contact Jim Sorenson at FHWA, 202-366-1333 (fax: 202-366-9981; email: james.sorenson@fhwa.dot.gov) or Chris Newman at FHWA, 202-366-2023 (fax: 202-366-9981; email: christopher.newman@fhwa.dot.gov).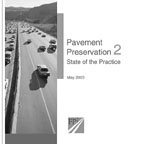 New Pavement Preservation CD Available
More than 50 technical documents are now available on a new CD to assist highway agencies with establishing or improving pavement preservation programs. Pavement Preservation 2: State of the Practice contains guidelines for State and local preventive maintenance programs. New and updated technical manuals on pavement evaluation and a variety of preventive maintenance treatments are included, as well as resources to assist with staff and public education. Eight State departments of transportation contributed documents from their pavement preservation programs to the CD, an update of the 2001 edition.
The CD was developed by the Foundation for Pavement Preservation (FP2), in cooperation with the Federal Highway Administration (FHWA), several State highway agencies, and industry associations. To obtain a copy, contact Bill Ballou of Koch Pavement Solutions and President of FP2 (email: balloub@kochind.com). To learn more about pavement preservation, contact your local FHWA division office or Steve Mueller in FHWA's Office of Asset Management, 202-366-1557 (fax: 202-366-9981; email: steve.mueller@fhwa.dot.gov). You can also visit the FHWA and FP2 Web sites at www.fhwa.dot.gov/preservation/ and www.FP2.org.