Publication Number: FHWA-RD-04-020
Date: November 2003

National Center for Pavement Preservation Opens in Michigan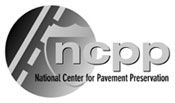 A new era for pavement preservation in the United States began on October 17, when the National Center for Pavement Preservation (NCPP) was dedicated at Michigan State University (MSU) in Okemos, Michigan. "The National Center for Pavement Preservation is a first and the only one in the world," said Bill Ballou, president of the Foundation for Pavement Preservation (FP2). "Over the coming years, this center will have the opportunity to reach each transportation owner agency with technical support for pavement preservation programs."
The center was founded by MSU, FP2, and the Federal Highway Administration (FHWA) to lead and coordinate collaborative efforts among government, industry, and academia to advance pavement preservation. Pavement preservation is a planned strategy of treating pavements at the optimum time to maximize their useful life, enhancing pavement longevity while lowering lifetime costs. The key to successful pavement preservation efforts is applying the right treatment to the right pavement at the right time. Treatments must be carefully selected and must be applied when the pavement is still in good condition, i.e., with no structural damage.
"The Nation's highways are valued at more than $1.75 trillion. As responsible stewards of the highway system, present and future generations cannot allow this investment to deteriorate," said King W. Gee, FHWA Associate Administrator for Infrastructure, at the dedication. "The FHWA has undertaken a greater focus on preservation philosophy to address the significant deterioration that has been occurring to the Nation's infrastructure. Preservation extends highway service life and provides smoother, safer, and more reliable roads."
The center will coordinate and administer fundamental and applied research on pavement preservation. It will also provide hands-on technical assistance and work with highway agencies and others on meeting training and education needs. The center's resources include a technical library of national studies, specifications, and treatment procedures.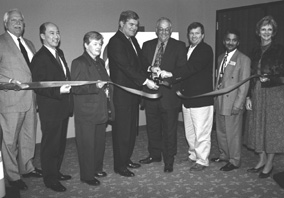 Participating in the October 17 ribbon cutting for the National Center for Pavement Preservation are, from left, Center Advisory Board chair James S. Moulthrop, Fugro-BRE, Inc.; King W. Gee, Associate Administrator for Infrastructure, FHWA; Lou Anna K. Simon, Provost and Vice President of Academic Affairs, MSU; David Porteous, MSU Board of Trustees; Bill Ballou, President, PF2, Rep. Rick Johnson, Michigan Speaker of the House; Ronald Harichandran, Chair, Department of Civil and Environmental Engineering, MSU; and Janie Fouke, Dean, College of Engineering, MSU.
"The opening of the NCPP brings together the resources for national level research and development in the preservation area," said Jim Sorenson, senior construction and system preservation engineer in FHWA's Office of Asset Management. The center has the long-term potential to help highway agencies at all levels support their pavement infrastructure investment, noted NCPP Director Larry Galehouse. "We will assist agencies in becoming more proactive and less reactive when addressing pavement needs, resulting in greater cost savings and satisfaction for the motorist," said Galehouse.
A Center Advisory Board will serve as a link between the NCPP and the pavement preservation community and will help determine priorities and direction for the center. For a list of board members, see sidebar.
For more information about the center and the assistance it can provide, contact Larry Galehouse at NCPP, 517-432-8220 (fax: 517-432-8223; email: ncpp@egr.msu.edu) or visit www.pavementpreservation.org.
National Center for Pavement Preservation Advisory Board
James S. Moulthrop, Senior Engineer, Fugro-BRE, Inc. (Chair)
King W. Gee, Associate Administrator for Infrastructure, FHWA
Gloria Jeff, Director, Michigan Department of Transportation
Rick Johnson, Speaker of the House, Michigan Legislature
Mike Buckingham, President, Strawser, Inc.
Gerry Eller, Principal, GLE Services
Jon Epps, Engineering Services Manager, Granite Construction, Inc.
Ronald Harichandran, Chair, Department of Civil and Environmental Engineering, MSU
Jean-Claude Roffe, Executive Manager, SIR/COLAS
Bill Temple, Chief Engineer, Louisiana Department of Transportation and Development