Publication Number: FHWA-RD-04-020
Date: November 2003

Moving Ahead with Context Sensitive Solutions in South Carolina
For the South Carolina Department of Transportation (SCDOT), the use of context sensitive solutions (CSS) is changing the way highway projects are developed and built. With CSS, the goals of ensuring safety and mobility when designing and constructing a road or bridge are enhanced by the aim to preserve environmental, community, scenic, and historic resources. Vital to the CSS approach is early and continuing stakeholder involvement and understanding of the existing landscape, neighboring communities, and the area's valued resources prior to designing the project.
A 3-day workshop held in October 2002 helped to advance the SCDOT's use of CSS. The hands-on workshop included representatives from SCDOT, the Federal Highway Administration (FHWA), South Carolina Department of Natural Resources (SCDNR), and the U.S. Fish and Wildlife Service. The South Carolina Department of Health and Environmental Control and the State's Department of Archives and History and Office of Coastal Resource Management also participated in the event. FHWA and SCDOT jointly developed and funded the workshop in a cooperative effort with the SCDNR. The SCDNR was fully involved in the development of the workshop and has become a big proponent of CSS.
Using existing and planned SCDOT projects as examples, workshop participants discussed how to apply CSS principles. The information gained from the workshop will be used as these projects move forward in the development process.
"The CSS workshop was very helpful," says Wayne Hall, Assistant Environmental Manager for SCDOT. "With CSS, you're usually looking at multiple features of a project. Instead of just having the vehicular perspective, the workshop opened it up to other agencies so that we had a more broad-based perspective. It was a good venue to get feedback from everyone, including planners, resource and regulatory agency staff, and environmental staff." It was also "a real eye opening experience to hear what the resource agencies had to contribute in terms of data and information about the affected environment," adds Patrick Tyndall of FHWA's South Carolina Division Office.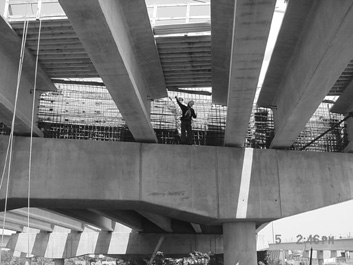 SCDOT is using context sensitive solution for its Cooper River bridge project in Charleston.
SCDOT is incorporating CSS elements into its Cooper River bridge project in Charleston (see September 2003 Focus). For example, the agency has been working to reduce the potential effects of the bridge's lighting on loggerhead turtles. Nesting loggerheads lay their eggs on beaches and then find their way back to sea by following the moonlight or starlight, which until modern times were the brightest lights in the sky. Loggerhead hatchlings, meanwhile, instinctively head off toward the brightest light. SCDOT has implemented a variety of measures to reduce the potential effects of the bridge lighting on the turtles. These measures include the elimination of overhead sign lighting in favor of high-grade reflective sheeting, elimination of high mast lighting at two interchanges in favor of short mast directional lighting, reduction in lighting system wattage from 1000 watts to 250 watts per bulb, and the installation of a lighting control system that will allow aesthetic lighting on the bridge's towers and cable system to be turned off at strategic times. The reduced lighting will not only aid the turtles, but will help to alleviate concerns about interference with the paths of migratory birds.
Since the October 2002 CSS Workshop, the SCDOT has been busy integrating CSS principles into its project development process. Several new initiatives have resulted:
SCDOT has established a CSS working group that has identified several pilot projects where CSS can be implemented.
The CSS working group is also developing an engineering directive for all SCDOT projects, which will require that CSS be considered during the planning process.
SCDOT has revised its Highway Design Manual to include a section on Context Sensitive Design Principles.
SCDOT has a new policy where accommodations for bicycles and pedestrians are included on all new projects and projects already designed are reexamined to see if bicycle/pedestrian accommodations can be added.
The agency has also developed and implemented a new Public Involvement Process that requires a Public Involvement Plan for all significant projects.
FHWA has several new initiatives underway designed to advance the understanding and adoption of context sensitive solutions (CSS) concepts.
Working with the Institute of Transportation Engineers and the Congress for New Urbanism, FHWA is developing CSS design criteria for major urban streets. The guidance will focus on designing streets that are compatible with the surrounding landscape and activity and that provide safety and mobility for drivers, as well as those that live or work nearby.
Another resource now in development is a CSS Web site that will serve as a comprehensive source of information, including case studies, policies, and training opportunities. The Web site is being developed in cooperation with the American Association of State Highway and Transportation Officials, Federal Transit Administration, Project for Public Spaces, and the National Association of City Transportation Officials.
For more information, contact Seppo Sillan at FHWA, 202-366-1327 (email: seppo.sillan@fhwa.dot.gov).
For more information on the use of CSS in South Carolina, contact Wayne Hall at 803-737-1872 (email: halljw@scdot.org) or Patrick Tyndall at 803-765-5460 (email: patrick.tyndall@fhwa.dot.gov). For general information on CSS, contact Seppo Sillan at FHWA, 202-366-1327 (email: seppo.sillan@fhwa.dot.gov) or Harold Peaks at FHWA, 202-366-1598 (email: harold.peaks@fhwa.dot.gov). Information is also available online at www.fhwa.dot.gov/csd/index.htm.
Context sensitive solutions (CSS) is a collaborative, interdisciplinary approach to involve all stakeholders in the development of a transportation project. This involvement ensures that the project fits its physical setting and preserves scenic, aesthetic, historic, and environmental resources, while maintaining safety and mobility. Often previously referred to as context sensitive design (CSD), the term "CSS" reflects the broad applications of the context sensitive approach. The CSS approach considers the total context within which a transportation improvement project will exist. It also focuses on providing an early and clear statement of purpose and need for a project and then addressing equally such considerations as safety, mobility, aesthetic characteristics, historical and cultural resources, and environmental and other community values.