Publication Number: FHWA-RD-04-020
Date: November 2003

LTPP Program Introduces New Distress Identification Manual
The fourth version of the Distress Identification Manual for the Long-Term Pavement Performance Program (Publication No. FHWA-RD-03-031) is now available, providing expert guidance on identifying and describing cracks, potholes, rutting, spalling, and other pavement distresses.
The manual is divided into three sections that focus on asphalt concrete (AC), jointed concrete pavements (JCP), and continuously reinforced concrete pavements (CRCP). These three sections contain photos of the various pavement distresses, ranging from fatigue cracking to joint seal damage to scaling, each clearly labeled and described. Ten years of practical experience gained using the previous version of the manual are reflected in the new edition, which incorporates many refinements and changes.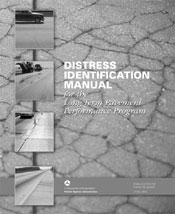 The Distress Identification Manual was originally issued in 1987 to provide a consistent, uniform basis for collecting distress data for the new Long-Term Pavement Performance (LTPP) program. Since 1987, the LTPP program has partnered with States and Provinces on a series of long-term field experiments monitoring more than 2,400 asphalt and portland cement concrete (PCC) pavement test sections across the United States and Canada. The information gathered will allow pavement engineers to design better, longer-lasting roads.
"About half of all States use the Distress Identification Manual to some extent, with many of them getting the most use out of the distress definitions section," notes Bill Bellinger of FHWA. "It is an excellent reference."
The manual can also play an important role in a highway agency's pavement management program by helping to standardize the terminology used in pavement management reports. And colleges and universities can use it as a pavement distress dictionary for highway engineering courses.
The publication's appendixes include a "Manual for Distress Surveys," which contains guidelines on collecting LTPP data and sample data collection sheets. Also included is a "Manual for Faultmeter Measurements," which describes how to use the Georgia Digital Faultmeter. The faultmeter is a hand-held device that measures faulting-the vertical displacement at joints-in PCC pavements and the drop-off between the pavement surface and the adjacent shoulder surface.
The new Distress Identification Manual can be downloaded from the LTPP Web site at www.fhwa.dot.gov/publications/research/infrastructure/pavements/ltpp/reports/03031/. Printed copies are available from the FHWA Research and Technology Report Center at 301-577-0818 (email: Report.Center@fhwa.dot.gov). Copies will also be distributed at the Transportation Research Board Annual Meeting in January 2004. For more information, contact Bill Bellinger at FHWA, 202-493-3156 (email: william.bellinger@fhwa.dot.gov).