Publication Number: FHWA-RD-04-019
Date: October 2003

Awards Honor the Best and Brightest in Highway Quality
Innovations in highway quality from Arizona to New Jersey were honored in September in Minneapolis, Minnesota, at the presentation of the National Partnership for Highway Quality's (NPHQ) 2003 National Achievement Awards. "NPHQ encourages the use of quality practices that will usher in a new era of roadway investment and performance to improve safety and service for highway users," says NPHQ Executive Director Bob Templeton. "It was clear that from design to delivery, the 2003 winners raised the bar in key quality areas."
NPHQ's National Achievement Award went to the New Jersey Department of Transportation (NJDOT), J.H. Reid General Contractor, and Parsons Brinckerhoff-FG, Inc., for their work on the US Route 9 Bridge over Nacote Creek. New Jersey faced the challenge of replacing a deteriorated 76.2-m (250-ft) drawbridge built in 1922 with a new five-span, 152.4-m (500-ft) bridge. The new bridge has a 7.62-m (25-ft) vertical clearance and two new approach roadways. To achieve a high-quality product, NJDOT used the Load and Resistance Factor Design method, as well as high-performance concrete for the prestressed beams. Nontoxic composite materials were used for the bridge's fender system, which protects the bridge from collisions. "Multiple hallmarks of quality distinguished this project, including stringent internal quality reviews," noted Templeton. "As an outcome, there were only two change orders executed during construction, both the result of unforeseen ground conditions where piles were to be driven."
| | |
| --- | --- |
| | |
| NJDOT used the Load and Resistance Factor Design method to construct the new US Route 9 Bridge over Nacote Creek. | The new bridge over Nacote Creek has a 7.62-m (25-ft) vertical clearance and two new approach roadways. |
The Michigan Department of Transportation (MDOT), Nagel Construction Company, and the URS Corporation won Special Recognition for a Small Project for the reconstruction of the 28th Street at Broadmoor Avenue intersection in Grand Rapids and Kentwood. This intersection ranks as one of the most congested in West Michigan, with 85,000 vehicles using it daily. Careful planning was required to limit the project's impact on traffic flow and the many shopping centers and other businesses in the area. MDOT worked closely with all the stakeholders on designing a project staging plan, studying area utility lines, and planning alternative routes, among other tasks. An accelerated construction schedule included 20-hour work days, 6 days a week. The project came in at $154,000 under budget and opened to traffic 12 days ahead of schedule. "The team worked around the clock to get the work done well and as efficiently as possible," said Suzette Peplinski, manager of MDOT's Transportation Service Center in Grand Rapids.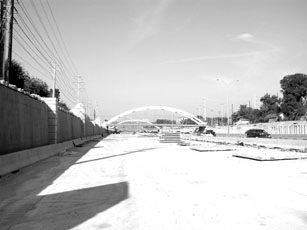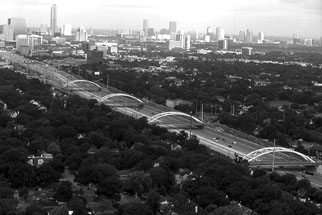 The Houston Gateway project replaced four bridges spanning the US 59-Southwest freeway.
Special Recognition for a Structure Project was awarded to the Texas Department of Transportation (TxDOT) and Williams Brothers Construction Company for their US 59-Southwest Freeway initiative, known as the Houston Gateway. The project widened nearly a mile of the below-grade freeway, which runs to and from downtown Houston and has an average daily traffic count of 241,000 vehicles. As part of the project, four bridges spanning the freeway had to be replaced. The steel for new tied-arch bridges was constructed in place over the existing bridges and then each old bridge was demolished using controlled explosions on five separate weekends.
The National Partnership for Highway Quality (NPHQ) brings together State, Federal, and highway industry leaders to encourage the use of quality practices that will improve safety and service for highway users. Members include the Federal Highway Administration, American Association of State Highway and Transportation Officials, American Public Works Association, Foundation for Pavement Preservation, National Institute for Certification in Engineering Technologies, and a number of roadway construction trade associations.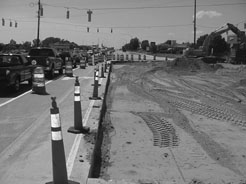 This photo shows the reconstruction of the 28th Street at Broadmoor Avenue intersection in Grand Rapids and Kentwood, Michigan.
The $36.5 million reconstruction was completed 30 days ahead of schedule with a cost savings of $420,000, despite encountering such hurdles as Tropical Storm Allison. The storm dumped more than 38 inches of rain in one weekend, filling the freeway with an estimated 100 million gallons of floodwater from Houston's bayous. The project team met the challenge and had the freeway cleared, cleaned, and reopened in time for the Monday morning rush hour.
The Arizona Department of Transportation; Sundt Construction, Inc.; and the URS Corporation received the Gold Award for their US 93-Boulders Reconstruction Project. The team's task was to widen 12.06-km (7.5-mi) of this narrow, winding roadway, which travels through Mohave Desert terrain, from a two-lane road to a four-lane divided highway. One of the project's hallmarks was environmental stewardship: nearly 20,000 cacti and other flora were salvaged, preserved in nurseries, and replanted after the construction work was done. Almost 3,000 boulders in the area were also salvaged and replaced by the project team. Extensive accommodations were also made for wildlife: the Desert Tortoise, for example, had its own protection and mobility plan during construction.
Also a Gold Winner were the Maryland State Highway Administration, IA Construction, and the Wilson T. Ballard Company for the Canal Parkway Project in Cumberland. The $48 million, two-lane parkway extends for 2.9-km (1.8-mi) and has opened access to the region, sparked public and private investment in Cumberland, and solved a 60-year bottleneck of traffic. Partnerships were key to the project's success, with stakeholders including the National Park Service, CSX Transportation, the U.S. Army Corps of Engineers, City of Cumberland, and the Canal Place Preservation and Development Authority. The project finished on time and under budget, while incorporating such context-sensitive design elements as the construction of a bicycle and pedestrian trail.
Five State winners were also honored at the awards ceremony (see sidebar). For more information on NPHQ or the 2003 awards, contact Bob Templeton at 512-301-9899 (fax: 512-301-9897; email: btemplenphq@aol.com) or visit www.nphq.org.
NPHQ State Award Winners
Georgia Department of Transportation; Shepherd Construction Co., Inc.; and E.R. Snell Contractor, Inc., for the I-285 Resurfacing Project.
Kentucky Transportation Cabinet; Hinkle Contracting; Central Rock Mineral, Co.; and H.W. Lochner, Inc., for the Reconstruction of Paris Pike.
North Carolina Department of Transportation and the S.T. Wooten Corporation for the White Oak River Bridge Replacement.
Ohio Department of Transportation, the Kokosing Construction Company, and Parsons Brinckerhoff Ohio, Inc., for the Interstate 70 Reconstruction.
Oregon Department of Transportation and J.C. Compton, Inc., for the Oregon 99W Brutscher Street to Main Street Project in Newberg.