Publication Number: FHWA-RD-04-019
Date: October 2003

FHWA Bridge Management Information Lab: Making the Most of the Nation's Bridge Data
The sudden catastrophic collapse of the Silver Bridge connecting Point Pleasant, West Virginia, and Kanauga, Ohio, in 1967 focused the Nation's attention on the deterioration of the national bridge network. To improve safety and stem the tide of deterioration, the Federal Highway Administration (FHWA) established the National Bridge Inspection Program in 1970. The program requires State highway agencies to inspect their bridges every 2 years and submit the inspection results to FHWA, where they are maintained in the National Bridge Inventory (NBI) database.
The NBI data provides the most comprehensive multi-year source of network level composition and condition information for U.S. highway bridges. However, despite the great potential for research and analysis offered by the NBI database, it has not always been easy for bridge engineers and other interested parties to readily access the data.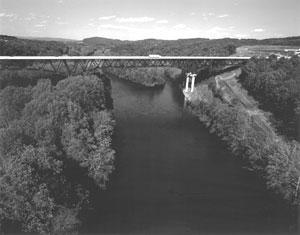 The National Bridge Inventory provides the most comprehensive multi-year source of information abou the composition and condition of U.S. highway briges.
To facilitate access to the NBI and other bridge data, as well as establish a place for objective research, FHWA created the Bridge Management Information Systems Laboratory (BMISL) in 1994. The lab's objectives include:
Examining all sources of bridge system information
Identifying causes of deficiencies in the bridge network
Conducting data mining and data analysis to identify bridge materials and their deterioration patterns
Conducting research to enhance bridge management decision making
Developing tools for disseminating useful bridge-related information.
Recent lab activities have included developing statistical models for predicting and analyzing bridge deteriorations and testing the application of artificial intelligence to improve the bridge management decision-making process. Data collection and integration activities are ongoing, as is the development of a repository for geotechnical, environmental, climatic, and other bridge data. "By integrating disparate data sources and applying the tools developed, new insights, understanding, and knowledge about the Nation's bridges are being created," says Steve Chase, Technical Director for Bridges in FHWA's Office of Infrastructure Research and Development.
Upcoming Focus articles will highlight these data mining and analysis and bridge management research activities, as well as products that have been developed to help State highway agencies and others tap into the lab's storehouse of data, so stay tuned. For more information about the BMISL, visit www.tfhrc.gov/bmis/.