Publication Number: FHWA-HRT-04-024
Date: April 2004

National Work Zone Awareness Week 2004: Drive for Safety
How would you like it if someone drove through your office? The Federal Highway Administration (FHWA), American Traffic Safety Services Association (ATSSA), American Association of State Highway and Transportation Officials, and other partners will kick off National Work Zone Awareness Week (NWZAW) on April 6 by asking that question at a media event in Springfield, Virginia. FHWA Administrator Mary Peters will speak from a desk located next to Interstate 95, reminding motorists that roadways are workplaces for thousands of employees. "We're asking drivers to remember that most of us get to work in a safe environment, but for thousands of men and women, their office is the highway," says Ann Walls of FHWA's Office of Safety.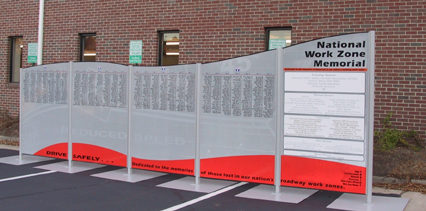 This photo shows the National Work Zone Memorial on display at the Stafford County, VA, courthouse in 2003.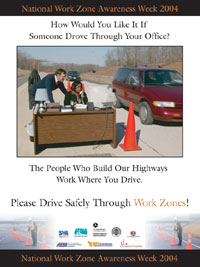 In 2002, 1,181 people were killed in motor vehicle crashes in work zones and more than 52,000 people were injured. Since 1997, work zone fatalities have increased more than 55 percent. "It's not just workers who are at risk," says Walls. "Four out of five work zone fatalities are drivers and passengers."
The National Work Zone Memorial will be on display at the April 6 event. Created by ATSSA, the portable Memorial is inscribed with the names of 824 people who lost their life in work zones. Since 2001, the Memorial has visited 18 States and the District of Columbia, raising public awareness of the need to travel cautiously through work zones. "Everywhere that it goes, people stop and talk about it and ask questions. It helps keep the issue of work zone safety in the public eye year round," says Jim Baron of ATSSA.
The Memorial visited Phoenix, Arizona, at the end of March and was featured in a ceremony at the State Capitol on March 23. The Arizona Department of Transportation (ADOT) will then kick off NWZAW 2004 on April 2 with a presentation at an elementary school in Phoenix explaining work zones and their dangers. On April 3, ADOT employees will participate in a Safety Fair at a local mall. Arizona's NWZAW events will culminate with a news conference in Phoenix on April 5, bringing together representatives from the Governor's office, State highway department, State police, FHWA, local contractors, and the traffic services industry.
In Connecticut, the Connecticut Department of Transportation will spotlight NWZAW at a press conference on April 2 with Lieutenant Governor M. Jodi Rell. Connecticut is also launching a new work zone safety campaign, "Slow Down for Them or You Will Stop for Us."
Meanwhile, the Virginia Department of Transportation (VDOT) will call attention to the dangers of traveling through work zones at press conferences in many of its nine districts during NWZAW 2004. VDOT workers will also hand out work zone safety information at all of the State's rest areas and, in conjunction with the Virginia Road and Transportation Builders Association (VRTBA), will visit high school driver education classes across the State to conduct work zone safety training. "It means more hearing the message from someone who faces the dangers everyday than from a teacher who lacks the experience of being in a work zone," says David Rush of VDOT. Last year, this effort reached 5,000 high school students, with VDOT and VRTBA aiming to increase that number to 10,000 this year.
Virginia is also planning the construction of a VDOT Workers' Memorial, which will commemorate the 96 State highway transportation workers killed on the job since 1927. The Memorial will be located off of I-64 near Afton Mountain. To learn more about the Memorial, visit www.virginiadot.org/infoservice/is-worker-memorial.asp.
For more information about NWZAW 2004 or FHWA's work zone safety initiatives, contact Ann Walls at FHWA, 202-366-6836 (email: ann.walls@fhwa.dot.gov), or visit http://safety.fhwa.dot.gov/wz/. To learn more about the National Work Zone Memorial, contact Vicki Lindberg at ATSSA, 540-368-1701, ext. 150. For more information on work zone safety efforts across the country, visit the National Work Zone Safety Information Clearinghouse at wzsafety.tamu.edu.