Publication Number: FHWA-HRT-04-027
Date: July 2004

LRFD: Achieving Greater Reliability and Service for Bridges
Call it the LRFD revolution. At least 46 States have fully or partially implemented the Load and Resistance Factor Design (LRFD) Specification for bridges, or are working with the Federal Highway Administration (FHWA) to develop LRFD implementation plans. This represents a giant leap from last year, when about half of States had not yet begun LRFD implementation.
The First Edition of the LRFD Specification was published by the American Association of State Highway and Transportation Officials (AASHTO) in 1994, as an alternate to the Standard Specifications for Highway Bridges. It incorporates state-of-the-art analysis and design methodologies for bridges with load and resistance factors based on the known variability of applied loads and material properties. The load and resistance factors are calibrated from actual bridge statistics to ensure a uniform level of safety. "With LRFD, you know what you're getting. There's greater reliability and a more uniform factor of safety," says Firas Ibrahim of FHWA's Office of Bridge Technology. "After using LRFD, States will find that their new bridges will result in either cost savings or cost increases, depending on the bridge geometrics and types, because of the unreliable and inconsistent factor of safety resulting from the old Standard Specifications. However, the more uniform service levels and bridge reliability should ensure superior serviceability and long-term maintainability for bridges."
AASHTO, in concurrence with FHWA, has set a deadline of October 1, 2007, for full LRFD implementation by all States. After this date, States must design all new bridges according to the LRFD Specifications. According to a 2004 AASHTO Oversight Committee survey, 12 States have already fully implemented the specifications. Another 34 States have partially implemented LRFD or are in the stage of developing implementation plans and designing pilot projects. To assist States in making the transition, FHWA is providing a range of resources, including:
A team of structural, geotechnical, and research engineers who can meet with individual States and provide guidance in developing a State-specific LRFD implementation plan.
A model State implementation plan.
An LRFD resources list (including training courses, design examples, books, and software).
Three LRFD Design Workshops (two for concrete and one for steel).
Two comprehensive LRFD steel and concrete bridge design examples (deck to foundations).
One LRFD steel girder design example in accordance with the Third Edition of the LRFD Specifications.
>An "Office Demonstration Project" to assist agencies with technical needs, such as completion of trial designs, interpreting Specification sections, "on the spot" training, and interpreting the results of different designs.
FHWA is developing two detailed training courses on using LRFD for substructures/foundations and superstructures. The substructure course will be available through FHWA's National Highway Institute (NHI) by the end of 2004, with the superstructure course available from NHI in 2005. FHWA will also be developing LRFD steel curved girder design examples and a training workshop, which will be available in early 2005.
An obstacle to full LRFD implementation had been the geotechnical and foundations sections of the LRFD Specifications that address shallow and deep foundations, and earth retaining structures. "This impediment, although part reality and part perception, has now been overcome through a combination of NCHRP, AASHTO, and FHWA activities that have largely resulted in a complete rewrite that provides design and construction Specification guidance that is practitioner based, comprehensive, and current for geotechnical features," says Jerry DiMaggio of FHWA's Office of Bridge Technology. The final piece of this effort is the recently completed rewrite of Section 10 of the LRFD Specifications, which will be officially proposed for AASHTO Bridge Subcommittee adoption at next year's AASHTO annual meeting. In the interim, several States have volunteered to perform comparative designs and assess the results, which will be used to refine the proposed section. "The completion of this final task means that the structural and geotechnical highway features can now be seamlessly designed using LRFD procedures," says DiMaggio.
The New Jersey Department of Transportation (NJDOT) has been using LRFD for all of its bridges since 2001. Its implementation efforts began about 2 years earlier with two pilot projects. The first project used LRFD for a steel superstructure in Newark, while the second employed the specifications on a prestressed concrete bridge on Route 9 over Nacote Creek in South Jersey. "Our original intent was to phase in the implementation, but the design and construction of the pilot projects went so well that we decided to go full bore on implementation," says Harry A. Capers, Jr., of NJDOT. "Using LRFD has resulted in more efficiently designed bridges, with cost savings of up to 8 percent."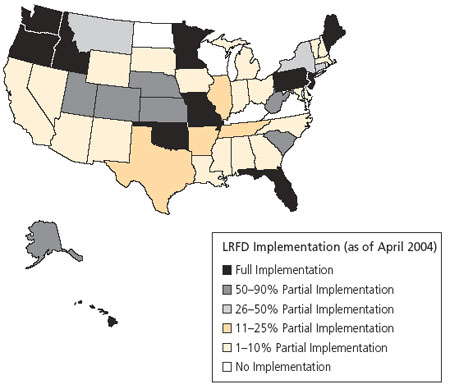 The Washington State Department of Transportation (WSDOT) established an in-house LRFD Implementation Steering Committee in 1994 and began providing LRFD training for its personnel in 1995. In 1995 and 1996, WSDOT began designing simple-span concrete superstructures using the LRFD Specifications. Since 1999, both superstructures and substructures for steel and concrete bridges have been designed using LRFD. "While there was a little bit of a learning curve, as our staff started using LRFD, they realized it was not so difficult. Now they are appreciating LRFD because it is so comprehensive and detailed. They see it as a powerful new design tool," says Jugesh Kapur of WSDOT. Washington State developed its own software, QConBridge and PGSuper, to perform LRFD live load analysis and design precast, prestressed concrete girders. These programs are available free of charge at www.wsdot.wa.gov/eesc/bridge/software. Implementation of LRFD has not negatively affected WSDOT's bridge design and construction costs.
In Pennsylvania, implementation of LRFD began about 7 years ago, with full implementation achieved over the last 2 to 3 years. The primary cost has been putting into place new LRFD software. "We use our own software, which cost several million dollars to develop and put in place," says Scott Christie of the Pennsylvania Department of Transportation (PennDOT). PennDOT has found that the new specifications provide more explanation of what's needed for a design, though Christie notes that the agency is still working on fixing some problems in using the specifications for substructures.
"Thanks to PennDOT and other States who pointed out this problem to FHWA and have been working with FHWA and the Technical Committee of AASHTO to fix the problem," says Ibrahim. "As a result, newly rewritten foundation specifications were developed and will be balloted by AASHTO in 2005. These new specifications represent a state-of-the-art foundation design practice that has never been done in the geotechnical area before."
The New York State Department of Transportation (NYSDOT) is using LRFD for about half of its bridges now. "We started implementation about 5 years ago. It has been a learning curve, but we are finding that the results are comparable to what we were achieving with the standard specs," says Art Yannotti of NYSDOT. "One advantage is that LRFD does provide better consistency in designs." New York also has not seen any difference in costs using LRFD.
For more information on LRFD or FHWA's LRFD resources, contact Firas Ibrahim at 202-366-4598 (email: firas.ibrahim@fhwa.dot.gov). Information is also available online at AASHTO's LRFD Bridge Specifications Web site (lrfd.aashtoware.org).