Publication Number: FHWA-HRT-04-027
Date: July 2004

Bridge System Preservation and Maintenance: Scanning for Innovation
The goal of learning more about bridge system preservation and maintenance processes and technologies used abroad brought an international technology scanning tour panel to Europe, Scandinavia, and Africa from March 28 to April 13, 2003. Sponsored by the American Association of State Highway and Transportation Officials (AASHTO) and the Federal Highway Administration (FHWA), the tour featured 10 participants representing AASHTO, FHWA, State and local transportation agencies, and academia. Participants met with highway agency representatives and bridge management and inspection technology practitioners and researchers from South Africa, Switzerland, Germany, France, Denmark, Sweden, Finland, Norway, England, and Wales. The tour also included site visits to observe preservation techniques and new construction practices intended to provide longer and more reliable bridge performance.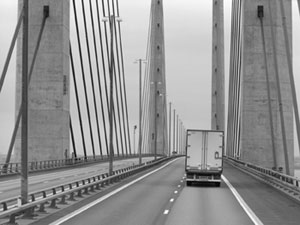 The Oresund Bridge and Tunnel connects Copenhagen, Denmark, and Malmö, Sweden.
While all of the countries visited had a smaller number of bridges than those found in the United States, the composition (types of materials, structural systems, and typical number and length of spans) and average age of their bridge populations were similar. Also, nearly every country was experiencing the same types of structure problems as are found in the United States, including problems with construction quality control, premature deterioration caused by corrosion, insufficient staffing and funding resources to maintain aging bridge populations, and increasing truck volumes and loads.
Among the innovations and best practices observed was bridge inspection frequency. The current practice in the United States is to inspect every highway bridge at least once every 2 years (although this inspection frequency can be increased to 4 years in some cases). In contrast, most of the countries visited during the scanning tour base their bridge inspection frequency interval on a risk-based approach that accounts for specific factors such as type of structure, condition, and age. For example, Germany has defined four levels of inspec-tion: superficial, general, major, and special. Superficial inspections, which are primarily a visual assessment, are performed by maintenance personnel every quarter. General inspections are performed every 3 years, while major inspections are conducted every 6 years. Special inspections are performed as needed to assess known deficiencies or damage. In France, the frequency and level of inspection vary with the condition of the structures, but typically range from 3 to 9 years. The 3-year inspections are more superficial, while indepth inspections are performed every 9 years.
"The more risk-based approach to bridge inspection frequency we observed abroad was one of the most striking aspects of the trip to me," says team member Tom Everett of FHWA's Office of Bridge Technology. "The countries we visited also tie required inspector qualifications to the complexity of the bridge being inspected, rather than taking a one size fits all approach." Team member Ron Young of the Alcona County Road Commission in Michigan also found learning about the differences in bridge inspection frequency and inspector qualifications to be one of the most valuable aspects of the trip. "There are a wide variety of bridge types and complexities, which were reflected in the different levels of inspection frequency and inspector qualifications," says Young. "The trip was an excellent source of ideas. I have since shared some of my experiences with other local highway agencies."
The scanning team has recommended conducting a study to determine the relative risk of extending the inspection frequency for typical bridge types in the United States and to then develop a rational method for determining the required frequency, associated rigor, and required level of inspector expertise for bridge inspections for different classifications of bridges.
The team also observed that both Finland and Switzerland are developing corridor-based bridge management systems. Finland is developing a network-level management system known as "Hibris," which will be capable of analyzing and evaluating bridge and pavement needs in an integrated environment. Performance and planning indicators, including a repair index and a rehabilitation index, are being designed for the system. Switzerland, meanwhile, has designed a system that will provide management tools for maintaining highway assets, including pavements, structures, and electromechanical systems. In contrast, most bridge management systems in the United States currently operate independent of other highway asset management systems. Recognizing the value in a corridor-based management approach, the scanning team has recommended that a study be initiated to evaluate and promote corridor-based management principles for bridge preservation and project decisions.
Another practice of particular interest to the scanning team was the use of bridge deck protective strategies, as bridge deck deterioration is one of the most costly aspects of maintaining this country's bridge inventory. Many European countries rely heavily on the use of waterproofing systems and membranes to provide protection for concrete bridge decks in order to retard and prevent deterioration. Typically, the membrane is then protected with a concrete or asphalt wearing surface. However, the primary practice in the United States has been to use other deck protection strategies, such as epoxy coated reinforcing steel and thicker concrete cover requirements, rather than waterproofing and membrane systems. The team has therefore recommended that a study be done to review U.S. and European practices and to compare the effectiveness of waterproofing and membrane systems to other deck protection approaches currently in use in the United States.
The team noted that several countries are making advances in concrete permeability evaluation technology. Switzerland, for example, has developed a vacuum-based method that pulls air through pores in the concrete member. As other countries, including the United States, are also conducting research and development studies on permeability testing, the scan team recommends that a more focused study be conducted to collect and assess information from a number of countries.
For more information on the scanning tour, contact George Romack at FHWA,  202-366-4606 (email: george.romack@fhwa.dot.gov), or Ken Hurst at the Kansas Department of Transportation, 785-296-3761 (email: kenh@ksdot.org). A scan report is expected to be released later this year.