Publication Number: FHWA-HRT-04-027
Date: July 2004

Steel Bridges: Partnering for Success
Improving the state-of-the-art for the design and construction of steel bridges brought 30 representatives from States, industry, and the Federal Highway Administration (FHWA) together in December 2003 for an inaugural partnership meeting at FHWA's Turner-Fairbank Highway Research Center in McLean, Virginia. "The main focus of the meeting was to get participants' ideas on how we can improve the design and construction of steel bridges, and the input received was very valuable," says Vasant Mistry of FHWA. The partnership is now paying dividends as participants collaborate on such activities as preparing a new design handbook.
Topics covered at the 1-day meeting included technology and research needs, technology transfer, high-performance steel (HPS), load and resistance factor design, corrosion protection, nondestructive testing, and steel bridge fabrication and erection.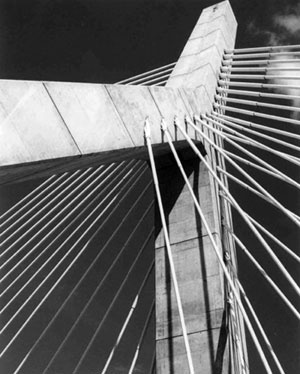 Innovative new steel bridges include the Leonard P. Zakim Bunker Hill Bridge in Boston, MA.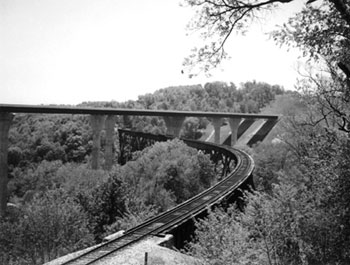 The Mingo Creek Viaduct in Washington County, PA
The need for further education for bridge engineers and designers emerged as a predominant theme at the meeting. To help bridge engineers better do their job, participants advocated for the development of a new design handbook for steel bridges that would cover everything from A to Z. FHWA is collaborating with the National Steel Bridge Alliance (NSBA) to make this goal a reality, and work on the new guide is underway. To further the collaborative effort, "we want to get specialists across the country involved in reviewing chapters of the new guide," says Mistry. The guide is expected to be available in 2006.
Meeting participants stressed the importance of accelerating bridge construction through such methods as prefabrication. Prefabricated bridge elements, ranging from small components such as deck panels to large spans, can be manufactured either on- or off-site, under controlled conditions, and brought to the construction location ready for installation. Using prefabricated elements can increase construction zone safety, minimize the traffic impacts of bridge construction projects, and improve constructibility. It can also reduce construction time from years to a matter of months or even days. To learn more about prefabricated bridge elements and systems, visit www.fhwa.dot.gov/bridge/prefab/. More information about accelerated bridge construction technologies is available at www.fhwa.dot.gov/bridge/accelerated/.
Participants also discussed technology transfer and research needs for HPS. Stronger and tougher than conventional steel, HPS also offers greater resistance to cracking. Although 42 States are now using HPS for bridges, participants noted that many still view HPS as experimental and that its use needs to be more widely publicized. To aid in technology transfer, a variety of material on HPS is now available on FHWA's Web site (www.fhwa.dot.gov/bridge/hps.htm), including a designer's guide, technical advisories, and information on welding and standards details/best practices.
FHWA is planning to hold a second partnership meeting later this year. "Attendees felt that the meeting was a very important start and that it was vital to keep the dialogue and the effort continuing," says Mistry. "Everyone agreed to work together more closely," noted Conn Abnee of NSBA. "The meeting was also useful in disseminating new ideas and techniques. There is particularly strong interest in the forthcoming new design handbook."
To learn more about the partnership meeting or steel bridge technologies, contact Vasant Mistry at FHWA, 202-366-4599 (email: vasant.mistry@fhwa.dot.gov).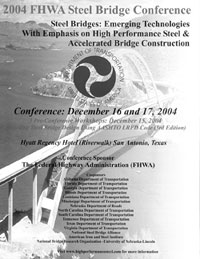 Emerging technologies will be the focus at the 2004 FHWA Steel Bridge Conference, to be held December 16-17 in San Antonio, Texas. Workshop sessions will particularly emphasize high-performance steel (HPS) and accelerated bridge construction, with such featured topics as the material characteristics of HPS, future plans for development of HPS, innovative methods for reducing construction time, and in-service inspection issues of bridges built with accelerated construction methods. Numerous case studies will also be featured. Three pre-conference workshops will be held on December 15:
Steel Bridge Design Workshop: Using 2004 AASHTO LRFD Bridge Design Specification
Accelerated Bridge Construction Workshop
Curved I-Girder Bridge Design Workshop.
For more information, contact Vasant Mistry at FHWA, 202-366-4599 (fax: 202-366-3077; email: vasant.mistry@fhwa.dot.gov), or Atorod Azizinamini at the University of Nebraska-Lincoln, 402-472-3029; (fax: 402-472-5178; email: atorod@highperformancesteel.com). Information is also available online at www.highperformancesteel.com.