Publication Number: FHWA-HRT-04-027
Date: July 2004

Balsi Beam Goes on Tour
Meet the new star of the summer road. Developed by the California Department of Transportation (Caltrans), the Balsi Beam is a mobile work protection system that uses a modified semi-trailer that is transported by a tractor (see January/February 2004 Focus). The system hit the road recently to visit numerous States on its way to and from the American Association of State Highway and Transportation Officials (AASHTO) Maintenance Conference in Bismarck, North Dakota. "We wanted to give States the opportunity to see the vehicle and find out more about it," says Jerry Jones of the FHWA Resource Center. "The tour allowed us to show it to the highway community and get feedback on how they see it being used."
Each side of the trailer consists of high-strength steel box section beams that are capable of extending an additional 3.6 m (12 ft). Using hydraulic power, each beam can rotate to either side (left or right), depending on which side of the road a protective barrier is needed. The trailer then extends to provide a 9.1-m (30-ft) secure work zone.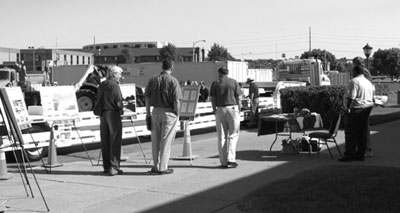 The Balsi Beam on display in Bismarck, ND.
En route to the AASHTO conference, the Balsi Beam visited Oregon, Washington, Idaho, and Montana in late June. In Washington State, for example, demonstrations were held in Vanouver, Olympia, and Seattle for Washington State Department of Transportation (WSDOT) and FHWA personnel. Members of WSDOT's Work Zone Safety Task Force attended the demonstration in Olympia. "We are very interested in finding better ways to protect our workers," says Pat Moylan of WSDOT. "We saw it being deployed and then the demonstrators showed us how to prepare the device for transport." Rose Willis of Caltrans notes that, "we got a variety of people at the demonstrations, including management, engineering, and maintenance staff. Attendees have talked to us about the various applications for the device, including night work, surveying, patching, and sign work."
In Oregon, demonstrations were held in Portland and Salem for Oregon Department of Transportation and FHWA staff. "The demonstration was very hands-on and informative. I think that everyone who saw the device was impressed and thought that it could provide some real tangible safety benefits," says Jeff Graham of FHWA's Oregon Division Office. "One area of interest was using it for bridge maintenance, as those workers are basically between the traffic and a bridge rail."
After being on display at the AASHTO Maintenance Conference from June 27-July 1, the Balsi Beam then made appearances in South Dakota, Nebraska, Wyoming, Colorado, Utah, and Nevada. "We're also hearing from other States who are interested in hosting demonstrations," says Chris Kundert of Caltrans.
To learn more about the Balsi Beam, contact Kris Teague at Caltrans, 916-227-9608 (fax: 916-227-9711; email: kris.teague@dot.ca.gov), or Sri Balasubramanian at Caltrans, 916-227-9600 (fax: 916-227-9711; email: balasubramanian@dot.ca.gov). For more information on the Balsi Beam tour, contact Jerry Jones at FHWA, 817-978-4358 (fax: 817-978-4666; email: jerry.jones@fhwa.dot.gov).