Publication Number: FHWA-HRT-04-026
Date: June 2004

Highway Technology Calendar
The following events provide opportunities to learn more about products and technologies for accelerating infrastructure innovations.
Second National HERS-ST Conference
August 19-20, 2004, Chicago, IL
The conference will provide practical assistance to highway agencies using the Highway Economic Requirements System-State Version (HERS-ST) software, as well as other agencies considering its use. HERS-ST is an engineering/economic analysis tool designed to evaluate the implications of alternative programs and policies on the conditions, performance, and user cost levels of highway systems.
Contact: David Winter at the Federal Highway Administration (FHWA), 202-366-4631 (email: david.winter@fhwa.dot.gov). More information and online registration is available at www.fhwa.dot.gov/infrastructure/asstmgmt/hersconf.htm.
Seminar on Design and Construction of Segmental Concrete Bridges
August 30-31, 2004, Orlando, FL
The seminar focuses on the design and construction of precast and cast-in-place segmental bridges constructed using the cantilever and span-by-span methods. Also addressed are cable-stayed bridges.
Contact: Cliff Freyermuth at the American Segmental Bridge Institute, 602-997-9964 (email: asbi@earthlink.net). Visit www.asbi-assoc.org for more information (select "Menu" and then "ASBI Events").
2004 National Hydraulic Engineering Conference
August 31-September 3, 2004, Asheville, NC
Conference topics will include hydrology, modeling, environmental issues, coastal engineering, stream stability, and scour. The event is sponsored by FHWA and the North Carolina Department of Transportation.
Contact: Cynthia Nurmi at FHWA, 404-562-3908 (email: cynthia.nurmi@fhwa.dot.gov).
Ninth Annual Eastern Winter Road Maintenance Symposium and Equipment Expo
September 8-9, 2004, Knoxville, TN
The symposium will feature best practices and new products and equipment for winter maintenance. Sponsoring the event are FHWA, the Tennessee Department of Transportation, and the Tennessee Transportation Assistance Program.
Contact: Mark Sandifer at FHWA, 708-283-3528 (email: mark.sandifer@fhwa.dot.gov). Information is available online at www.easternsnowexpo.org.
Second National Prefabricated Bridge Elements and Systems Workshop
September 8-10, 2004, New Brunswick, NJ
The workshop will look at how the use of prefabricated bridge elements and systems enables bridge owners, designers, and construction contractors to "Get in, Get out, and Stay out." The event is sponsored by FHWA, the American Association of State Highway and Transportation Officials (AASHTO), New Jersey Department of Transportation, and Rutgers University, in cooperation with the Midwest Transportation Consortium.
Contact: For information on registration or abstract submission, contact Hani H. Nassif at Rutgers University, 732-445-4414 (fax: 732-445-8268; email: nassif@rci.rutgers.edu). For information on scholarships available for State highway agencies, contact Harry A. Capers, Jr., at the New Jersey Department of Transportation, 609-530-2557 (fax: 609-530-5777; email: Harry.Capers@dot.state.nj.us). For general information on the workshop, contact Helene Cook at FHWA, 609-637-4230 (fax: 609-538-4913; email: helene.cook@fhwa.dot.gov). Information can be found online at www.fhwa.dot.gov/bridge/accelerated.
Structural Materials Technology: NDE/NDT for Highways and Bridges 2004
September 14-17, 2004, Buffalo, NY
Participants will learn about the state-of-the-art in nondestructive evaluation (NDE) and nondestructive testing (NDT) technologies. The event is sponsored by The American Society for Nondestructive Testing, Inc., New York State Department of Transportation (NYSDOT), Transportation Research Board (TRB), FHWA, and the Structural Engineering Institute.
Contact: Glenn Washer at FHWA,
202-493-3082 (fax: 202-493-3442; email: glenn.washer@fhwa.dot.gov), or Sreenivas Alampalli at the NYSDOT, 518-457-6827 (email: salampalli@dot.state.ny.us; Web: www.fhwa.dot.gov/bridge/smt.htm).
Second International Conference on Accelerated Pavement Testing
September 26-29, 2004, Minneapolis, MN
The conference will present research findings on accelerated pavement testing topics, including bridge decks, fatigue, instrumentation, performance, stabilization material, and permanent deformation. Conference sponsors include AASHTO, FHWA, the Minnesota Department of Transportation (Mn/DOT), TRB, and the University of Minnesota's Center for Transportation Studies.
Contact: Ben Worel at Mn/DOT, 651-779-5522 (fax: 651-779-5616; email: ben.worel@ dot.state.mn.us) or Kenneth Fults at the University of Texas, 512-232-3081 or 512-310-2933 (email: kenfults@yahoo.com). Information is available online at www.cce.umn.edu/engineering/accelerated_pavement.
Faster. Safer. Better. The Accelerated Construction Technology Transfer (ACTT) initiative is dedicated to better serving the highway community's customers through rapid adoption of new technologies and innovative practices. Initiated by the Transportation Research Board and now sponsored by the American Association of State Highway and Transportation Officials (AASHTO) and the Federal Highway Administration (FHWA), ACTT's goals include minimizing the impact of highway construction on motorists and surrounding communities by streamlining project schedules and containing costs, all while enhancing safety and improving quality. ACTT's activities and accomplishments to date are highlighted in a new ACTT Interim Report (Publication No. FHWA-IF-04-007) now available from FHWA and AASHTO.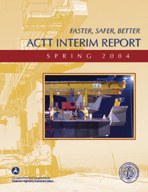 The report features details on two pilot ACTT workshops and six additional workshops that have been held since 2002 to apply the ACTT process to a specific corridor or project. At each workshop, a multidisciplinary team of national transportation experts collaborates with local agency professionals to evaluate all aspects of the project and deliver feasible recommendations for reducing roadway construction time. These recommendations are helping transportation agencies save time while reducing construction-related congestion and improving work zone safety.
The ACTT Interim Report is available online at the Accelerated Construction Technology Transfer Web site (www.fhwa.dot.gov/construction/accelerated/index.cfm). Also available is a final report on a September 2003 ACTT workshop held in Dallas, Texas, as well as general information on ACTT, articles and newsletters, and case studies. For more information about ACTT, contact Dan Sanayi at FHWA, 202-493-0551 (email: dan.sanayi@fhwa.dot.gov).