Publication Number: FHWA-HRT-04-023
Date: March 2004

Pontis Training: It's Interactive
Coming soon...an interactive Pontis training CD. The Pontis program, which is part of the American Association of State Highway and Transportation Officials' (AASHTO) BRIDGEWare line of software, can be used by highway agencies to organize their bridge data and analyze complex engineering and economic factors. The initial versions of Pontis were designed and developed by FHWA in cooperation with the California Department of Transportation, under a joint venture between Cambridge Systematics and Optima. The most recent version, 4.1, was released in 2002.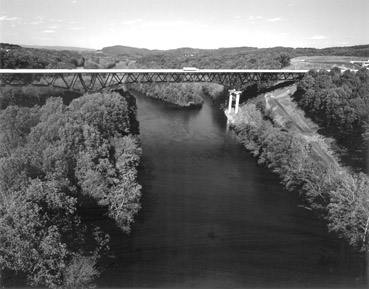 Pontis can be used by highway agencies to organize their bridge data.
The CD will serve as an introduction to Pontis for those not familiar with the program and a refresher for those who have taken the National Highway Institute (NHI) training course, Pontis Bridge Management (Course No. 134056A). The CD will include 2-D animation illustrating the principles of the Pontis program and presentations featuring the Pontis user interface in action. "This product will be a great marketing tool for Pontis," says George Romack, FHWA's Senior Bridge Management Engineer. "We expect the CD to be available this spring on the Asset Management Community of Practice Web site [assetmanagement.transportation.org], which is sponsored by AASHTO, with support from FHWA and the Transportation Research Board."
Since July 2002, nine NHI training sessions have been held as part of FHWA's effort to promote the use of Pontis and its full implementation by States. The 2 1/2-day course, developed by FHWA in partnership with AASHTO, offers a hands-on learning experience. Participants use the Pontis database and the program's analysis tools to develop goals, strategies, and projects. Participants also learn about performance measures and how the program's reporting capabilities can be used to define goals and track results. The course is taught by engineers from the FHWA Resource Centers and Office of Asset Management.
For more information about the forthcoming CD or the NHI training course, contact George Romack at FHWA, 202-366-4606 (email: george.romack@fhwa.dot.gov). To schedule the course, contact Danielle Mathis-Lee at NHI, 703-235-0528 (email: danielle.mathis-lee@fhwa.dot.gov). The Pontis license structure provides for several levels of technical support from the Pontis Support Center at 617-354-0167 (fax: 617-354-1542; email: pontis@camsys.com; Web: aashtoware.camsys.com). To obtain information on licensing Pontis, contact Angelique Williams at AASHTO, 202-624-5808 (email: angelw@aashto.org).