Publication Number: FHWA-HRT-04-025
Date: May 2004

Building High-Performance Structures with Composites Technology
Durable, reliable, and corrosion and fatigue resistant. In projects across the country, fiber reinforced polymer (FRP) composites are displaying these advantages in both new bridge construction and the repair and retrofit of existing structures. Many of these projects were part of the Federal Highway Administration's (FHWA) Innovative Bridge Research and Construction (IBRC) Program, which has provided $108 million since 1998 to advance the use of high-performance materials in bridge applications. Of the 246 IBRC projects funded, 127 involved the use of FRP composite materials. The projects feature a range of applications, including the construction of new FRP bridge deck systems, new concrete decks with reinforcing FRP elements, and the strengthening and repair of existing structures.
FRP composites are typically made of such fibers as glass, aramid, and carbon in a polyester or vinyl ester resin matrix. FRP composite deck systems for new bridges are lightweight, chemical and corrosion resistant, and high strength. They also provide easy construction and handling. Another advantage is that the deck systems can be preengineered and prefabricated offsite and then rapidly deployed and installed at a job site. This reduces the congestion and inconvenience caused by work zones and improves safety for both workers and motorists. In New York State, for example, a conventional concrete deck on a 60-year-old, load-restricted steel truss bridge was replaced with an FRP composite deck system in less than a month. The project cost of $876,000 was only one-third of what it would have cost to completely replace the bridge. And even more importantly, the bridge with the new FRP composites deck was then able to carry the legal truckload, due to the reduction in dead weight replacement.
When the Maryland State Highway Administration needed to replace the deck on a steel through-truss bridge on MD Route 24 over Deer Creek in 2001, it chose to install an FRP composite deck. The bridge's overhead cross-connecting members of the through truss impeded the installation of new deck panels with a crane. However, the FRP panels were light enough to be installed with a forklift. Since the FRP panels could support loads immediately after placement, the forklift could start at one end of the bridge, set a panel, and then move onto that panel to set the next one. The weight of the new deck is about 40 percent less than a conventional concrete deck, resulting in increased live load capacity for the bridge.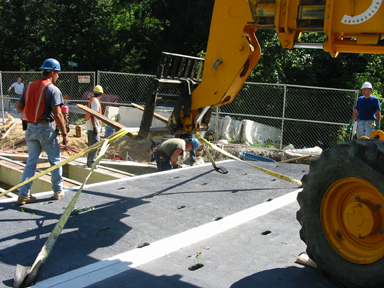 The Maryland State Highway Administration replaces the deck on a steel through-truss bridge on MD Route 24 with an FRP composite deck.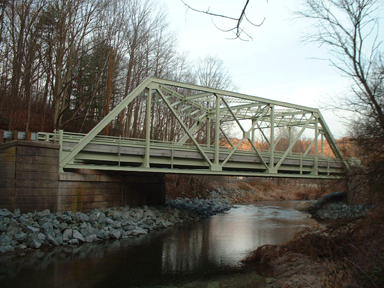 Completed bridge.
Using FRP composites for deck replacement does still present some challenges. Designing an FRP deck system requires more design and analysis effort than a conventional bridge deck. Bonding of overlays to FRP deck panels continues to require investigation and evaluation of materials and construction practices, in order to ensure long-term acceptable performance. Also, nondestructive testing/evaluation devices need to be incorporated into the deck panels to monitor short- and long-term performance and facilitate maintenance inspections, as parts of the deck panel can be inaccessible for inspection. FHWA is now working with the American Association of State Highway and Transportation Officials (AASHTO) to develop a guide specification for testing and acceptance of FRP deck systems. The specification will include testing standards and protocols for establishing strength and stiffness requirements.
Surface-mounted FRP composites are also being used for bridge strengthening and repair. Repairs are made using FRP laminates, rods, and wet lay-up fabrics, which are fiber fabrics saturated with resin and cured in place. For a repair program to be successful, preparation is needed to ensure that the substrate is sound and of good structural integrity. For example, deteriorated concrete or delaminations must be removed and spalled surfaces built up to provide a level and smooth surface for bonding the FRP laminates or fabric sheets.
In another New York project, bonded FRP laminates were used to strengthen a single span, reinforced concrete T-beam bridge on Route 378 in Rensselaer County. The laminate system was installed in 1999 to strengthen the structure's flexural and shear capacities and to contain freeze-thaw cracking that had been observed. Load testing performed since then has indicated that the quality and effectiveness of the bond between the laminates and concrete has not deteriorated.
FRP composites are being used for seismic column retrofit as well. Since the Loma Prieta earthquake in Oakland in 1989, the California Department of Transportation (Caltrans) has retrofitted thousands of concrete pier columns using FRP composite materials. The FRP retrofit process has undergone extensive testing and development in California and elsewhere and is now considered to be an established method for ensuring adequate column ductility to provide acceptable seismic performance.
In a new application of FRP composite technology, FRP materials are also now being used to repair cracked overhead highway sign structures to prevent them from failing. This quick and economical repair method can be performed in place, with only the traffic lanes below the repair area blocked off. A typical repair takes three workers 3 hours to complete, at an estimated cost of $3,000 per joint.
FHWA's Infrastructure Research and Development (R&D) and Operations R&D offices also have continuing research efforts aimed at removing roadblocks to practical implementation of FRP composite technology. FHWA's Fairbank Highway Research Station in McLean, Virginia, (now the Turner-Fairbank Highway Research Center) started investigating and developing the use of FRP modular bridge decks in 1978, which essentially began the application of this technology in the United States. Much of the characterization and development of FRP reinforcing bars for concrete was conducted at Turner-Fairbank in the 1980s and 1990s. Since then, FHWA has investigated composite pilings, guardrails, sign supports, prestressing, and bonded repair, as well as FRP decks and rebar. FHWA's R&D effort has also focused on predicting the long-term performance of FRP composites, which is a continuing challenge, and using the knowledge gained in research studies to develop a complete set of AASHTO guide specifications on the use of FRP for highway bridges. Information now being reviewed by AASHTO and prepared for publication and distribution by FHWA covers such areas as FRP prestressing, accelerated testing for FRP on highway bridges, qualification and acceptance testing for FRP bridge decks, and a FRP materials specification. Future projects will include developing a guide for in-service inspection for bonded repairs and training in the use of FRP specifications.
To learn more about using FRP composites in structures, visit FHWA's "virtual" team for FRP composites online at www.fhwa.dot.gov/bridge/frp. Team members represent FHWA, State highway agencies, industry, and academia. The site includes a database of FRP projects nationwide; information on current practices in FRP composites technology; a library of papers, presentations, and other information; a calendar of related events; and links to other useful Web sites. Information is also available from Benjamin Tang in FHWA's Office of Bridge Technology, 202-366-4592 (email: benjamin.tang@fhwa.dot.gov). For more information about using FRP to repair overhead sign structures, visit www.aashtotig.org/focus_technologies/frp.