Publication Number: FHWA-HRT-05-021
Date: November 2004

Achieving the Promise of Ultra-High-Performance Concrete
Stronger, more durable bridges and faster construction. These benefits and more can result from the next generation of high-performance concrete (HPC), known as ultra-high-performance concrete (UHPC). UHPC, which has been used in two highway bridges in France and three pedestrian bridges in Canada, South Korea, and Japan, is now starting to gain attention in the United States. For the last 2 years, the Federal Highway Administration's (FHWA) Turner-Fairbank Highway Research Center (TFHRC) in McLean, Virginia, has been testing the viability of this new technology and assisting States willing to experiment with UHPC for use in bridges. Iowa is now constructing a bridge with UHPC components, and Virginia is using UHPC in bridge construction as well.
"UHPC is more durable, and it should last longer on a highway. You want a bridge to last at least 75 to 100 years, and that's hard to do," says Benjamin Graybeal of PSI, Inc., a contractor for FHWA. UHPC has more strength than HPC, while requiring less concrete, resulting in slimmer bridge designs and smaller amounts needed of other materials. In one test at TFHRC, for example, the strength of the UHPC allowed bridge girders to be designed and built with less material. Another benefit is that precast bridge elements built with UHPC are lighter and easier to transport to the job site and can be put into place faster during bridge construction, saving time and reducing labor costs.
UHPC is comprised of 2 percent steel fibers, notes Dean Bierwagen of the Iowa Department of Transportation. Steel fibers measuring 0.2 mm (.008 in) in diameter and 12.7 mm (0.5 in) in length are added to the concrete, which increases the tensile strength. The material is very dense and low in permeability, making it difficult for water to penetrate and resulting in less corrosion to embedded steel.
UHPC lacks the coarse aggregate found in HPC, says Vic Perry of Lafarge North America, which is the only company currently offering the material in the United States. Unlike HPC, UHPC consists of fine particles of sand, ground quartz, cement, and silica fume, plus a fiber matrix. Placing UHPC is similar to working with normal concrete, except that more care must be taken to ensure that the dispersion of the steel fibers is not disrupted during placement. Once the UHPC is set, it may be cured with a steam treatment to speed the realization of its full strength and durability. The steam treatment, which takes about 48 hours, should not begin until at least 24 to 48 hours after casting.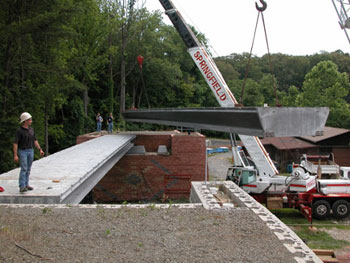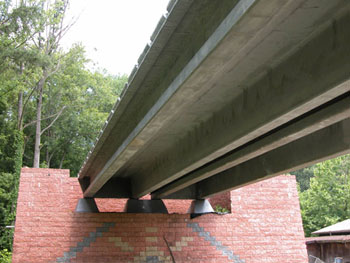 A composite bridge deck/girder combination made with ultra-high-performance concrete is installed for testing at FHWA's Turner-Fairbank Highway Research Center in McLean, VA.
FHWA exposed UHPC to a battery of tests to demonstrate its various qualities compared to regular concrete. The UHPC showed a compression strength of 28,000 psi, compared with 4,000 psi for normal concrete, while tensile cracking strength was above 1,000 psi, compared with 400 psi for normal concrete. In testing for resistance to road salts and chlorides, UHPC withstood these chemicals at a rate 100 times greater than normal concrete. UHPC also showed minimal degradation after being frozen and thawed more than 600 times. This is about double the number of cycles regular concrete is tested for freezing and thawing, notes Graybeal. The testing also revealed that UHPC worked best in girders and decks, mainly because those pieces could be made lighter and slimmer with less concrete.
Compared to regular concrete, a cubic yard of UHPC can cost as much as 10 times more. However, depending on the project, the increased cost can be offset by reductions in the amount of materials needed and the time needed to complete the project. "Each project must be analyzed separately when considering the use of UHPC," says Graybeal.
To educate highway agencies and others about UHPC, Graybeal has made presentations on FHWA's research at several conferences, including the Precast/Prestressed Concrete Institute's 2004 National Bridge Conference and this year's Concrete Bridge Conference, which was sponsored by the National Concrete Bridge Council, American Concrete Institute, and FHWA. He is also serving as an advisor to States considering using the new material.
Wapello County, Iowa, is constructing one of the first UHPC bridges in the United States with support from FHWA's Innovative Bridge Research and Construction Program. The prestressed bridge is 33 m (110 ft) long. Due to the strength of the material, the bridge design has been changed from a three span, four beam cross section to a single span, three beam cross section, says Brian Moore, Wapello County engineer. Once construction is completed, Iowa State University will monitor the performance of the new bridge.
For more information about UHPC, contact Benjamin Graybeal at 202-493-3122 (email: benjamin.graybeal@fhwa.dot.gov), or Dean Bierwagen at 515-239-1585 (email: dean.bierwagen@dot.iowa.gov). To learn more about the Wapello County project, contact Brian Moore at 641-684-5425.