Publication Number: FHWA-HRT-05-021
Date: November 2004

Pooled-Fund Study Targets Premature Distress in Concrete Pavements
Developing guidelines to reduce or eliminate premature distress in concrete pavements is the goal of a new pooled-fund study sponsored by the Federal Highway Administration (FHWA), 16 State highway agencies, the American Concrete Pavement Association, and numerous State/regional concrete paving associations. The study, TPF-5(066), "Material and Construction Optimization for Prevention of Premature Pavement Distress in Portland Cement Concrete Pavements," is being conducted by Iowa State University's Center for Portland Cement Concrete (PCC) Pavement Technology. Iowa is the Lead State for this 5-year pooled-fund effort.
The study's objectives are to:
Evaluate conventional and new technologies and procedures for testing concrete and concrete materials to prevent material and construction problems that could lead to premature concrete pavement distress.
Develop a suite of tests that provides a comprehensive method of improving concrete durability and ensuring long-term pavement performance.
During the recently completed Phase 1 of the study, recommended lab and field testsand best practices for testing procedures were compiled after gathering information from participating States. The recommended tests evaluate concrete workability, strength, air content, shrinkage, and permeability, which are the five properties determined to be the most critical to the long life and durability of concrete pavements. The data collected from the States included information on research relating to concrete mix properties and PCC paving practices, as well as details on technologies and procedures for mix design, materials control, concrete testing, and field control. States also identified past projects that had exhibited some form of early pavement deterioration, providing researchers with real-world examples of problems and the opportunity to evaluate the causes of the pavement distress.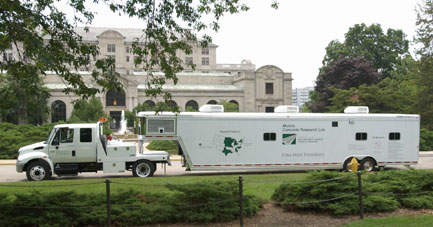 Iowa State University's Mobile Concrete Research Lab brings state-of-the-art concrete pavement testing capabilities to project sites.
During the next phase of the study, concrete pavement test sites in all of the participating States will be visited. Tests have been performed in Missouri, Kansas, and Michigan to date, with visits to Wisconsin and North Carolina scheduled for this fall. Site visits and evaluation and refinement of the recommended tests will continue through 2006. The study's focus will then shift to technology transfer efforts for the recommended tests and procedures.
The study is being supported by a new state-of-the art Mobile Concrete Research Lab, which brings high-tech concrete pavement testing capabilities to the project sites. Modeled on FHWA's Mobile Concrete Laboratory, the lab's features include:
A weather station.
A wireless computer with global positioning system and analysis software.
A microwave oven to determine water to cement ratios.
A penetrometer to test mortar set time.
Calorimeters (heat signature drums) to determine the heat signature of mortar and concrete.
An air void analyzer (AVA) to measure the volume and size distribution of air bubbles in concrete.
One important finding of the study to date has been the discovery of a method for effectively using the AVA test in the field. The mobile lab was constructed with a 0.6 m by 0.6 m (2 ft by 2 ft) hole in its floor. To perform the test, a stand is placed in the hole, resting on the ground below the trailer. The AVA is then placed on top of the stand, so that it is at counter height. "This is a very precise test that requires stability, and previously wind or people walking around in the mobile lab could interfere with the test results. We have now found a way to stabilize the equipment and make it work as a field test," says Jim Grove of the Center for PCC Pavement Technology and principal investigator for the study.
The first product that the study will significantly contribute to will be an Integrated Materials and Construction Manual. The manual is being developed under a cooperative agreement between Iowa State University and FHWA (see sidebar). "This user-friendly manual for practitioners in the field will feature the basics you need to know on the important properties of concrete, as well as troubleshooting guidance on such topics as workability and cracking," says Grove. The manual is expected to be published in the spring of 2005. Study sponsors are also considering releasing a second manual at the conclusion of the study in 2008, which would contain more of the research findings and cover concrete pavement design issues, such as joint spacing and thickness.
For more information about the study, contact Jim Grove at the PCC Center, 515-294-5988 (email: jimgrove@iastate.edu), or visit www.cptechcenter.org/mco/index.htm. To join the pooled-fund study, contact Sandra Larson at the Iowa Department of Transportation, 515-239-1646 (email: sandra.larson@dot.iowa.gov).
A Cooperative Agreement for Concrete Pavements
A cooperative agreement between Iowa State University's Center for Portland Cement Concrete Pavement Technology and FHWA that began in 2001 has resulted in partnerships on 18 research projects designed to improve the design and construction of concrete pavements. Ongoing projects include "Design and Construction Procedures for Concrete Overlay and Widening of Existing Pavements," "Improving Portland Cement Concrete Mix Consistency and Production by Mixing Improvements," and "Portland Cement Concrete Pavement Surface Characteristics." Projects completed under the cooperative agreement include "Developing Smooth, Quiet, Safe Portland Cement Concrete Pavements." Several of the research needs identified through this study have been incorporated into current and proposed FHWA research and development projects in the areas of texture and traffic noise, friction, and pavement smoothness. For more information on the cooperative agreement projects, contact Ewa Flom at FHWA, 202-366-2169 (email: ewa.flom@fhwa.dot.gov), or visit www.fhwa.dot.gov/pavement/iowacoop.htm. The project report on "Developing Smooth, Quiet, Safe Portland Cement Concrete Pavements" is available online at www.ctre.iastate.edu/reports/smooth_quiet.pdf.