Publication Number: FHWA-HRT-05-020
Date: October 2004

European Scanning Tour Spotlights Highway Materials Innovations
The road to improving U.S. knowledge and understanding of superior highway materials led an international scanning tour team across Europe in June 2003. Sponsored by the American Association of State Highway and Transportation Officials (AASHTO) and the Federal Highway Administration (FHWA), the team consisted of representatives from FHWA, State highway agencies, and private industry. The tour was designed to investigate how European countries are using superior materials to improve highway materials performance, save money, increase safety, and reduce construction time.
The scanning team met with roadway experts from the United Kingdom, the Netherlands, Denmark, and Germany to discuss innovations and test methods for achieving better pavements. While the United States has been slowly moving toward adopting superior materials and refined testing approaches for pavements, the countries selected for the tour have already demonstrated success. The team observed that acceptance of superior materials has grown more quickly and is more widespread in Europe. This growth is attributable both to standards set by the European Union (EU) and the use of performance contracting.
One innovation that especially stood out to the team was the Netherlands' Roads to the Future program. This 2-year project solicited bids from contractors and manufacturers to provide solutions to long-term roadway problems. The idea was to challenge industry to think outside the box and explore new and unconventional ways of doing things. But rather than just accept research proposals to be implemented at a later date, the Netherlands took the process a step further.
"The goal of the research was not to get a research project report: the goal was to get a product out into traffic," says Lon Ingram of the Kansas Department of Transportation (KSDOT) and cochair of the tour. "They wanted to get a product on to the roadway in 2 years, which is virtually unheard of here."
The project was a huge success. Industry response was overwhelming, and four contracts were awarded. New products included a prefabricated, noise-reducing pavement, which consists of an asphalt mat that is rolled out onto the roadway. The scanning team has recommended that a demonstration site for this technology be set up in the United States.
The team has also recommended that a program similar to Roads to the Future be evaluated for implementation here. Such a project could yield great results if implemented in the United States, notes Ingram, but there are hurdles that need to be overcome. A key element necessary to getting an actual product on a test site in a short time frame is to establish partnerships between researchers and manufacturers. Efforts are now underway to share information on the Roads to the Future program with research professionals in the United States.
Another innovation observed on the tour was Germany's operation of a stripe-testing facility to test pavement paints for durability and wear. Paints are applied to pavement plates that are then loaded into a large wagon wheel shaped structure that rotates the plates under several tires. Additional pressure is placed on the tires to simulate vehicle weight.
"This gives you the ability to measure accelerated wear on the pavement paints," says team member Thomas Baker of the Washington State Department of Transportation (WSDOT). "Rather than put a stripe out on the pavement and wait for it to wear in real time, you can put it in the tester and see how it will wear in a week." The lab can provide comparative results for different paints. Its work is helping to both improve the quality of road stripes in Germany and save money on painting costs.
While a facility such as Germany's would be too expensive for a single State to build and maintain, the scanning tour team has suggested several possibilities for implementation, including a joint venture with Canada, as well as participation by industry. Efforts are now underway to secure funding to conduct a feasibility test for implementing the technology.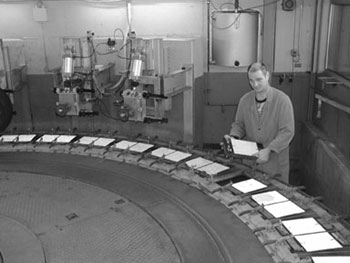 Germany's accelerated paint wheel tests pavement paints for durability and wear.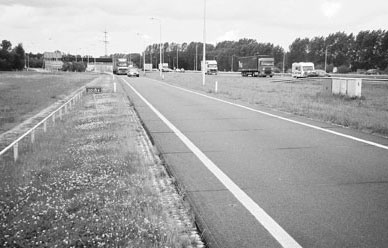 A demonstration site for the Netherlands' Roads to the Future program.
The scanning team also found that Europe has streamlined its standardizations process, either as a whole through the EU standard-setting bodies, or individually by country as in the United Kingdom. The EU has developed common standards for roadway and bridge construction, which has improved free trade across borders. The United Kingdom, meanwhile, has a program that develops specifications for technologies. Vendors can then develop new products using these specifications. In the last 10 years, for example, thin friction surface treatments have expanded from just 2 products available from 1 vendor to more than 32 products from multiple vendors. All of these products are certified by the government.
According to Keith Herbold of FHWA and cochair of the scanning tour, similar processes would be extremely useful here. "If you have a new product that you want to sell, you have to go to all of the State DOTs to get approval to sell your product," says Herbold. "If we could find a new, uniform method for approving products it would help us very much in this country." The AASHTO Subcommittee on Materials has requested funding to do a study on how to adapt these procedures in the United States. Approval of the funding request is currently pending.
All four countries visited by the team also noted that France has instituted a public-private partnership to identify and develop new products and processes, which has been successful so far. The team has recommended that this program be investigated to see if it can be adapted in the United States.
A report on the scanning tour findings, Superior Materials, Advanced Test Methods, and Specifications in Europe, was released in April 2004. It is available through FHWA's Office of International Programs at international@fhwa.dot.gov.
For more information about the tour, contact Keith Herbold at FHWA, 708-283-3548 (email: keith.herbold@fhwa.dot.gov); Lon Ingram at KSDOT, 785-296-6618 (email: lon.ingram@ksdot.org); or Thomas Baker at WSDOT, 360-709-5401 (email: bakert@wsdot.wa.gov).