Publication Number: FHWA-HRT-05-020
Date: October 2004

Winter Maintenance Takes Center Stage at Eastern Snow Expo
Automated bridge deicing systems and new snow plow technologies were just two of the hot topics featured at the Ninth Annual Eastern Winter Road Maintenance Symposium and Equipment Expo. Sponsored by the Tennessee Department of Transportation's (TDOT) Maintenance Division, Tennessee Transportation Assistance Program, and the Federal Highway Administration (FHWA), the event was held September 8-9, 2004, in Knoxville, Tennessee. The symposium and e xpo drew more than 600 attendees from 31 States and over 60 vendors. "The event was a success despite many last minute cancellations due to Hurricane Frances," says Joe Holt of TDOT.
Holt notes that the event offers maintenance workers at all levels a chance to improve their understanding of the latest products and services. "Attendees are the front-line snow fighters, truck drivers, and supervisors."
Keynote speaker Tom Maze of Iowa State University spoke about the impacts of winter weather on highway operations. "Most people don't understand how driving in snowy weather can be so dangerous," he noted, despite accident rates that are 13 times higher than those during normal weather conditions.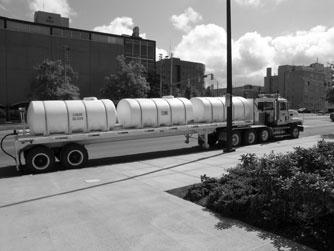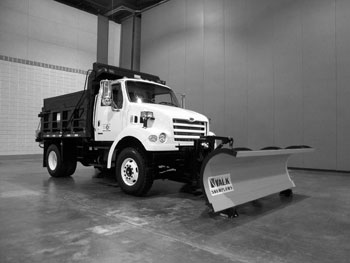 Equipment featured at the Eastern Snow Expo included TDOT's salt brine semitrailer and examples of the latest in snow plows.
Symposium sessions looked at how to reduce those impacts and better treat and maintain roads and bridges during winter weather. Sessions were divided into three tracks-environment, safety, and operations-with each track offering three different topics. "Hot Truck Technologies," for example, highlighted the latest developments in snow plows, such as plows that include a heads-up display offering up-to-date weather information. "Automated Bridge Deicing Systems" provided information on these increasingly popular systems, which feature special plumbing installed in a bridge that can automatically spray deicing chemicals across the surface of the structure. The process is triggered by temperature sensors in the pavement. "Traveler Information Systems Advances," meanwhile, focused on new ways in which highway agencies are providing updated weather information to travelers, including online postings and the automated 511 phone service.
Attendees also received an introduction to the Maintenance Decision Support System (MDSS) software, which was developed under FHWA's Road Weather Management Program. The consortium of partners participating in the development included State highway agencies, academia, the private sector, the U.S. Army Corps of Engineers, National Center for Atmospheric Research, Massachusetts Institute of Technology/Lincoln Laboratory, and the National Oceanic and Atmospheric Administration. The MDSS integrates state-of-the-art weather forecasting and data fusion and optimization techniques with computerized winter road maintenance rules of practice (see September 2004 Focus). The result is a software system that can provide maintenance managers with a forecast of road surface conditions and customized treatment recommendations for plow routes.
For more information about the Eastern Snow Expo, contact Joe Holt at TDOT, 615-532-3825 (email: joe.holt@state.tn.us). To learn more about road weather technologies and FHWA's Road Weather Management Program, visit http://www.ops.fhwa.dot.gov/weather/index.asp. For more information about the MDSS, contact Paul Pisano at FHWA, 202-366-1301 (email: paul.pisano@fhwa.dot.gov), or look online at www.rap.ucar.edu/projects/rdwx_mdss/index.html.
Mark your calendars now for next year's Eastern Snow Expo, which will be held September 7-8, 2005, in Connecticut. For more information, contact Pat Rodgers at the Connecticut Department of Transportation, 860-594-2624 (email: patrick.rodgers@po.state.ct.us), or Donna Shea at the Connecticut Transportation Institute, 860-486-0377 (email: donna.shea@uconn.edu).