Publication Number: FHWA-HRT-05-020
Date: October 2004

National Conference Provides Hands-On Look at HERS-ST Software
From hands-on training to case studies of State experiences, the Federal Highway Administration's (FHWA) Second Annual HERS-ST [Highway Economic Requirements System-State Version] National Conference presented the latest information on this valuable software tool.
Held in Chicago, Illinois, from August 18-20, 2004, the conference drew more than 50 participants. HERS-ST is a computer model used to evaluate the relationship between highway investment and system condition, performance, and user cost levels. The software simulates future highway condition and performance levels and identifies deficiencies using engineering principles. It then simulates the selection of improvements for implementation, relying on economic criteria. Questions that HERS-ST can help answer include:
What level of program capital expenditure is economically justified?
What user cost level will result from a given stream of investment?
What investment level is required to maintain current user cost levels?
What are the benefits and costs associated with scheduled projects?
The conference featured an optional hands-on introduction to HERS-ST for new users, an overview of the features and capabilities of the new HERS-ST Version 3.0, presentations on State experiences with the software, and breakout sessions on such topics as software features, data issues, and types of analysis that the program can perform. "The conference went very well. A number of attendees requested more information about HERS-ST and State visits to assist with implementation," says Robert Mooney of FHWA.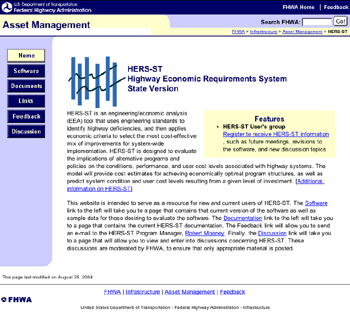 Conference participant Omar Smadi of Iowa State University is working with the Iowa Department of Transportation to implement HERS-ST. "It was very useful to hear what other States are doing, since we're just starting out with HERS-ST," says Smadi. "The program will give Iowa a tool to do more long-range planning for Interstates and primary roads across the State, looking at the capacity of roads and whether improvements need to be made, such as adding lanes." For example, HERS-ST could help Iowa in analyzing whether to increase the capacity of US 20, which runs east-west across the State, from two lanes to four lanes west of Interstate 35. "HERS-ST can help in determining what the benefits and the costs will be," says Smadi.
The Oregon Department of Transportation (ODOT) started using its own customized version of the HERS-ST prototype in 1998. Oregon has since upgraded to the current HERS-ST model and uses it Statewide to evaluate roadway capacity, estimate travel times, and manage congestion. "We're working with the HERS-ST analysis to develop performance measures for travel times and delay for different vehicular categories," says Rich Arnold of ODOT. ODOT is also evaluating the use of HERS-ST to develop a decision-making tool for quickly evaluating the cost-effectiveness of improvements at the project level, based on either performance measures or a benefit-cost ratio.
Released in August 2004, HERS-ST Version 3.0 features an updated Geographical Information System (GIS) interface that allows users to customize the data analysis reports produced. The new version also includes numerous enhancements to the software's analytical engine and features an updated user's guide. Approximately 20 States are either currently using the software or are having discussions with FHWA about implementing it. An additional 22 States have expressed interest in the software.
FHWA's Office of Asset Management provides support to HERS-ST users by email, over the phone, and through site visits. Ten State highway agencies have been visited so far this year. An online HERS-ST User's Group also provides information and support to users. Approximately 150 people have registered, representing State highway agencies, academia, contractors, FHWA, counties, cities, and international users. To join the User's Group, visit www.fhwa.dot.gov/infrastructure/asstmgmt/hstuser.cfm.
To learn more about HERS-ST, contact Robert Mooney at FHWA, 202-366-4657 (fax: 202-366-9981; email: robert.mooney@fhwa.dot.gov), or visit the HERS-ST Web site at www.fhwa.dot.gov/infrastructure/asstmgmt/hersindex.cfm. HERS-ST Version 3.0 can be downloaded from the Web site. The site also features information on such topics as getting started with HERS-ST, working with the highway data, GIS features of the software, and creating and modifying charts.