Publication Number: FHWA-HRT-05-020
Date: October 2004

In Brief
A new course on Ground Improvement Methods is now available from the Federal Highway Administration's (FHWA) National Highway Institute (NHI). The 3-day interactive course provides information that will allow participants to recognize the applicability and feasibility of specific ground improvement methods, develop preliminary cost analyses, and provide specification and contracting information for the various methods. The ground improvement techniques covered are:
Consolidation with vertical drains
Lightweight fill materials
Vibrocompaction
Dynamic compaction
Mechanically stabilized earth (MSE) walls and reinforced soil slopes (RSS)
Soil nailing
Stone columns
Deep soil mixing
Grouting
Column supported embankments.
The technical summaries used for the course reflect the current practice in design, construction, contracting methods, and quality control and assurance procedures.
The target audience for the course includes Federal, State, and local government employees; college and university faculty; and consultant engineers. An undergraduate degree in geology, engineering geology, or civil engineering, or equivalent engineering experience in the highway/transportation field, is desired.
For more information on the course, contact Silas Nichols at the FHWA Resource Center, 410-962-2460 (email: silas.nichols@fhwa.dot.gov), or Larry Jones at NHI, 703-235-0523 (larry.jones@fhwa.dot.gov). Information is also available online at www.nhi.fhwa.dot.gov.
Best Practices for Ultra-thin (UTW) and Thin Whitetoppings (TWT) will be the focus of an International Conference to be held April 12-15, 2005, in Denver, Colorado. The conference will review progress made in whitetopping technologies since 1992 and help identify best practices for selecting candidate projects and designing, constructing, and repairing UTWs and TWTs. The event is sponsored by FHWA, the Colorado Department of Transportation, American Concrete Pavement Association, Transportation Research Board, and the International Society for Concrete Pavements.
Whitetopping is the resurfacing of an existing distressed asphalt pavement with concrete. While conventional whitetopping is a well established practice, UTW and TWT techniques only came into use in the United States in the 1990s. These techniques involve thinner concrete resurfacing and different jointing patterns. UTW has a concrete surface thickness ranging from 50 to 100 mm (2 to 4 in), and TWT has a concrete surface thickness of 100 to 150 mm (4 to 6 in).
Conference sessions will focus on implementable design and construction techniques that result in long-lasting UTW and TWT. The conference is targeted at pavement engineering and construction professionals who are involved in various aspects of pavement design, construction, testing and evaluation, and rehabilitation. This includes Federal, State, and municipal engineers; consulting engineers; contractors; materials suppliers; and members of academia.
For more information about the conference, contact Shiraz Tayabji at Construction Technology Laboratories, Inc., 410-997-0400 (fax: 410-997-8480; email: stayabji@ctlgroup.com).
A 5-year contract was awarded in September 2004 to Cornell University to begin work on National Pooled Fund Study TPF-5(039), "Falling Weight Deflectometer (FWD) Calibration Center and Operational Improvements." The study was initiated in 2002 to address issues related to aging equipment at the four Long-Term Pavement Performance (LTPP) program regional FWD calibration centers. Currently, 15 States have pledged $565,000 through 2007 for the study, with additional commitments and participation still encouraged.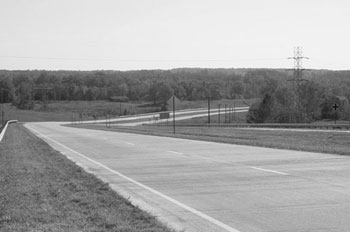 These photos show whitetopping in Spartanburg County, SC (above), and on I-55 in Carroll County, MS (below)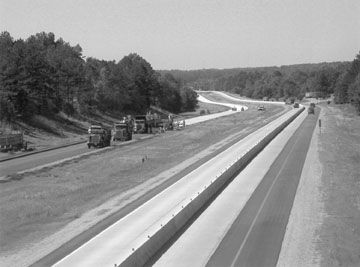 The project scope includes not only updating computer hardware, software, and data acquisition equipment, but also modifying the current FWD calibration procedure to reduce calibration time. The first 2 years of thecontract will focus on making the initial necessary improvements. During the remaining 3 years, additional work desired by State participants may be addressed, such as establishing additional calibration facilities and providing technical support for all of the calibration centers. For more information, visit www.pooledfund.org(search under TPF-5(039)), or contact Mike Moravec at FHWA, 410-962-5623 (email: mike.moravec@fhwa.dot.gov), or Eric Weaver at FHWA, 202-493-3153 (email: eric.weaver@fhwa.dot.gov).
The climate data module of the LTPP Pavement Performance Database has been updated with climate data from the LTPP test sections from 1997-2002. The module contains weather statistics and indices for each test section at 899 project sites, estimated from nearby weather stations. The data sources are the National Climatic Data Center for test sections in the United States and the Canadian Climatic Center for Canadian test sections. As the performance of a pavement is directly affected by its environment, of which climate is a large part, knowing climatic conditions and trends for a particular area is very important in making pavement design, maintenance, and rehabilitation decisions.
The LTPP data is available online at www.datapave.com. The next LTPP climatic data update is expected in 2008. More information about the procedures used for climatic data updates and the structures and elements of the climatic data module can be found in LTPP Climatic Database Revision and Expansion (Publication No. FHWA-RD-00-133) and Long-Term Pavement Performance, Information Management System: Pavement Performance Database User Reference Guide (Publication No. FHWA-RD-03-088). The climatic database publication is available online at www.fhwa.dot.gov/publications/research/infrastructure/pavements/ltpp/00133/00133.pdf . The database user reference guide is available at www.fhwa.dot.gov/publications/research/infrastructure/pavements/ltpp/reports/03088/. For more information or to obtain printed copies of the reports, contact Eric Weaver at FHWA, 202-493-3153 (email: eric.weaver@fhwa.dot.gov).