Publication Number: FHWA-HRT-04-029
Date: September 2004

New Pavement Design Guide Available for Testing
The new Mechanistic-Empirical (M-E) Pavement Design Guide and accompanying software are now available in a review version for testing and evaluation by highway agencies and others worldwide. Developed under National Cooperative Highway Research Program (NCHRP) Project 1-37A, the Guide provides a uniform basis for the design of flexible, rigid, and composite pavements, using mechanistic-empirical approaches that more realistically characterize inservice pavements and improve the reliability of designs. "The new Guide presents nationally calibrated distress models that are available for States to use for the design and analysis of their pavements," says Katherine Petros of the Federal Highway Administration (FHWA).
The proposed Design Guide was developed to replace the 1993 American Association of State Highway and Transportation Officials (AASHTO) Guide for Design of Pavement Structures, which was based on empirical equations derived from the road test conducted by the then American Association of State Highway Officials (AASHO) between 1958 and 1960. The road test used a limited number of pavement sections at one location, with traffic levels far below those of today.
One of the primary benefits of the new Guide is that it uses M-E numerical models to analyze input data for traffic, climate, materials, and proposed structure and to estimate damage accumulation over the pavement's service life. "The models are based on data from across the United States, with far wider potential application than those previously used," says Ed Harrigan of NCHRP. Analysis can be done for designs for new, reconstructed, and rehabilitated pavements. Performance predictions are made in terms of distress and smoothness, with the predicted distresses for flexible pavement designs being longitudinal cracking, alligator cracking, transverse cracking, and rutting. For rigid pavement designs, the predicted distresses are faulting, cracking, and continuously reinforced concrete pavement punch-outs. The design performance values can be compared to threshold values or to alternate designs.
The Guide also allows for consideration of special loadings, with multiple tires or axles, and provides a means for evaluating design variability and reliability. And it can be used to analyze the condition of existing pavements and pinpoint deficiencies in past designs.
Over the next few years, the AASHTO Joint Task Force on Pavements will continue evaluating the proposed Guide. FHWA will also work with the Joint Task Force to introduce the Guide to States and others through workshops, training courses, and conferences. FHWA has established a Design Guide Implementation Team (DGIT) to coordinate implementation activities. The team sponsored a series of workshops introducing the Guide this year (see sidebar), and plans to hold additional workshops in 2005. For more information on the DGIT, visit www.fhwa.dot.gov/pavement/dgit.htm, or contact one of the team members listed in the sidebar on this page.
The M-E Pavement Design Guide and software are available online at www.trb.org/mepdg. Comments on the Guide and software and suggestions for their further improvement can be sent to Ed Harrigan at NCHRP, fax: 202-334-2006 (email: pavement-guide@nas.edu). The DGIT has also established a Design Guide Community of Practice Web site, which provides a central forum for user dialogue. To participate in the Community of Practice, visit knowledge.fhwa.dot.gov/cops/hcx.nsf/home and then choose the NCHRP 1-37A Pavement Design Guide Group.
FHWA Design Guide Implementation Team
Katherine Petros, 202-493-3154
Leslie Myers, 202-366-1198
Monte Symons, 404-562-4782
Sam Tyson, 202-366-1326
Any of the team members can also be contacted at: DGIT@fhwa.dot.gov.
Design Guide Workshops
FHWA's Design Guide Implementation Team will hold workshops on October 20 in Phoenix, Arizona, and on October 26 in Thornburg, Virginia. For more information or to register, visit www.fhwa.dot.gov/pavement/dgitfly2.htm or contact one of the DGIT team members listed on this page. In early 2005, the DGIT will also be holding a series of workshops on the materials inputs for the Design Guide. These workshops will be aimed at bringing highway agency pavement designers and materials engineers together to discuss the materials-related input needs for those using the Design Guide. Focus will provide additional information on the 2005 workshops once they have been scheduled.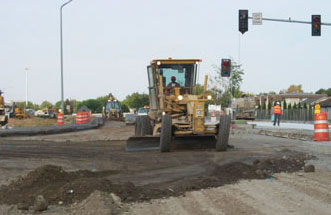 The new Pavement Design Guide provides a uniform basis for the design of flexible, rigid, and composite pavements.