Publication Number: FHWA-HRT-04-029
Date: September 2004

Scanning Tour Showcases a Prefabricated Future
From whole bridges that can be completely built off site and moved into place to full-depth prefabricated concrete bridge decks, participants in a recent international scanning tour got a glimpse of a future that not only looks prefabricated, but delivers projects at significantly accelerated speed.
The Federal Highway Administration (FHWA) and the American Association of State Highway and Transportation Officials (AASHTO) sponsored the international scanning tour in April 2004 to learn more about prefabricated bridge technologies being used in Europe and Japan, including design methodologies, construction techniques, and maintenance and inspection processes. The scanning team visited Japan, the Netherlands, Belgium, Germany, and France. Team members represented FHWA, State and county highway agencies, industry, and academia.
The primary focus of the tour was on bridges with span lengths ranging from 6 to 40 m (20 to 140 ft), which represents the bulk of structures in the United States. Depending on the specific site conditions, the use of prefabricated bridge technologies has proven in Japan and Europe that it can minimize traffic disruptions, improve constructibility, increase quality, frequently reduce initial cost, lower life-cycle costs, and minimize disruptions to the environment.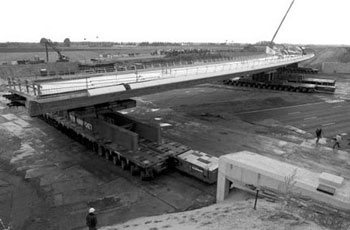 A 3600 ton, two-span bridge is moved in Amsterdam using an SPMT. Bottom: An SPMT in Belgium.
After completing the tour, the team identified 10 technologies that it recommended for possible implementation in the United States. The most compelling technology the team observed was the use of vehicles known as self-propelled modular transporters (SPMTs) to move large bridge components or complete bridges built off site and then place them into position quickly for use. "The ability to build complete bridges off site and then move them into place was what struck us the most," says team member Henry Russell of Henry G. Russell, Inc. The multi-axle, computer controlled vehicles can move in any horizontal direction, while maintaining their payload geometry and keeping equal axle loads. In the Netherlands, for example, a two-span bridge weighing 3600 tons was moved 120 m (393 ft) in 2 hours.
"The use of SPMTs could be the biggest change in many, many years for bridge building," says team cochair Mary Lou Ralls of the Texas Department of Transportation (TxDOT). Texas plans to begin work on bridge projects in 2005 that will use the technology on the I-35 corridor in its Waco District. "The bridges will be constructed next to the site and then moved on to the site using SPMTs. For a bridge project that we're currently designing, only one direction of I-35 mainlane traffic will have to be detoured to a frontage road, and this detour will only be required for one night," says Ralls.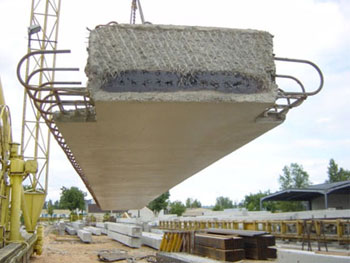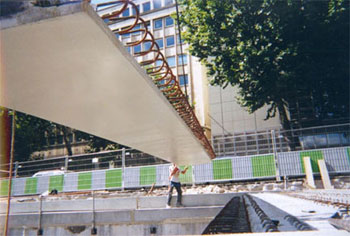 These photos show France's Poutre Dalle system, which eliminates the need to place and remove temporary formwork for bridge decks during construction.
Other observed methods of more rapidly moving bridge components include:
Horizontally skidding or sliding bridges into place.
Incrementally launching bridges over valleys or above existing highways.
Floating bridges into place using barges or by building a temporary dry dock.
Building bridges alongside an existing roadway and then rotating them into place.
Vertically lifting bridges.
Additional recommended technologies observed by the team include systems that eliminate the need to place and remove temporary formwork for bridge decks during construction. In Germany, partial depth concrete decks are cast on steel or concrete beams prior to erection of the beams. After the beams are erected, the edges of each deck unit abut the adjacent member, eliminating the need to place additional formwork for the cast-in-place concrete. This process accelerates construction and increases safety, as a safe working surface is available immediately after beam erection.
France's Poutre Dalle system also eliminates the need for formwork. In this system, inverted T-beams are placed adjacent to each other and then made composite with cast-in-place concrete placed between the webs of the tees and over the tops of the stems to form a solid member. "This technology presents particularly good opportunities for implementation with smaller bridges," notes team member Dan Dorgan of the Minnesota Department of Transportation. Minnesota is looking at using the technology for two upcoming bridge projects. "The advantages of using the technology include faster construction and less disturbance to the surrounding site," says Dorgan.
The use of full-depth prefabricated concrete bridge deck panels was also observed. The deck panels are made composite through the use of steel studs located in grout-filled pockets in the concrete deck slabs. Employing these prefabricated concrete decks reduces construction time by eliminating the need to erect formwork and use cast-in-place concrete. "Using the technology would be particularly timely here in the United States because of the nationwide push for accelerated construction," says team member Shri Bhidé of the Portland Cement Association.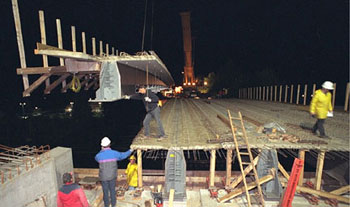 A partial deck concrete deck is cast on steel beams on German Federal Autobahn Route 8A East between Munich, Germany, and Salzburg, Austria.
The team will be issuing an implementation plan this fall containing recommendations for introducing the observed technologies to highway agencies and others, using such means as demonstration projects, showcases, and workshops. The team will also be releasing a report on the scanning tour. A preliminary summary report is available online now at www.fhwa.dot.gov/bridge/prefab/pbesscan.htm. For more information about the scanning tour, contact Benjamin Tang at FHWA, 202-366-4592 (email:  benjamin.tang@fhwa.dot.gov).
For More Information
To learn more about prefabricated bridge elements and systems, visit www.fhwa.dot.gov/bridge/prefab. The Web site highlights the advantages of prefabrication and presents details on how prefabricated bridge elements and systems have been used around the country. Also featured are information on best practices and video clips of numerous bridge projects.