Publication Number: FHWA-HRT-05-025
Date: April 2005

Recycled Concrete: A Valuable Transportation Resource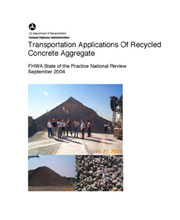 Across the United States, the use of recycled concrete aggregate (RCA) in the highway infrastructure is reducing waste, cutting costs, and providing durable new roads. Advanced transportation uses of RCA are highlighted in a new Federal Highway Administration (FHWA) report, Transportation Applications of Recycled Concrete Aggregate. The report details the results of a year-long review of RCA use and practices in five States-California, Michigan, Minnesota, Texas, and Virginia (see April 2004 Focus). Sponsored by FHWA's Recycling Team and supported by the American Association of State Highway and Transportation Officials' (AASHTO) Task Force on Recycling, the review was conducted by a team that included representatives from FHWA, the U.S. Environmental Protection Agency, AASHTO, American Concrete Institute, and the Recycled Materials Resource Center at the University of New Hampshire.
RCA generally comes from portland cement concrete (PCC) pavements, bridge structures and decks, sidewalks, curbs, and gutters that have been removed from service, had their steel removed, and have been crushed to a desired gradation. Commercial construction debris can also be used for RCA, provided that it is cleaned of material such
"The review team found that RCA, under specific conditions, has the potential to produce strong, durable materials suitable for use in the highway infrastructure," says Jason Harrington of the FHWA Recycling Team. RCA helps to increase structural strength in the pavement base, resulting in improved load carrying capacity. This is due to the cementitious action that can still occur within the compacted base. as brick, wood, steel, and glass.
"Recycled concrete aggregate, under specific conditions, has the potential to produce strong durable materials suitable for use in the highway infrastructure."
The resource conservation benefits of using RCA are numerous, starting with a reduced need for waste disposal and dumping. And since the RCA can be used within the same city or metropolitan area, this saves both time and money and reduces the energy consumption that would be needed to haul virgin aggregate from quarries. Conserving virgin aggregate is another major benefit, as the supply of such aggregate is becoming limited in many areas of the United States.
The FHWA report outlines States' experiences and provides information on such issues as production, construction, and cost. The Texas Department of Transportation (TxDOT), for example, has been using RCA in highways and streets and as a base material for the past 10 years. While there was an initial perception among engineers that RCA was a waste product and thus a substandard material, that has changed as a result of training and information provided to TxDOT's districts on the performance of projects across the State. Lessons learned have included the need to improve process control when using RCA in new concrete to prevent problems with mix workability. New process control measures include watering stockpiles and frequently testing the aggregate for moisture content.
RCA has been used in Michigan since 1983, including on such roads as M-10, I-75, I-94, and I-95. RCA can be used as coarse aggregate in PCC for curbs and gutters, sidewalks, concrete barriers, driveways, temporary pavement interchange ramps, and shoulders. RCA has also been used as coarse aggregate in hot-mix asphalt and as dense-graded aggregate for base courses, surface courses, shoulders, approaches, and pavement patching. Using RCA in the Detroit area has been most advantageous, because of the large source of concrete rubble and the well developed RCA production industry in the area. Cost savings statewide have included cutting $114,000 from a project on US-41 as a result of using RCA in the pavement base structure.
Minnesota, meanwhile, currently uses almost 100 percent of the concrete removed from its pavements as dense-graded aggregate base. The material is typically crushed on site, lowering transportation costs and the overall project costs.
The Virginia Department of Transportation (VDOT) has standard specifications for the use of RCA in highway construction. VDOT has also developed recommendations for compacting RCA when it is used in pavement bases and sub-bases. These recommendations include compacting the RCA when it is in a saturated state to aid in the migration of fines throughout the mix. Compaction should be performed with steel wheel rollers, as minor amounts of steel present in the material can interfere with rubber-tired equipment.
In California, most of the concrete pavement removed from existing highways and streets is processed and reused as aggregate base. The California Department of Transportation's specification for aggregate base allows for any mixture of RCA and recycled asphalt pavement, giving contractors the freedom to choose the most economical base material.
In addition to summarizing States' experiences with RCA, the FHWA report looks at additional research needs as usage grows, including examining how applicable virgin aggregate specifications and test procedures are to RCA. Another identified research need is to look at blending RCA with other industrial by-product materials to produce a superior performing base material. The report also includes information on State specifications and guidelines and technical contacts for each State. FHWA's Pavement Recycling Team will be launching a similar state-of-the-practice review of cold-in-place recycling of asphalt this year.
Transportation Applications of Recycled Concrete Aggregate (Publication No. FHWA-IF-05-013) is available online at www.rmrc.unh.edu/Resources/PandD/RCAReport/RCAREPORT.pdf. For more information or to obtain a printed copy, contact Jason Harrington at FHWA, 202-366-1576 (fax: 202-493-2070; email:jason.harrington@fhwa.dot.gov). To learn more about the FHWA Recycling Team, visit www.fhwa.dot.gov/pavement/reccont.htm.
..................................................
The University of New Hampshire's Recycled Materials Resource Center (RMRC), in conjunction with the AASHTO Recycling Task Force and the FHWA Recycling Team, will host a workshop from May 9-10, 2005, in Raleigh, North Carolina, on the "Beneficial Use of Recycled Materials in Transportation Applications." The workshop will bring together State highway agency materials engineers and environmental specialists, State environmental protection agency staff, and FHWA division office personnel from 12 southeastern States, the District of Columbia, and Puerto Rico. The event will provide attendees with a toolbox of information so that they can develop recycling expertise within their own States. "The goal is to demonstrate how you can look at any material and evaluate it for recycling potential," says Jason Harrington of FHWA's Recycling Team. Four recycled material applications are being presented to show how the toolbox can be applied: (1) foamed bitumen for full-depth reclamation; (2) shredded tires in embankments; (3) reclaimed concrete in granular applications; and (4) foundry sands as fine aggregates in flowable fill and asphalt.
A similar training workshop was held for northeastern States in September 2004. RMRC, FHWA, and AASHTO are looking at holding additional workshops for western and Great Lakes region States in the future.
For more information, contact Jason Harrington at FHWA, 202-366-1576 (fax: 202-493-2070; email: jason.harrington@fhwa.dot.gov).