Publication Number: FHWA-HRT-05-025
Date: April 2005

Quiet Pavements: Lessons Learned from Europe
Europe's use of innovative quiet pavement technologies to reduce highway noise was the focus of an international scanning tour in the spring of 2004. Jointly sponsored by the Federal Highway Administration (FHWA), American Association of State Highway and Transportation Officials (AASHTO), and the Transportation Research Board/National Cooperative Highway Research Program, the scanning tour team consisted of representatives from FHWA, State transportation agencies, private industry, and academia.
The team visited Denmark, the Netherlands, France, Italy, and the United Kingdom. One of the key observations brought back from the tour was Europe's total approach to reducing highway noise, particularly in terms of the noise policies and multiple noise mitigation strategies used.
"These European countries are using an integrated approach to addressing highway noise," says David Gibbs, Division Administrator of FHWA's Utah division office and co-chair of the scanning team. While the approaches differed slightly from country to country, the general practices observed included using both quieter pavements and noise barriers, as well as implementing policies that set noise level thresholds and seek noise reductions from both vehicles and tires. Overall, the European approach was found to be more comprehensive than U.S. practices, addressing nearly every aspect of noise reduction.
The noise level thresholds in the countries visited were accompanied by additional policies, such as one in Denmark that mandates that new houses not face roadways. In the United Kingdom, new housing construction must take traffic noise into consideration and actively plan for it. Any planned development that approaches the noise thresholds must include noise reduction strategies in the design.
European Union countries also agreed to map noise contours along all existing roadways by 2007. Each country will then develop an action plan to address problems identified in the noise map.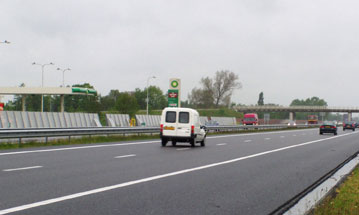 Quiet pavement technologies observed in Europe included this double-layer porous asphalt pavement on the A28 in the Netherlands.
Three major quiet pavement technologies are being used in Europe to reduce highway noise: thin-surfaced, negatively textured gap-graded asphalt mixes; single- and double-layer highly porous asphalt mixes; and exposed aggregate concrete pavements. The thin-surfaced mixes are being used in urban areas and areas subject to severe winter weather. The highly porous asphalt mixes are being used on rural roads and highways with moderate winter conditions, as winter maintenance costs can be higher for these pavements. Exposed aggregate concrete pavements are also being used in areas where concrete paving is done.
The United Kingdom is widely using quiet pavements, particularly thin-layered textured asphalt mixes. In 2000, a 10-year plan for transport was adopted that set a target for advancing noise reduction policies on major roads. The overall goal is to resurface 60 percent of major roads with quieter materials over the 10-year period.
France has been using thin, gap-graded hot-mix asphalt (HMA) pavements for several years. They can lower noise levels by 6 decibels as compared to dense-graded HMA pavement. France is also using single-layer porous HMA pavements, which can lower noise by 6 to 9 decibels as compared to dense-graded HMA pavements.
Italy, meanwhile, has been using porous asphalt mixes since the late 1980s to reduce highway noise. Italy has found that a properly designed porous mix can achieve a life performance that is 80 to 90 percent of that achieved with a dense-graded mix.
Highway traffic noise is also an important issue for many metropolitan areas of the United States. Currently, Federal standards set the threshold for noise from Federal-aid highways at 67 decibels for residential areas and 72 decibels for commercial areas, according to scanning team member Chris Corbisier, a highway traffic noise specialist at FHWA. In the past, the typical noise reduction strategy used in the United States was to construct noise barriers (walls), although a few States are beginning to pilot test quiet pavement technology and conduct additional research, Gibbs notes. Noise barrier walls are expensive (typically costing about $1 to 2 million per mile) and often are targets for vandalism. Their noise reduction benefit is also limited, typically extending to less than 121 m (400 ft) from the roadway. Noise mitigation options can also include such steps as restricting trucks and reducing vehicle speeds, depending on the roadway.
Implementing noise measuring methodologies for quieter pavements will be the first step toward further reducing highway noise in the United States, says Randell Iwasaki, co-chair of the scanning team and Chief Deputy Director of the California Department of Transportation (Caltrans). "The most important thing we learned is that we need a process to measure the acoustical performance of quiet pavements," he says. "We need to implement a standard procedure so that all of the States approach noise measurement in the same fashion."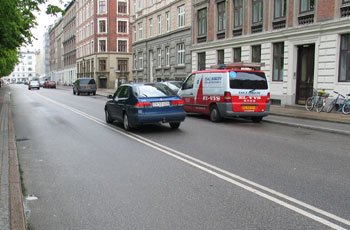 A double-layer porous asphalt pavement in Copenhagen, Denmark.
As the United States looks at using quieter pavements, cost is also a factor. Quiet pavements in Europe tend to cost about 10 to 25 percent more than traditional pavements.
States may need both an impetus and assistance to adopt quieter pavements because of the added expense, says team member Douglas Carlson, Executive Director of the Rubber Pavements Association. Federal regulations do not currently recognize quiet pavements as a noise mitigation strategy, and a majority of funding addressing noise mitigation continues to be expended on the construction of highway noise barriers. However, States can use Federal funds for quiet pavement implementation if they participate in FHWA's Quiet Pavement Pilot Program (QPPP). This program is intended to demonstrate the effectiveness of quiet pavement strategies and evaluate any changes in their noise mitigation properties over time. The Arizona Department of Transportation has implemented a QPPP to test asphalt rubber friction courses on roads in the Phoenix area to reduce noise. For more information on QPPPs, visit www.fhwa.dot.gov/environment/noise/qpppeml.htm.
California is currently testing quiet pavement systems such as rubber asphalt pavement and diamond grinding. To compare U.S. pavement types that are considered quiet against European quiet pavement technology, Caltrans sponsored a team that traveled to Europe to measure the noise performance of a variety of quiet pavements in the countries visited on the scanning tour. The results showed asphalt rubber pavements used in Arizona and California compare favorably with the best quiet pavements tested in Europe. "This favorable comparison is very encouraging as the European pavements were specifically designed to be quiet, while the U.S. pavements were not. Further research and development may yield pavement systems that exceed the performance of the European quiet pavement systems," says team member Mark Swanlund of FHWA.
The team's experiences and findings are summarized in a draft report, Quiet Pavements, which is available online at http://146.6.177.170/QPreport.pdf. The team's recommendations include developing AASHTO protocols for measuring the acoustical performance of quiet pavements and updating current noise policy and the FHWA Traffic Noise Model to integrate the use of quiet pavement technology with other noise mitigation alternatives. Quiet pavement technologies recommended include using porous mixes on high-speed roadways and thin-textured surfacings on urban or low-speed roadways. The team also recommends investigating the use of diamond grinding blade configurations to enhance the noise-reducing properties of existing concrete surfaces.
The team has developed an implementation plan for its recommendations. The plan's steps include:
Assess the scan findings to determine viability.
Develop U.S. methods and specifications for design and construction.
Conduct laboratory testing as appropriate.
Construct a small-scale test project.
Conduct larger-scale test and evaluation projects.
Construct demonstration projects at various locations throughout the country.
To address the need for standardized test methods for noise testing, an Expert Task Group (ETG) with representatives from State highway agencies, academia, and industry will be formed. The ETG will develop draft provisional standards for tire-pavement noise measurement for consideration by the AASHTO Subcommittee on Materials.
For more information about the quiet pavements scanning tour, contact one of the team members listed in the sidebar below.
Scanning Team Contacts
David Gibbs, FHWA, co-chair, 801-963-0182
Randell Iwasaki, California Department of Transportation, co-chair, 916-654-5791
(randell_iwasaki@dot.ca.gov)
Douglas Carlson, Rubber Pavements Association, 480-517-9944
(dougc@rubberpavements.org)
Chris Corbisier, FHWA, 202-366-1473
(chris.corbisier@fhwa.dot.gov)