Publication Number: FHWA-HRT-05-029
Date: August 2005

From Vertical to Horizontal: Learning from the Innovations of the Building Construction Industry
From New York's John F. Kennedy (JFK) Airport to the Walt Disney Concert Hall in Los Angeles, observing and learning from the innovations of the vertical construction industry (i.e., buildings and related facilities) was the goal of a domestic technology scanning tour sponsored by the Federal Highway Administration (FHWA). Modeled on the international technology scanning program jointly sponsored by the American Association of State Highway and Transportation Officials (AASHTO) and FHWA, the scan was facilitated by the Civil Engineering Research Foundation. Scanning team members represented AASHTO, State transportation agencies, the National Association of County Engineers, industry, and FHWA.
Team members took 2-day scan trips to New York City, Chicago, and Los Angeles in the summer and fall of 2004. The team met with key executives and managers at internationally-known vertical construction and design companies, including Gehry Partners, Disney Imagineering, Parsons Brinckerhoff, and Bechtel. "The individuals we met with are industry leaders who are on the cutting edge," says team member Steve DeWitt, Director of Construction for the North Carolina Department of Transportation. The scan also featured technical tours of the Jamaica Station, Air Train, and Terminal Four at JFK Airport; Soldier Field and the One South Street Building construction project in Chicago; and the Cathedral of the Angels, Walt Disney Concert Hall, and the California Department of Transportation District Seven Headquarters Building in Los Angeles. "It was a very rewarding trip," says team member Al Forsberg, Public Works Director for Blue Earth County, Minnesota. "It was a tremendous opportunity to visit the various sites and meet with the vertical design world."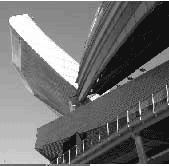 Cantilevered seating at Soldier Field Stadium in Chicago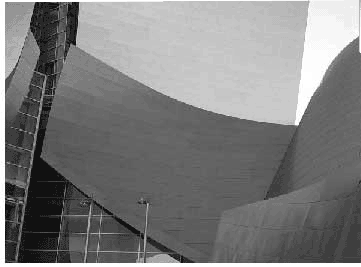 The Walt Disney Concert Hall in Los Angeles, CA.
The team observed and discussed the distinctions between the vertical and horizontal construction industries, with the primary differences being the motivations and regulations that drive the two worlds. The motivation for introducing innovative technologies, materials, and processes in the vertical construction industry is largely one of increasing profit. The vertical construction industry also generally has more flexibility and is usually not subject to the same restrictive regulations on contracting and procurement. The horizontal construction industry, in contrast, is primarily made up of local and State agencies that are charged with efficiently serving the public and spending public funds. Contract awards are typically to the lowest bidder and risk is often avoided because of the potential liability associated with possible failures resulting from the use of new materials, technologies, and approaches.
"In horizontal construction, we do a lot to minimize risk, but we also tie down the potential for creativity," says team member Don Arkle, Chief of the Design Bureau at the Alabama Department of Transportation. "Allowing contractors more creativity can ultimately improve the product and cut costs." For example, notes Arkle, when planning construction sequencing, highway agencies typically outline traffic control plans for contractors. Being less prescriptive and letting contractors devise the plan themselves could produce more innovative strategies and shorten construction time.
In discussing the differences between the two construction industries, however, the team also observed that the majority of recent innovations that have been adopted in the vertical construction field have also been used, in more limited instances, in the design and construction of highways. These include such technologies as high-performance steel and concrete, composites materials, high durability concrete, and embedded sensors in pavements to evaluate concrete strength in real time. "The horizontal world has been aggressive in implementing new technologies. We didn't find the new breakthroughs in technologies as we expected," says Forsberg. "It's a good sign that the horizontal construction world is not far behind." Instead of focusing on new technologies, the team zeroed in on innovative ideas or concepts that the vertical construction industry has successfully implemented and that have potential for application in horizontal construction. The majority of these ideas pertain to the project delivery process, including contracting, procurement, and management.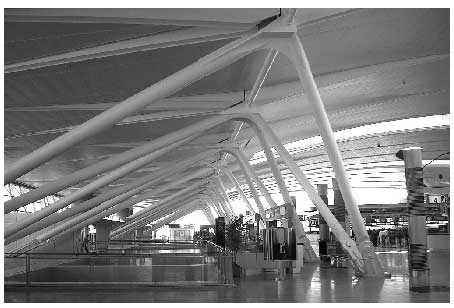 Terminal Four at New York City's JFK Airport.
Among the innovations recommended for implementation or wider application in highway construction are:
3-D and 4-D Modeling. 3-D modeling software can more accurately detail and represent a project's design. The 4-D modeling process integrates 3-D modeling with time, providing a view of how the project will look as it progresses through the construction process and helping to detect potential problems. For example, on the Walt Disney Concert Hall project, 4-D modeling identified a potential conflict between steel erection and the installation of a large HVAC unit.
Web-Based Project Management Systems. Using project collaboration software, these systems allow all parties working on a large construction project to access a secure Web site to conduct daily project management and administrative activities. The Chicago Transit Authority is using one, for example, for its 5-year, $2.1 billion Capital Improvement Program.
Marketing and Communications. Effective communication with the public, elected officials, and other decisionmakers is often vital to the success of transportation projects.
Early Contractor Involvement. Involving contractors early in the project development process can increase innovation, improve constructibility, and help control costs.
Innovation, Risk, and Reward and Process Flexibility and Opportunity for Innovation. To encourage risks to be taken in introducing innovations, sufficient potential rewards should exist. Contracting and procurement rules should also provide enough flexibility for innovations to be considered.
Ownership of Process-Roles and Responsibilities. With alternative project delivery systems such as design-build, project teams are formed early in the process. Team members work together through the life of a project and all members have a stake in the successful completion of the project.
Project Management, Procurement, and Delivery Systems. Project delivery systems, such as design-build, typically use management teams that are in charge of the project from beginning to end. This provides better continuity and enhanced cooperation, and often speeds project completion.
Removing Barriers to Innovation. Barriers can include resistance to change, distrust between the contractor and project owner, and fear of risk taking. To encourage innovation in the construction of Terminal Four at JFK Airport, the Port Authority of New York and New Jersey set up a "risk pool" fund to cover unknown factors and overruns, with the stipulation that the owner and contractor would share equally any money not spent.
Streamlining. Streamlining strategies can include producing construction-ready design documents, which saves time and prevents potential errors.
Life-Cycle Considerations. To foster increased acceptance of life-cycle cost innovations, it is vital to establish a sound economic rationale for decisionmaking and to place realistic costs on such factors as user delays and traffic interruption.
Insurance. "Wrap-up" insurance or an owner-controlled insurance program can save money and mitigate project risk.
According to team member Gary Brown, Technology Coordinator for FHWA's Federal Lands Division office, learning more about the use of project management software and 3-D and 4-D designs was particularly useful. "The vertical construction industry is way ahead of us in this area. A Web-based project management system, such as the one being used in Chicago for the rehabilitation of the city's subway system, could have a lot of value for highway projects," says Brown. "The use of 3-D and 4-D designs would also be applicable to Federal Lands projects. We hope we can soon start to incorporate these technologies."
Forsberg also sees the potential for using 3-D and 4-D modeling. "It can help the public see better what a project will look like. It's a good educational and public relations tool," he notes. The scanning tour also left him with an appreciation for the aesthetics of the projects observed. "It tells me that aesthetics are important in the horizontal construction world as well and that the public appreciates it when we make roads and structures more attractive," says Forsberg.
The team's forthcoming report, Innovation in Vertical and Horizontal Construction, addresses the next steps needed to implement the recommended innovations. "For each of these innovative and promising ideas to be widely adopted in highway construction," notes the report, "a champion must be identified to spearhead the formulation and monitor a pilot deployment designed to test the validity of the concept, and identify the institutional changes that may be required." The team also recommends setting up a steering committee to coordinate and monitor the pilot programs, gather data, and make recommendations for widespread implementation based upon the results of the pilot initiatives.
For more information on the scanning tour or the team's recommendations, contact Ian Friedland at FHWA, 202-493-3023 (email: ian.friedland@fhwa.dot.gov). The scanning team's report will be released this fall.