Publication Number: FHWA-HRT-06-021
Date: December 2005

A Nationwide Boost for Preserving the Highway Infrastructure
Since launching its Pavement Preservation Technical Assistance Program earlier this year, the Federal Highway Administration's (FHWA) Office of Asset Management has worked with highway agencies around the country to evaluate their pavement preservation programs and offer assistance in developing and expanding their current practices. "We are learning a lot about what is being done at the State level, the variety of levels of experience in pavement preservation, and the different approaches to preserving highway assets," says Christopher Newman of FHWA. These peer evaluations are being carried out by FHWA through a contract with the National Center for Pavement Preservation (NCPP).
Pavement preservation is a network level, long-term strategy that enhances pavement performance by using a variety of cost-effective surface treatments that extend pavement life. These treatments must be carefully selected and must be applied before the pavement sustains structural damage.
The 3- to 4-day reviews have been held to date in Alaska, Idaho, Indiana, Kentucky, Louisiana, Nebraska, Nevada, New Jersey, New Mexico, and Rhode Island. In coordination with each individual State, the NCPP staff, together with a representative from the State department of transportation and local FHWA division office, conducted interviews with key highway personnel involved in developing, implementing, evaluating, and managing the State's pavement maintenance, evaluation, and preservation programs. These key personnel have included materials, design, planning and programming, and maintenance staff, as well as senior agency officials. The review team has also visited field offices in each State. "This peer exchange approach has resulted in detailed discussions involving all levels of the department, from the director to the maintenance technicians. It's been a very positive process," notes Larry Galehouse of the NCPP.
Topic areas covered by the review team include:
Business process.
Program implementation.
Project selection.
Treatments.
Materials.
Quality control.
Performance monitoring.
Pavement management systems.
Training.
Research.
Public/Key decisionmaker/Legislator relations.
"The review was a very good process that helped us to formalize our internal procedures for pavement preservation. We were also able to expand the knowledge base of our employees," says Dean Weitzel of the Nevada Department of Transportation. "We're looking forward to finding out more about what other States are doing as FHWA compiles the information from the reviews."
"The review was a very good process that helped us to formalize our internal procedures for pavement preservation."
"This will give us something to benchmark against," notes Tom Raught of the New Mexico State Highway and Transportation Department. "It was particularly helpful that the review team visited our district offices also, in addition to meeting with Headquarters staff."
Reports summarizing observations and recommendations will be issued for each review. FHWA will also hold a closeout meeting with the participants from each State to discuss the observations and suggested enhancements or improvements. Comments from the review team will be combined with feedback from the States and FHWA division offices to identify areas where transportation departments can enhance system performance at reduced cost. "It's about maintaining and preserving our transportation investment," says Jim Sorenson of FHWA.
Information gathered during the assessments will be used to create a database so that pavement preservation practices and trends can be tracked nationally. The database will provide a benchmarking tool for sharing best practices, as well as examining variables that can adversely affect pavement preservation treatments, such as application timing, environmental factors, and traffic loads.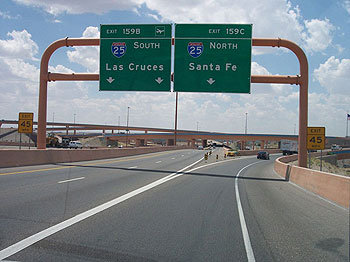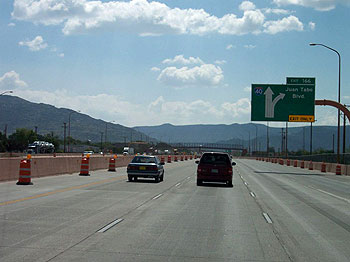 Pavement preservation reviews have been held in Alaska, Idaho, Indiana, Kentucky, Louisiana, Nebraska, Nevada, New Jersey, Rhode Island, and New Mexico (pictured above). Ten more reviews are currently scheduled for 2006.
Ten more State reviews are currently scheduled for 2006. "We have also received requests from cities and counties for reviews," says Galehouse. FHWA and the Local Technical Assistance Program managers are evaluating various ways to respond to the local requests.
For more information or to schedule a review, contact your local FHWA division office or Christopher Newman at FHWA, 202-366-2023 (email: christopher.newman@fhwa.dot.gov).