Publication Number: FHWA-HRT-06-021
Date: December 2005

Economic Analysis and Asset Management: A New Approach in Hillsborough County
Using a new and comprehensive asset management system for its roadway and stormwater infrastructure, the Public Works Department of Hillsborough County, Florida, has transformed its approach to managing, improving, and replacing its highway assets. Instead of the previous management approach that relied on corrective rather than preventive maintenance strategies and made decisions based largely on historic line-item expenditures and reactions to public or political demands, the new system includes all of the forecasting elements necessary to perform multiyear budgeting of maintenance, operations, and capital replacement of assets as needed.
The department launched its asset management effort by creating comprehensive inventories of its roadway, road-edge, and roadside assets. These inventories included a condition assessment for each of the assets, including more than 9,977 lane km (6,200 lane mi) of paved roads, 1.28 million m (4.2 million ft) of storm pipe, and 14,000 intersections. The assets were assigned a rating of good, fair, or poor. This data was then loaded into a management information system, known as the Hillsborough County Asset Management System (HAMS). HAMS includes linked roadway and stormwater modules and a geographic information system (GIS). Using HAMS, Public Works personnel can look up a county roadway asset, ascertain its condition and maintenance history, view photographs of and GIS data about the asset, and update the listed data when necessary.
Hillsborough County uses HAMS in conjunction with economic analysis tools to anticipate and prioritize maintenance and replacement needs. "By using economic analysis applications, we can determine the best actions to take from the standpoint of lowest overall costs and greatest net benefits to the public," says Assistant County Administrator Bernardo Garcia. For example, pavement information in HAMS can be used with a pavement management decision model that guides an analyst through a series of questions regarding roadway condition, traffic, and alternative treatment options to determine reasonable treatment strategies. These potential strategies are then further refined based on life-cycle cost criteria, verified against field inspections, and mapped on a GIS base map to determine the best coordinated treatment for roads in a given area.
The department plans to continue incorporating more economic analysis tools and management systems, such as the county's crash-reporting database, into the HAMS framework. "Our goal is to use HAMS to plan a continuously updated, multi-decade preventive maintenance and prioritized rehabilitation and replacement program based on engineering, economic, and safety criteria," says Garcia.
The switch to the asset management system is already yielding substantial benefits to the Public Works Department and the residents of Hillsborough County. These benefits include improved financial efficiency. Using HAMS, the department can calculate future maintenance actions and target funds where they will yield the biggest benefit. Communication with citizens has also improved, as the department can better respond to questions about planned roadway improvements such as new signals, paving, new sidewalk installation and repairs, drainage maintenance, new signs and striping, and other routine maintenance and asset replacement work. When Hillsborough County was hit by Hurricanes Charley, Jeanne, and Frances in 2004, HAMS provided critical information to the county as it responded to these emergency events. For example, the county used information collected in the HAMS stormwater and drainage inventory to pinpoint locations most likely to experience drainage problems, road closures, or signal blackouts, and to identify detour routes.
While collecting data and implementing the system has cost more than $3 million, the county expects that the improved proactive capital, repair, rehabilitation, and replacement planning will lead to greater savings and efficiency in annual costs.
For Hillsborough County, the creation of a comprehensive asset management system has proved to be a starting point, not an ending point. The county will continue to update the system's inventory data while investigating new applications of economic analysis for most of its 38 different assets. To learn more about the county's asset management system, contact the office of Assistant County Administrator Bernardo Garcia, Hillsborough County, Florida, at 813-276-2591. Information is also available in a new case study available from FHWA, Economics in Asset Management (Publication No. FHWA-IF-05-024). The case study is available online at www.fhwa.dot.gov/infrastructure/asstmgmt/casestudies.cfm. For more information about asset management and the use of economic analysis for highway decisionmaking, contact Eric Gabler at FHWA, 202-366-4036 (fax: 202-366-9981; email: eric.gabler@fhwa.dot.gov).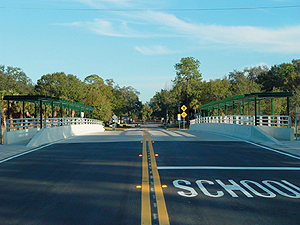 Using a new asset management system, Hillsborough County, FL, has transformed its approach to managing and improving its roadway infrastructure.