Publication Number: FHWA-HRT-05-023
Date: January/February 2005

Scanning Tour Brings Back New Approaches to Construction Management
The goal of improving construction management policies and procedures took an international scanning tour team to Canada and Europe in May 2004. Jointly sponsored by the Federal Highway Administration (FHWA) and the American Association of State Highway and Transportation Officials (AASHTO), the team consisted of representatives from FHWA, State transportation agencies, private industry, and academia.
The team visited Canada, England, Scotland, Germany, and the Netherlands, returning with a new perspective on project delivery and contracting systems, says Jerry Yakowenko of FHWA and cochair of the scanning team.
"These countries set themselves up for success by using specific project delivery and procurement systems tailored to their individual project goals," says Yakowenko. "Unlike the U.S., our host countries are not as constrained by statutory, regulatory, and marketplace restrictions. However, we witnessed some quality-based concepts that we should be able to implement in our current project delivery systems."
Team members observed that contractors were much more involved and integrated into the project delivery process than they are in the United States. Agencies also relied on contractor innovation and insight at levels not normally seen in this country. "These contracting practices are effective in aligning the goals of the project and the customers," says team member John Smythe of the Iowa Department of Transportation (DOT). Although the advantages can be difficult to measure, the new contracting practices observed can produce a higher quality of work, help to foster long-term relationships between agencies and contractors, and help agencies save money through contractor innovations.
Scanning team cochair Steven DeWitt of the North Carolina Department of Transportation (NCDOT) noted that stronger prequalification ratings, use of long-term warranties, and higher levels of contractor involvement resulted in increased levels of trust between the agencies and the contractor, as well as more accountability. "Too often in the U.S., State DOTs have gravitated to performing quality control functions when our real role is quality assurance," DeWitt says. "We need to refocus our own roles on quality assurance functions and hold contractors accountable through performance measures, warranties, and future opportunities to bid. This is by far one of the biggest issues facing us in terms of quality."
The use of warranties is one practice that helps to ensure the quality of the product. According to Tucker Ferguson of the Pennsylvania Department of Transportation (PennDOT), the European countries visited all used some form of warranties in their contracts for a variety of work, such as bridges, pavements, drainage, landscaping, earthwork, lights, and pavement markings.
The team found that privatization is another practice utilized effectively abroad. For example, both England and Canada have privatized certain programs, such as road maintenance. However, incorporating privatization into current practices could be difficult here, says team member Thomas Bohuslav of the Texas Department of Transportation (TxDOT). "If we privatize more, the lines will be blurred regarding the responsibilities of the contractor," says Bohuslav. Performance measures need to be developed before any changes can occur, and they must be related directly to the public's needs, he notes.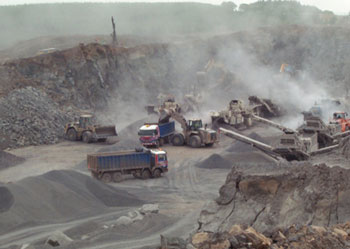 The British Highways Agency's A500 Stoke Pathfinder project is the pilot initiative for early contractor involvement, where contractors are brought on early in the project development process to accelerate design and construction.
Lump sum payments are another policy that caught the eye of the team. In the United States, unit price contracts are typically used, which often do not create incentives for contractors to increase either the quality of the work or the speed at which it is performed. In Scotland, the Netherlands, and England, lump sum payments tend to create incentives for the work to be completed on time or even ahead of time. For example, the contractor resurfacing a highway would receive a payment when a lane was opened. This differs from the U.S. system of unit payments, which might pay a contractor by the price per unit of installed work.
An additional practice the team observed was the selection of contractors based on quality as opposed to price. This is in contrast to highway agencies in the United States, who often are mandated to accept the lowest bid. The selection factors included team qualifications, past-performance ratings, quality plan proposals, and design alternatives. Selection factors also can be developed specifically for individual projects, such as traffic management plans. This helps to ensure that the plans are aligned with the project and customer goals from the beginning.
Past-performance ratings for contractors are used in England, Scotland, and Canada. Under this system, contractors are rated on completed projects and those ratings are incorporated into a contractor's overall qualification rating. Only contractors with strong qualification ratings can bid on certain projects, Yakowenko notes. "Many of the innovative construction management techniques that are being used work because the contractors know that the agency is going to use past-performance ratings in the next procurement," says team member Keith Molenaar of the University of Colorado at Boulder. "There's a lot more teamwork between the contractor and the agency because the contractors know they are going to be hired for the next job based on the quality of their previous work."
In Scotland, the Netherlands, and England lump sum payments tend to create incentives for the work to be completed on time or even ahead of time.
However, creating a similar system in the United States would be a large and expensive undertaking, team members noted. It would require an objective rating system and a database for extensive recordkeeping. In addition, contractors would be permitted to challenge the ratings either administratively or legally.
Implementing the observed new construction management practices in this country will be a challenge, team members said. While certain States are utilizing some of these policies to lesser degrees, introducing them more broadly would require a paradigm shift. In some cases, new State and Federal legislation would be required, as well as education efforts and pilot programs. "These changes would impact not only State procurement and contracting procedures, but also the fundamental business relationships that we currently know. The role of the contracting agency may evolve from a service provider to a network or contract manager," Yakowenko says.
The team expects to publish a full report on the scanning tour in spring 2005. A summary report is now available at construction.colorado.edu/cmscan. Recommendations outlined in the summary report for implementing some of the new procedures and processes observed on the scanning tour include:
Align Team Goals to Customer Goals. Develop procurement procedures, contract provisions, and construction management methods that better align the goals of the customer, owner, and contractors.
Enhance Qualification Rating Processes. Develop and implement consistent contractor quality rating processes to facilitate quality-based selection.
Pilot Test Early Contractor Involvement. Test a system of contractor qualifications-based selection to deliver a project from the planning and/or environmental process through construction.
Apply More Contractor Quality Management. Require contractors to submit quality plans during procurement that outline specific plans of action to deliver the specified requirements, and make these documents contractually binding.
The implementation plan for achieving these recommendations includes forming an Expert Technical Group to provide leadership and assistance, performing pilot studies, and organizing workshops for States.
For more information about the scanning tour, contact one of the team members listed in the sidebar below.
Construction Management Scan Team
Steven DeWitt, NCDOT, 919-715-4458 (email: sdewitt@dot.state.nc.us) ( cochair)
Jerry Yakowenko, FHWA, 202-366-1562 (email: gerald.yakowenko@fhwa.dot.gov) ( cochair)
Thomas Bohuslav, TxDOT, 512-416-2559 (email: tbohusl@dot.state.tx.us)
Celso Gatchalian, FHWA, 202-366-1342 (email: celso.gatchalian@fhwa.dot.gov)
Tucker Ferguson, PennDOT, 717-787-7894 (email: hferguson@state.pa.us)
Eugene Hoelker, FHWA, 708-283-3520 (email: eugene.hoelker@fhwa.dot.gov)
Keith Molenaar, University of Colorado at Boulder, 303-735-4276 (email: keith.molenaar@colorado.edu)
Greg Schiess, FHWA, 850-942-9650, ext. 3023 (email: greg.schiess@fhwa.dot.gov)
John Smythe, Iowa DOT, 515-239-1503, ext. 214 (email: john.smythe@dot.iowa.gov)
James Triplett, United Contractors, 803-581-6000 (email: jetriplett@infoave.net)
Richard Wagman, Wagman Construction Co., 717-764-8521 (email: rewagman@wagman.com)