Publication Number: FHWA-HRT-05-023
Date: January/February 2005

National Hydraulics Conference Showcases State-of-the-Art Technology
Advanced hydrology software applications and stormwater runoff pollution control systems were among the 21st century hydraulic engineering research, techniques, and products on display at the 2004 National Hydraulic Engineering Conference. Held in Asheville, North Carolina, from August 30 to September 3, 2004, the conference was cohosted by the Federal Highway Administration's (FHWA) National Hydraulics Team and the North Carolina Department of Transportation (NCDOT). More than 200 representatives from State departments of transportation, universities, private industry, and other organizations attended the event.
Conference sessions covered such topics as hydrology, bridge scour, stream stability, and coastal engineering. Among the technologies highlighted at the conference were the FHWA-sponsored Watershed Modeling System (WMS) and Surface-Water Modeling System (SMS) software applications. These programs were developed by the Environmental Modeling Research Laboratory at Brigham Young University. WMS is a comprehensive software package for developing computer simulations of watersheds. For example, using digital terrain data, WMS can be used to automatically delineate a watershed and sub-basins. Advanced features include the ability to manipulate stream networks to represent man-made features or proposed changes in the watershed. The SMS software, meanwhile, can be used for one-, two-, or three-dimensional hydrodynamic modeling. Applications include computing flow fields, sedimentation, and water quality.
The New Mexico Department of Transportation (NMDOT) has been using WMS Statewide since 2000. NMDOT uses it to perform hydrology and hydraulic analysis to estimate design discharge (i.e., the flow rate or flood volume that a hydraulic structure is designed to handle). An estimate of the design discharge is required to size hydraulic structures such as bridges and culverts along the highway system. Parviz Eftekhari, an engineer at NMDOT who presented the State's experiences with the software at the conference, notes that, "WMS makes it easier to analyze large basins using digital data. It allows you to choose a hydrology method to use, and it saves you time once you know how to use the software." He also notes that the software can be customized by users. "Customization includes preparation of soil maps, land-use maps, or tables in an appropriate format and inclusion of applicable local hydrology equations in the WMS program."
The Utah Department of Transportation (UDOT) has used WMS on more than 30 projects since 2001. Michael Fazio, UDOT Hydraulics Section Manager, noted at the conference that "solutions in WMS are reliable and consistent. The built-in hydrologic programs help in quick computations and comparisons of results." UDOT is also using SMS now for complex hydraulics for highway/water course crossings and scour calculations. The program works "seamlessly" with WMS, says Fazio, and provides accurate modeling of complex flows and easy interpretation of data. He notes, however, that for both WMS and SMS, UDOT has found there to be a long learning curve in gaining experience with the software.
Another highlight of the conference was the opportunity for participants to visit two nearby NCDOT construction projects, an extension of I-26 north from Asheville to the Tennessee State line and a bioretention facility on I-40 at the Swannanoa River, which incorporates state-of-the-art design to purify highway stormwater runoff before it enters the ecosystem.
The nearly 16-km (10-mi) extension of I-26 in Madison County was the largest Interstate construction project ever undertaken by NCDOT. "The project runs through some of the most rugged, pristine, and environmentally sensitive terrain in the Eastern United States," says Dave Henderson of NCDOT. Strict erosion and sediment control measures were required during construction. More than 26 million cubic m (35 million cubic yd) of rock and dirt were removed during the grading of the project and nearly 31,000 m (100,000 ft) of drainage pipe was installed, with cuts as deep as 182 m (600 ft) and embankments as high as 91 m (300 ft). The excavated material was reused as fill dirt for the project, minimizing the impact to the environment. In some areas, rock buttresses were required to support the embankment and prevent erosion on steep side slopes and minimize soil impacts to trout streams. The road opened to traffic in the summer of 2003 after 7 years of construction. NCDOT was recognized with an Environmental Excellence award from FHWA for the project.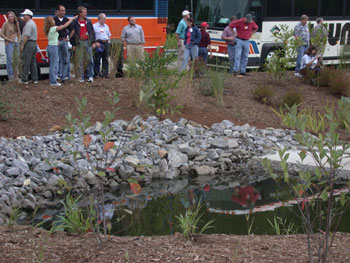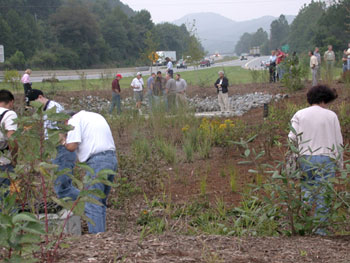 National Hydraulics Conference participants visit the North Carolina Department of Transportation's bioretention basin at I-40 and the Swannanoa River in Buncombe County. The basin diverts excess stormwater runoff and traps sediment and other pollutants.
The bioretention basin at I-40 and the Swannanoa River in Buncombe County was constructed as part of NCDOT's Best Management Practice Retrofit Program, which is a voluntary environmental stewardship commitment that the Department has made. The basin is a landscaped area that collects and treats stormwater runoff from I-40's bridge deck and pavement that previously were discharged directly into the river. It consists of diversion boxes, which divert excess water, a forebay, which is a small pool that traps sediment and other pollutants, and a filter bed with an under drain system.
The bioretention basin collects and treats stormwater runoff from I-40s bridge deck and pavement that previously were discharged directly into the river.
For more information about the Hydraulics Conference, contact Cynthia Nurmi at FHWA, 404-562-3908 (email: cynthia.nurmi@fhwa.dot.gov). To learn more about FHWA's National Geotech and Hydraulics Team and the assistance it can offer, visit https://www.fhwa.dot.gov/resourcecenter/teams/geotech/index.cfm. For more information about WMS or SMS, contact Larry Arneson at FHWA, 720-963-3200 (email: larry.arneson@fhwa.dot.gov), or visit www.ems-i.com. Additional information on NCDOT's I-26 project and I-40 bioretention basin are available from Dave Henderson at NCDOT, 919-250-4100 (email: dhenderson@dot.state.nc.us).