Publication Number: FHWA-HRT-05-028
Date: July 2005

TCCC Unveils New Products for Training the Transportation Workforce
Maintaining and rehabilitating the Nation's aging roads and bridges with a diminishing skilled and experienced workforce is a daunting challenge for today's transportation departments. The Transportation Curriculum Coordination Council (TCCC) is working to make their jobs easier. Since 2000, the TCCC has spent approximately $3.2 million and developed more than 40 courses in an effort to provide State and local transportation departments with the tools they need to train a qualified workforce. The TCCC is now introducing a core curriculum for training transportation personnel that will aid training directors and construction and maintenance engineers as they develop strategic workforce development plans.
The core curriculum covers five program areas: construction, materials, maintenance, safety, and employee development. The curriculum outlines recommended competencies by four skill levels (ranging from entry level employees to project management/administrator level staff) for various tasks and disciplines within a program area, such as quality assurance, value engineering, or project closeout activities. An accompanying training course matrix then lists available courses that support the development of the competencies identified for each skill level. "The curriculum will be useful to State and local departments of transportation in their efforts to establish training programs and to develop specific courses for their personnel. It will also be used by the TCCC to guide its development of course materials to be made available for nationwide use," says Christopher Newman of the Federal Highway Administration (FHWA). "The training course matrix is a work-in-progress that will continue to be updated as additional courses and training opportunities are identified by the TCCC."
The Virginia Department of Transportation (VDOT) hopes to start using the core curriculum matrix to tier or categorize expectations for employees based on their position. The four skill levels in the matrix correspond to VDOT's categories of inspector trainee, inspector, senior inspector, and construction manager. "We will also be comparing the course matrix to our existing training course descriptions to see if we're covering all the bases in terms of information provided," says Bill Beuter of VDOT. Beuter notes that participating in the TCCC has brought other benefits as well. "The intangible aspects of networking are something that I consider to be a success, because it gives us a sense of what other States are doing and what FHWA's expectations are," says Beuter.
"The curriculum will be useful to State and local departments of transportation in their efforts to establish training programs and to develop specific courses for their personnel."
Other States are also benefiting from training courses made available through the TCCC. After receiving a request from the American Association of State Highway and Transportation Officials (AASHTO) Subcommittee on Construction to develop a basic survey course for construction technicians, for example, the TCCC evaluated existing State training courses and identified VDOT's class as the one that best met its objectives, rather than developing an entirely new course. The VDOT course needed only minimal adjustments to make it applicable to a national audience and is now available for all State and local transportation departments to use. The 2-day course teaches staking and surveying skills for non-surveyors and includes hands-on field work as part of the course requirements. VDOT has been presenting the course since fall 2002 with great success. "It's been a very popular course in Virginia, particularly the hands-on field exercises," notes Beuter.
The TCCC does not charge a fee for materials for the courses it has developed, so the only costs that are incurred by States using the courses are for any modifications to meet individual State specifications, and instructor fees as needed.
The Iowa Department of Transportation will be presenting three separate sessions of the TCCC course on "Instructor Development for Technicians" this fall. Adapted from a National Highway Institute (NHI) Instructor Development course, the class focuses on presentation skills and principles of adult learning, as well as such topics as testing technicians and instructing in a laboratory environment. The course was also presented recently by the Georgia Department of Transportation.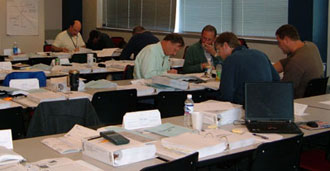 Attendees at the April 2005 pilot course for "Bridge Construction Inspection" in St. Louis, MO.
Idaho, meanwhile, found the TCCC's resources helpful to its development of a resident engineer academy for training. The TCCC surveyed States and collected information on existing resident engineer academy programs. Using this information, Idaho was then able to draw upon the California Department of Transportation's (Caltrans) program in developing its own academy. "Caltrans had a program with a similar scope to what we were hoping to do, which helped provide the impetus to start our program," says Garth Newman of the Idaho Transportation Department (ITD). Idaho's academy was launched in May 2005. It brings together resident engineer staff for an intensive 3 weeks of training, with the group meeting 1 week a month for 3 months. Topics covered in the academy include traffic control, claims and change orders, environmental issues, and materials acceptance. The ITD plans to host three sessions a year. "We are requiring every resident engineer to attend. Some have 30 years of experience and some have 6 months, so they bring a range of backgrounds and experience to the training, which enriches the discussions," says Newman.
Idaho has also used training material developed jointly by the TCCC and NHI on "Hot-Mix Asphalt (HMA) Construction" and "Drilled Shaft Inspection." "We hired a consultant to present the HMA paving course, using the TCCC course materials. It's been delivered seven times across Idaho, and the courses have included not only our employees but contractors' staff as well. It's been really good to have the contractors there also, as it gives us the opportunity to discuss construction issues without the pressures of being on a job site," says Newman.
New training opportunities available from the TCCC include a course entitled "Bridge Construction Inspection." The 4 1/2-day course aims to improve quality, ensure uniformity, and establish minimum competencies for bridge construction inspectors. Skills covered in the course include the ability to:
Interpret drawings and specifications
Anticipate possible construction and materials problems
Describe the construction sequence for various bridge systems, such as foundations, substructures, and superstructures, and different bridge types and materials
Conduct regular systematic inspections of materials and standards of construction
Explain and perform basic inspection and testing of materials
Perform accurate surveys and checking of dimensions
Maintain sufficient records.
The pilot Bridge Construction Inspection course was held in April 2005 in St. Louis, Missouri. The course is now available for use. "The pilot course went very well," says TCCC member Linda Hughes of the Washington State Department of Transportation. "It was targeted at engineers with 1 to 5 years of experience, and it got good reviews from the participants. States are looking for this type of training."
TCCC courses currently under development include topics such as "Managing Construction Workmanship," which is designed for construction inspectors and resident engineers, and two new geotechnical courses: "Mechanically Stabilized Earth Walls/Reinforced Soil Slopes," and "Subsurface Investigation Qualification Course."
The TCCC's partners in the development of the training courses and core curriculum matrixes include five regional training and certification groups comprised of State highway agency training officers and materials and construction engineers. Also participating are FHWA and NHI, several AASHTO subcommittees, and industry associations.
"The TCCC is a win-win partnership," says Jim Sorenson of FHWA. "This organization is sharing state of the practice training for the whole construction team, owners and contractors alike. Through this partnership, training needs are identified, development is prioritized, and the construction workforce is receiving the training that is needed." The TCCC partnership was recently strengthened by the addition of Pete Rahn, Director of the Missouri Department of Transportation, as chair of the TCCC Executive Committee.
The core curriculum and information on TCCC training courses and other resources are available online at www.nhi.fhwa.dot.gov/tccc. For more information on the curriculum, available training courses, or how you can partner with the TCCC, contact Christopher Newman at FHWA, 202-366-2023 (email: christopher.newman@fhwa.dot.gov)