Publication Number: FHWA-HRT-05-027
Date: June 2005

Acceleration and Advances in Steel Bridges
Advances in the use of accelerated bridge construction and high-performance steel (HPS) for bridges were the focus of the 2004 Federal Highway Administration (FHWA) Steel Bridge Conference, which drew 400 participants to San Antonio, Texas, in December 2004.
Developed through a joint effort among FHWA, the American Iron and Steel Institute, and the U.S. Department of the Navy, HPS is stronger and tougher than conventional steel. It also offers greater resistance to cracking. Since the first HPS bridge in the United States opened to traffic in 1997 in Snyder, Nebraska, implementation has increased significantly. Today, more than 40 States have built or are building HPS bridges. "The use of HPS in bridge construction saves money, gets projects built faster, and results in bridges that are more durable and last longer," says Atorod Azizinamini of the University of Nebraska-Lincoln. "HPS has also provided a new horizon for steel bridges in that it opens the door to using more innovative systems."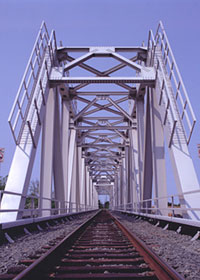 The Norfolk Southern Railroad Truss Bridge near Philadelphia, PA, was completed on a fast-track schedule.
Missouri began building HPS bridges on a trial basis in 2001. The initial projects were funded as part of FHWA's Innovative Bridge Research and Construction (IBRC) Program. HPS is now thought of as a conventional material in Missouri and is routinely considered for steel girder bridges, notes Bryan Hartnagel of the Missouri Department of Transportation. "The material is now considered to be available for designers as a tool in their toolbox," says Hartnagel. He estimates that approximately 10 to 20 percent of the State's new steel bridges are using HPS. Evaluations of HPS projects completed to date show that the material not only offers better performance but is also saving Missouri money. Material savings for the State's first HPS structure, for example, were approximately 10 percent. "Although the HPS material is slightly more expensive than conventional steel, a designer can use less and therefore save overall on the material cost of the project," notes Hartnagel.
Ohio, meanwhile, spotlighted its success with accelerated or fast-track steel bridge projects at the conference. One of the Ohio Department of Transportation's (ODOT) first fast-track projects was the 2003 replacement and widening of a 45-year-old, six-span steel-girder bridge on State Route 22 in Pickaway County. The community had serious concerns about shutting down this vital route over the Scioto River for repair, as it is heavily traveled by the local trucking industry, school buses, fire and rescue vehicles, and trucks transporting grain from harvest fields to mills across the bridge. An additional concern was that no work or equipment was permitted within the Scioto River because of environmental issues. This made erection procedures more difficult, as the bridge had to be erected by working from a trestle for 96 m (315 ft) of the 109-m (360-ft) bridge span.
It was expected that the planned 30-km (19-mi) detour for motorists would be in place for up to 18 months. Instead, such fast-track features as using a design-build contract shortened the construction time to 50 days. Responding to public concerns, the work was scheduled between the time schools let out for the summer in June and the beginning of the fall harvest in August. James Swanson, assistant professor in the Department of Civil Engineering and Environmental Engineering at the University of Cincinnati, notes that "adopting the fast-track approach meant a change in ODOT's policies in response to cultural and community issues." Important changes included being open to using different contracting methods, instead of being limited to accepting the lowest bidder, and using innovative steel bridge construction methods, such as prefabricated materials.
The second span of the Norfolk Southern Railroad Truss Bridge prior to launch, and during launching.
The replacement and widening of a 45-year-old steel-girder bridge on State Route 22 in Pickaway County, Ohio, was accomplished in 50 days. The bridge had to be erected by working from a trestle for 96 m (315 ft) of the 109-m (360-ft) bridge span.
To accelerate the construction, steel stay-in-place forms were used, instead of traditional wooden forms that would have to be removed. Another innovation that saved time was the use of steel girders that were erected as simply supported and later made continuous for live load conditions by pouring integral concrete diaphragms over the intermediate supports. Contract terms containing incentives and disincentives of up to $50,000 a day were also used to encourage faster construction. The contractor completed the work 10 days ahead of schedule, despite heavy rain and flooding, and received a bonus of $500,000.
In addition, ODOT invested time in informing the community about the fast-track schedule. A project Web site, which included a Web camera at the construction site, kept residents up to date on the construction, for example, and presentations were made at community meetings. According to Carole Howell, ODOT project manager, feedback from the community has been positive since the project was completed. "Feedback has been especially favorable from the farming community, which had no interruptions to the harvest schedule and now enjoys a much needed widened roadway," notes Howell. In the end, says Howell, "fast tracking is the way to go. It's a safer, better way to go, and it can be done. I've seen it with my own eyes."
"Fast tracking is the way to go. It's a safer, better way to go, and it can be done. I've seen it with my own eyes."
Another accelerated project highlighted at the conference was the construction of the Norfolk Southern Railroad Truss Bridge over I-76 near Philadelphia, Pennsylvania. The bridge was completed in December 2002 after 1 year of construction. Two lanes of traffic were maintained in each direction on I-76 during construction. Fast-tracking features included launching the 740-ton second span of the bridge while stopping I-76 traffic for just 15 minutes at midnight on a weekend. Two motorized winches pulled the span into place while it was supported on four 330-ton rollers. Position stops aligned the truss ends of the span to pier fixed bearing points.
In addition to construction innovations, the use of A+B bidding and incentive/disincentive clauses in the project contract helped reduce the duration of the Norfolk Southern bridge construction and the need for traffic restrictions.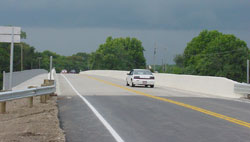 Motorists drive over the new State Route 22 bridge in Pickaway County, Ohio.
For more information on the 2004 FHWA Steel Bridge Conference, contact Vasant Mistry at FHWA, 202-366-4599 (fax: 202-366-3077; email: vasant.mistry@fhwa.dot.gov), or Atorod Azizinamini at the University of Nebraska-Lincoln, 402-472-5106 (fax: 402-472-6658; email: aazizi@unl.edu). To learn more about the State projects highlighted, see the contacts below.
Contacts
Missouri's Use of High-Performance Steel: Bryan Hartnagel, Missouri Department of Transportation, 573-751-0267 (fax: 573-526-5488; email: bryan.hartnagel@modot.mo.gov)
Ohio's Pickaway County Bridge: Carole Howell, Ohio Department of Transportation, 740-833-8261(email: Carole.Howell@dot.state.oh.us)
James Swanson, University of Cincinnati, 513-556-3774 (fax: 513-556-2599; email: James.Swanson@UC.Edu)
Pennsylvania's Norfolk Southern Railroad Truss Bridge: Bharat Patel, Gannett-Fleming, Inc., 610-650-8101(fax: 610-650-8190; email: bpatel@gfnet.com)
FHWA Prefabricated Bridge Systems Team: Vasant Mistry, FHWA, 202-366-4599 (fax: 202-366-3077; email: vasant.mistry@fhwa.dot.gov)