Publication Number: FHWA-HRT-05-024
Date: March 2005

Closing the Gaps: Making Work Zones Safer for the Visually Impaired
"Sidewalk closed." These familiar signs in urban work zones can be an inconvenience for all pedestrians, but present a particular challenge for people with visual disabilities if there are no detectable devices set up to alert them to and guide them around the work zone. As part of its goal to make work zones safer for all motorists, workers, and pedestrians, the Federal Highway Administration (FHWA) partnered with the American Traffic Safety Services Association and the U.S. Access Board to hold the first Pedestrian Accommodation and Delineation Devices Demonstration on September 22, 2004.
The demonstration was held outdoors in a simulated work zone walkway at FHWA's Turner-Fairbank Highway Research Center in McLean, Virginia. Eleven manufacturers displayed 19 different pedestrian guidance and channelizing devices. Instead of using cones or drums linked by tape, these interlocking devices (with features such as continuous detectable edging) have no gaps and clearly delineate or channelize the flow of pedestrian traffic around work zones. People with visual disabilities walked through the simulated work zone and evaluated the effectiveness of each of the channelizing devices. Also participating in the event were members of the U.S. Access Board, FHWA staff, and representatives from the American Association of State Highway and Transportation Officials, National Asphalt Pavement Association, Maryland State Highway Administration, Virginia Department of Transportation, and Pennsylvania Department of Transportation, among other organizations.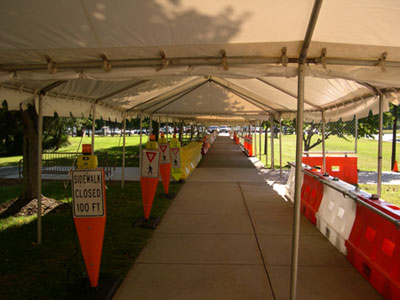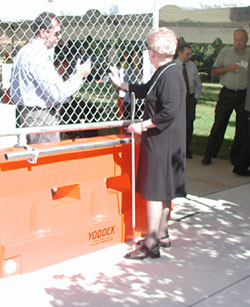 Top: The demonstration of pedestrian accommodation and delineation devices was held in a simulated work zone walkway at FHWA's Turner-Fairbank Highway Research Center in McLean, VA.
Bottom: One of the devices tested was a longitudinal barricade with an added fence.
Devices tested in the demonstration included longitudinal barricades; a motion-activated detour speech message light (i.e., a talking light); and specially modified plastic drums and barricades with interlocking connections. "The manufacturers were very happy to have the opportunity to observe the persons with visual impairments evaluate their devices for guidance and to receive comments directly from the participants. Most manufacturers were not aware of the features in their devices that needed to be improved to better assist these pedestrians as they travel through a work zone," says Guan Xu of FHWA's Office of Transportation Operations.
Among the suggestions made by participants were to make devices more stable and less prone to tipping, eliminate grooves on the edges of devices that canes could potentially get stuck in, and improve joints between interlocking sections to provide smoother connections for those using canes or their hands to follow the path. Some participants also suggested that the tones for any auditory message indicators should be distinct, so that they cannot be confused with pedestrian "walk" auditory message tones already in use.
The information gathered at the event will provide important input to the rulemaking for the Access Board's forthcoming Guidelines for Accessible Rights-of-Way, as well as future changes to the Manual on Uniform Traffic Control Devices.
For more information about the demonstration or pedestrian accommodation and delineation devices, contact Guan Xu at FHWA, 202-366-5892 (email: guan.xu@fhwa.dot.gov).