Publication Number: FHWA-HRT-05-030
Date: September 2005

Strategies and Success Stories: Conferences Spotlight Pavement Preservation and Asset Management
Two back-to-back conferences this fall will highlight best practices and advances in roadway pavement preservation and asset management. The conferences will be held October 31-November 3, 2005, in Kansas City, Missouri, with joint sessions on November 1.
The National Conference on Roadway Pavement Preservation (October 31-November 1, 2005) will look at all aspects of pavement preservation activities, including pavement management, pavement engineering, cost-effective strategies, long-term planning, and life-extending treatments. The conference is designed for planners, economists, and engineers. "In the past, there has sometimes been a divide between the planning and engineering sides of pavement preservation. We want to achieve the inherent synergy to be gained by joining these two approaches," says Larry Galehouse of the National Center for Pavement Preservation (NCPP). Sessions will address such topics as integrating pavement management systems into pavement preservation programs, improving roadway safety through a pavement preservation initiative, and proactively using pavement preservation strategies instead of traditional "worst first" maintenance approaches. The conference is sponsored by the Transportation Research Board Task Force on Roadway Pavement Preservation. For more information, contact Larry Galehouse at NCPP, 517-432-8820 (email: galehou3@msu.edu), or David Peshkin at Applied Pavement Technology, Inc., 630-434-9210 (email: dpeshkin@pavementsolutions.com).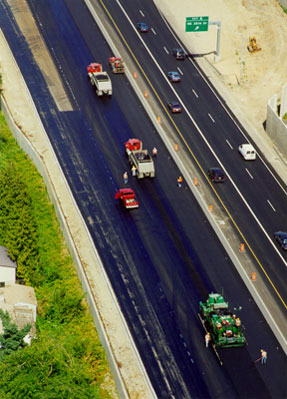 Pavement preservation and asset management will be the focus of two conferences this fall.
The pavement preservation event is followed by the Sixth National Conference on Transportation Asset Management (November 1-3, 2005), which features the theme, "Making Asset Management Work in Your Organization." The conference is sponsored by the Federal Highway Administration (FHWA), American Association of State Highway and Transportation Officials, Midwest Transportation Consortium, and the National Association of County Engineers. Session topics will include asset management resources and tools, establishing and using performance measures, and best practices in transportation asset management. FHWA will also offer several tutorial workshops at no extra cost on the Highway Economics Requirements System-State Version (HERS-ST) software program; life-cycle cost analysis; and a new Web-Based Benefit/Cost Analysis Tool developed by FHWA. Registration is required for the workshops.
For more information on the asset management conference, contact Francine Shaw-Whitson at FHWA, 202-366-8028 (email: francine.shaw-whitson@fhwa.dot.gov), or Katie Zimmerman at Applied Pavement Technology, Inc., 217-398-3977 (email: kzimmerman@pavementsolutions.com). Registration information and additional details on the conferences are available at gulliver.trb.org/conferences/Asset.