Publication Number: FHWA-HRT-06-028
Date: August 2006

New Help Desk: A One-Stop Source for Pavement Preservation Solutions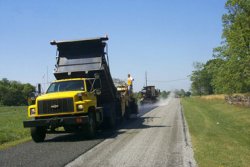 The TSP2 Help Desk offers information and resources on pavement preservation.
Help is now just a phone call away. The new Transportation System Preservation Technical Services Program (TSP2) hosted by the National Center for Pavement Preservation (NCPP) offers a Help Desk that State transportation departments can call or visit online for information and resources on pavement preservation. TSP2 is sponsored by the American Association of State Highway and Transportation Officials (AASHTO). "The program provides a clearinghouse for comprehensive, up-to-date information on effective preservation technologies that enhance pavement performance and extend its useful service life," says NCPP Director Larry Galehouse. "It is a one-stop source for technical, training, and outreach services."
"As States implement asset management, system preservation will become an increasingly important strategy that can be used to achieve a desired level of service and return on investment of the transportation dollar," says Steve Varnedoe of the North Carolina Department of Transportation (NDCOT). "Having this AASHTO-supported program will provide a valuable resource to the States."
The new TSP2 Web site (www.tsp2.org) features a System Preservation Technical Library, Bulletin Board System with a range of preservation-related topic discussion areas, email listservs where members can post or respond to questions and comments, preservation news archive, event calendar, and a Help Desk assistance request system. Assistance available through the Help Desk covers a wide range of preservation issues, including treatment technologies, asset management, best practices, certification, and network planning strategies. Access to much of the material on the Web site is restricted to State highway transportation personnel, Federal Highway Administration staff, and AASHTO members, who will be assigned a user name and password for the site. To obtain a user name and password, visit www.tsp2.org/register.php and fill out the user request form.
The TSP2 Help Desk offers personalized assistance on any system preservation-related issue. "The staff of the NCPP has extensive experience with a wide range of preservation technologies and best practices, asset management, and network evaluation," says Galehouse. To contact the Help Desk, call 517-432-8220 (fax: 517-432-8223; email: ncpp@egr.msu.edu). Feedback obtained from Help Desk customers will be used to develop outreach and educational materials for participating members.
"We aim to add more resources and continue to enhance the program as time goes on," says Galehouse.
NCPP staff are also available through the TSP2 program to present 1- to 2-day seminars for State transportation agencies on a variety of system preservation topics. Examples of available training seminars include:
Overview of preservation technologies and best practices.
Network evaluation and asset management techniques.
Integrating preservation into network strategy.
Sessions on specific preservation treatments.
Any AASHTO member can join the TSP2. Membership in the program costs $6,000 per agency per year. For more information on becoming a member, contact Ken Kobetsky at AASHTO, 202-624-5254 (email: kenk@aashto.org), or Steve Varnedoe at NCDOT, 919-733-7621 (email: svarnedoe@dot.state.nc.us).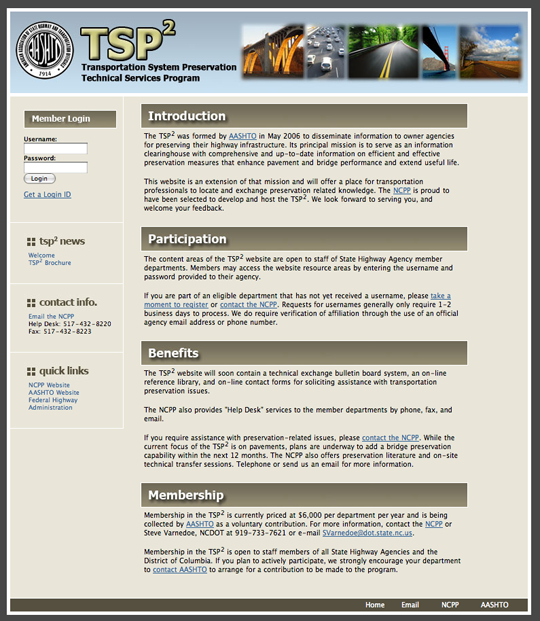 Visit TSP2 online at www.tsp2.org.