Publication Number: FHWA-HRT-06-028
Date: August 2006

Blast Design and Analysis for Highway Structures
To assist States in developing standards and methods for protecting structures from terrorist threats and enhancing the security of their critical assets, the Federal Highway Administration's (FHWA) Resource Center is offering a new 1.5-day workshop to train engineers in designing and analyzing highway structures to protect against the intense dynamic loads generated by bomb blasts.
Blast Design and Analysis for Highway Structures focuses on the fundamentals of explosion effects, how to determine blast loads on bridge structures and compute the structural response to blast loads, and the design and retrofit of structures to resist blast effects. The workshop's emphasis is on terrorist threats, including vehicle-borne improvised explosive devices and hand-emplaced improvised explosive devices. Currently available software and publications on blast effects and design guidance will also be discussed and demonstrated, with specific instructions provided for obtaining and using the featured software.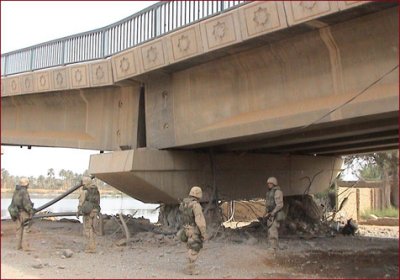 This photo shows a bridge in Iraq severely damaged by a relatively small amount of explosives placed in a terrorist attack.
"The workshop offers best practice guidance for increasing the security of critical structural assets"
"Engineers and team leaders who are responsible for designing, reviewing, or qualifying structures that could be subjected to security threats will benefit greatly from this training," says Waider Wong of the FHWA Resource Center. "It offers best practice guidance for increasing the security of critical structural assets."
A pilot session of the workshop was held for the New York State Department of Transportation's (NYSDOT) Central Bridge Design Office in Albany, New York, from May 10-11, 2006. "The training focused on blast theory and analysis methods and was very informative," notes George Christian, Director of NYSDOT's Office of Structures.
Additional sessions have been scheduled to date in New York City and South Carolina. Participants should have a general background in structural analysis and design and must be U.S. citizens.
For more information or to schedule this workshop in your State, contact Waider Wong at the FHWA Resource Center, 410-962-9252 (email: waider.wong@fhwa.dot.gov), or Steve Ernst in FHWA's Office of Bridge Technology, 202-366-4619 (email: steve.ernst@fhwa.dot.gov).