Publication Number: FHWA-HRT-07-009
Date: December 2006
Printable Version (.pdf, 0.3 mb)
Lifting the Graves Avenue Bridge to Success
Out with the old and in with the new. Instead of following the traditional script of closing a bridge to first demolish it and then build a new substructure and superstructure, the Florida Department of Transportation (FDOT) used prefabricated bridge elements and self-propelled modular transporters (SPMTs) to cut months off the project schedule for construction of the new Graves Avenue Bridge in Volusia County.
Using SPMTs, FDOT lifted the old Graves Avenue Bridge in Volusia County in January 2006 and in 22 minutes moved it to the side of I-4, where the old concrete bridge spans were demolished. SPMTs are multi-axle, computer controlled vehicles that can move in any horizontal direction, while maintaining their payload geometry and keeping equal axle loads. SPMTs also have vertical lift. The Graves Avenue project is the first time that the SPMT technique has been used in the United States to replace a bridge over an Interstate highway.
Two new concrete bridge spans were built alongside I-4, instead of over the Interstate, reducing the need for road closures and disruptions to traffic. The first 43-m (143-ft) long span was installed over the westbound lanes of I-4 on June 4, 2006, with the second span installed over the eastbound lanes on June 10. Weighing nearly 1,300 tons each, the completed bridge spans were lifted and moved using SPMTs. "This accelerated construction technique allowed us to build the bridge's substructure and superstructure at the same time," says Amy Scales, Resident Engineer for FDOT's District 5. "We saved about 4 months over the course of this bridge project, greatly reducing the impact to drivers." Instead of the weeks or months of lane closures and rolling roadblocks experienced with traditional bridge building techniques, FDOT detoured I-4 traffic for only 2 weekend nights and used rolling roadblocks during the overnight hours of 2 nonconsecutive nights. The new bridge opened to traffic on August 7.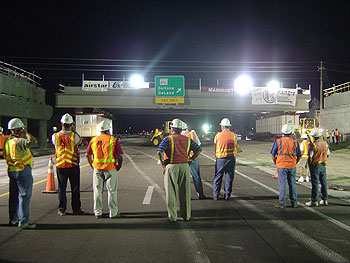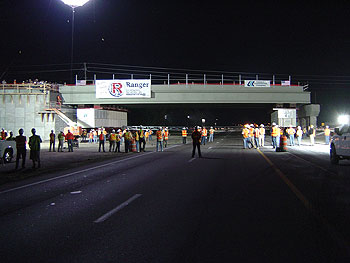 The new Graves Avenue Bridge is installed in Volusia County, FL, in June 2006. The prefabricated bridge spans were lifted and moved using self-propelled modular transporters.
FDOT and the Federal Highway Administration (FHWA) hosted a delegation of about 100 transportation officials from across the United States and Canada at a conference held June 9-11, 2006, in DeLand, Florida. Participants learned more about the use of SPMTs for bridge construction and observed the installation of the final span of the Graves Avenue Bridge. "The use of SPMTs provides an effective and efficient solution for bridge replacements on high-volume roads, significantly reducing traffic disruptions and increasing worker safety due to the reduced onsite construction time," says Benjamin Tang of FHWA's Office of Bridge Technology. While initial project costs can be higher, this can be offset by the reduced construction time and subsequent savings on personnel and traffic maintenance costs, as well as reductions in user costs. FDOT estimates that using the SPMTs cost an additional $560,000, but that the shorter construction schedule resulted in $3 million in user cost savings.
"The project went well and we would use SPMTs again. The technology is not for every project, but depending on the roadway, it can be worth it to speed up construction and get drivers back on the road sooner," says Scales.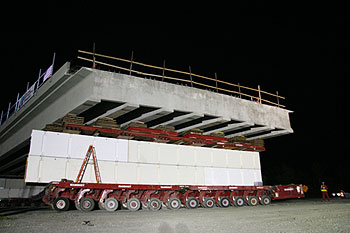 SPMTs are multi-axle computer controlled vehicles that can move in any horizontal direction and also have vertical lift.
To learn more about SPMTs and prefabricated bridge elements and systems, visit www.fhwa.dot.gov/bridge/prefab. The site includes a video clip from the I-4 bridge installation. Also featured is FHWA's Framework for Prefabricated Bridge Elements and Systems Decision-Making. This publication gives transportation departments and contractors a quick and simple tool to use in deciding on whether to use prefabrication for a particular bridge project (see March 2006 Focus). For more information, contact Benjamin Tang at FHWA, 202-366-4592 (email: benjamin.tang@fhwa.dot.gov). To learn more about the Graves Avenue Bridge replacement, contact Amy Scales at FDOT, 386-943-5729 (email: amy.scales@dot.state.fl.us).
The Rhode Island Department of Transportation (RIDOT) recently used SPMTs for the installation of its new Providence River Bridge. The bridge's superstructure was prefabricated at the former Quonset Point naval base a dozen miles away and transported using two barges to the bridge site. The transport went smoothly and the new bridge was set in place just 3 hours after leaving Quonset on August 28, 2006. SPMTs were used to load it onto the barges and to install it at the site.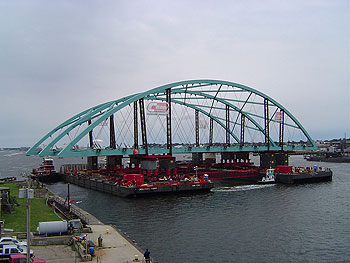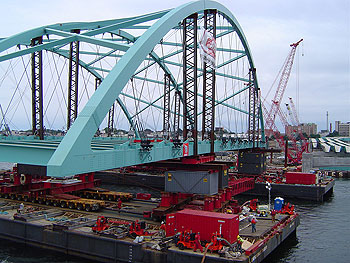 A showcase held in Rhode Island in August 2006 provided representatives from transportation agencies in New England an opportunity to learn more about the technology. Presentations were made by RIDOT; FHWA; the project contractor, Cardi Corporation; and Mammoet Corporation, the SPMT manufacturer. To view photos and a video of the Providence River Bridge move and installation, visit www.dot.state.ri.us/projects/construction/195PRBlift.htm. For more information on the Providence River Bridge, contact John McAvoy at FHWA, 401-528-4577 (email: john.mcavoy@fhwa.dot.gov).