Publication Number: FHWA-HRT-07-009
Date: December 2006
Printable Version (.pdf, 0.3 mb)
Checking Your Highway Network's Health
How healthy is your pavement network? Are you using your funds strategically to achieve the most value for your highway expenditures? How much will your system deteriorate if you defer preservation work?
A new brochure available from the Federal Highway Administration (FHWA) and the National Center for Pavement Preservation (NCPP) offers highway agencies guidance on strategically managing their entire pavement networks, asset needs, and available budgets. In the past, agencies allocated budgets and resources based on historic estimates of need and equitable distribution. A Quick Check of Your Highway Network Health (Publication No. FHWA-IF-07-006) provides a tool for highway agency managers to assess the needs of their pavement networks and determine the adequacy of their resource allocations. This tool generally uses information at hand or data generated by the agency's management systems.
The simple checkup tool examines the effect of current planned reconstruction, rehabilitation, and preservation work on pavement life and deterioration and provides agencies with information sufficient to either improve network condition or maintain the status quo by preventing further deterioration. For example, an agency would first evaluate reconstruction and rehabilitation work by examining the lane miles, design life, and lane-mile cost for each proposed project or planned strategy. Pavement preservation treatments would then be evaluated by examining the life extension offered by the treatment. These less costly treatments, including concrete joint resealing, thin hot-mix asphalt overlays, microsurfacing, chip seals, crack seals, and others can extend the life of roads in good condition. The agency can then decide how best to allocate funds among reconstruction, rehabilitation, and preservation to achieve the greatest improvement in its overall network condition.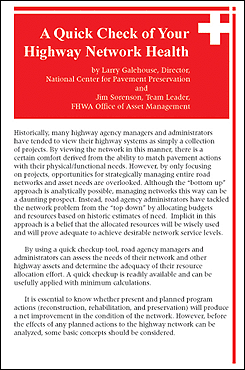 A Quick Check of Your Highway Network Health publication cover
"Integrating reconstruction, rehabilitation, and preservation in the proper proportions will substantially improve network conditions for the taxpayer while safeguarding the highway investment," says Larry Galehouse, Director of the NCPP. The checkup tool approach allows decisionmakers to see the effects of resource allocations on the health of their pavement networks. "It is about managing the system condition with the budgets provided or demonstrating the need for additional funds," says Jim Sorenson of FHWA's Office of Asset Management.
To obtain a copy of the brochure or for more information on the quick check-up tool, contact Joe Gregory at FHWA, 202-366-1557 (email: joseph.gregory@fhwa.dot.gov), or the National Center for Pavement Preservation at 517-432-8220 (email: ncpp@egr.msu.edu). Information is also available at www.pavementpreservation.org.