Publication Number: FHWA-HRT-06-022
Date: January/February 2006

On Track and On Time: Risk Management for Major Projects
From easing traffic congestion to improving safety and enhancing quality of life, major infrastructure projects bring numerous important benefits to cities and communities. They also present challenges to transportation agencies as they work to balance such project elements as budget, planning and design, right-of-way, construction management, environmental impacts, future operations and maintenance, and public relations. To minimize uncertainty and keep projects on track, on time, and within budget, an increasing number of States are using a risk management approach.
Risks for major projects can be minimized or avoided by analyzing and monitoring risk areas, developing avoidance or mitigation strategies, and establishing contingency plans. "Risk analysis determines where the high and low risk areas of a project are," says Tom Sorel, Division Administrator for the Federal Highway Administration's (FHWA) Minnesota Division office. "This helps you to determine where to put your focus and resources. Monitoring of risk areas over the course of the project is also important, as the focus may need to shift to lower risk areas later to ensure that they don't become high risk."
To determine high and low risk areas for a project, a transportation agency would look at the magnitude of a given risk (impact) and the probability of a risk occurring (likelihood). This allows agencies to maximize taxpayer dollars and direct limited resources to the areas that could adversely impact the project's cost, schedule, or final completion. A risk assessment for a major project will usually include such elements as financial management, design, structures, environment, safety, traffic operations, contract administration, construction management, right-of-way, security, and public relations. When assessing these elements, project managers have to consider both risks that can be identified by the project team and those that cannot be anticipated in advance, such as future budget cuts or a catastrophic event. While some risks can be avoided by changing the project plans or the way the project is performed, most will require a mitigation or risk response plan.
The Washington State Department of Transportation (WSDOT) has been a leader in identifying and quantifying potential risks that can impact a major transportation project's budget or schedule. In 2002, WSDOT developed the Cost Estimate Validation Process® (CEVP) to better manage major projects and communicate to the public identified project risks and their potential cost impacts. To conduct a CEVP review, WSDOT holds a workshop where the department's engineers partner with top engineers and risk managers from local and national firms and public agencies to examine a project and identify risks to its schedule and costs. Risk events can be classified as technical (i.e., geotechnical, structural, or environmental design considerations); nontechnical (i.e., right-of-way costs, regulatory concerns, or market conditions); or political (i.e., funding, legal challenges, or changes in project scope).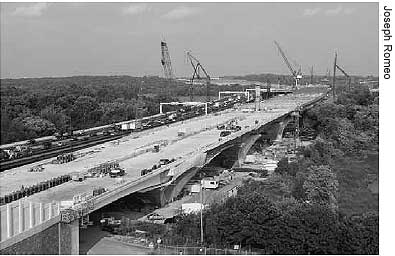 Risk management has been important in the construction of the new Woodrow Wilson Bridge outside of Washington, DC.
The CEVP team also evaluates how risks can be lowered and costs can be managed or reduced. "Using the CEVP, our goal is to deliver projects within the target cost range and schedule range," says Mark Gabel, Program Manager for WSDOT's Cost Risk Assessment Office. "The CEVP analysis is important in replacing general and vague planning for contingencies with deliberate planning for identified and quantified risk events." The CEVP is required for any project with an estimated cost of $100 million or more, while a Cost Risk Assessment (CRA) is required for all projects with an estimated cost of $25 million to $100 million. Other projects that could benefit from formal risk assessments are also identified for CRA or CEVP analysis.
WSDOT is using value engineering (VE) principles as well to identify high risk areas and recommend mitigation measures. For a project on I-90 in the Seattle area, for example, a VE team was formed after the CRA was completed to review and make recommendations on high risk and high cost project areas that had been identified. "This process ultimately reduced the project budget by $16 million," says Ken Smith, Deputy State Design Engineer for WSDOT.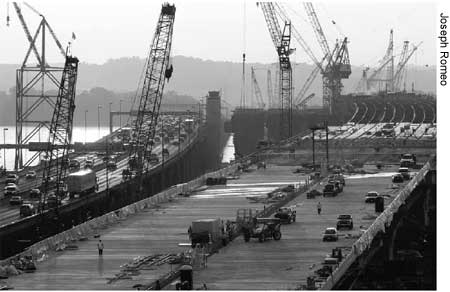 The new 12-lane Woodrow Wilson Bridge near Washington, DC, is scheduled to be completed in 2011.
Risk management has also been important in the construction of the new 12-lane Woodrow Wilson Bridge outside of Washington, DC. The $2.43-billion project will replace the existing six-lane bridge built in 1961, which now carries nearly three times its original intended traffic load, and upgrade four interchanges. Almost 200,000 vehicles cross the bridge daily.
In 2004, FHWA conducted a risk assessment as part of its oversight of the project, which is scheduled to be completed in 2011. Project elements reviewed included security, schedule, materials fabrication and availability, change orders, maintenance of traffic flow, work zone safety, utility conflicts and delays, environmental agreements, and the project acceptance process. Elements were classified as low, medium, and high risk. For example, low risk areas included acceptance procedures, while medium risk areas included utility conflicts and delays and change orders. High risk elements included project security, materials fabrication and availability, and project schedule. "The project team then reviewed project activities to determine where additional oversight would be required and what types of risk mitigation measures could be used to keep the project on track," says Jitesh Parikh, major project oversight manager in FHWA's Maryland Division office. To help mitigate security risks, for example, parking has been prohibited in Jones Point Park, which lies underneath the new bridge. An emergency response plan has also been introduced that is tied to the U.S. Department of Homeland Security's threat levels. If threat levels rise, such security measures as conducting ID checks of workers would be instituted.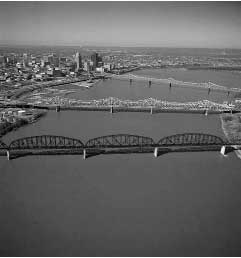 As part of the Ohio River Bridges Project, a new bridge will be built connecting downtown Louisville, Kentucky, on the left, and southern Indiana. Existing bridges to the downtown area are shown here.
A risk assessment performed on the cost estimate for the Ohio River Bridges Project, meanwhile, has helped to keep the project on track. Two new bridges will be constructed, connecting Louisville, Kentucky, and Clark County, Indiana, and a key interchange will be rebuilt where I-64, I-65, and I-71 meet in downtown Louisville. Construction is expected to begin in 2007 and be completed in 2020. In 2003, FHWA partnered with the Kentucky Transportation Cabinet and the Indiana Department of Transportation to analyze the initial project cost estimate and recommend any needed changes. Risk factors that could affect the estimate were identified and ranked. "We looked at areas of risk that could change and also at contingencies that had been included, and adjusted the contingencies based on the perceived risk," says Larry Heil, then-Project Management Team Leader in FHWA's Indiana Division office. For example, traffic maintenance costs were increased based on the complexity of the project area, and right-of-way costs were also adjusted after examining more current evaluations. While the estimated project budget rose from $1.7 billion to $1.94 billion, the new estimate ultimately provided a more realistic picture of project costs and needed contingency plans.
To learn more about risk management for major projects, contact Jim Sinnette at FHWA, 202-366-0479. For more information on WSDOT's risk management strategies, visit www.wsdot.wa.gov/Projects/Projectmgmt/RiskAssessment.htm.