Publication Number: FHWA-HRT-06-027
Date: July 2006

FHWA To Host Life-Cycle Cost Analysis Peer Exchange
The Federal Highway Administration (FHWA) will host a peer exchange on life-cycle cost analysis (LCCA) in early November in Kansas City, Missouri. As transportation agencies are faced with reduced funding streams, many agencies are now investigating economic tools that will help them choose the most cost-effective project alternatives. LCCA is a tool available to assist transportation agencies in assessing their investment choices.
The peer exchange workshop will provide practitioners with a venue to share their ideas and experiences and discuss issues associated with using LCCA for highway assets. FHWA's LCCA software will also be demonstrated at the meeting. State design and financial personnel who are interested in attending the peer exchange and reporting on their successes and challenges in using LCCA should contact Nathaniel Coley in FHWA's Office of Asset Management, 202-366-2171 (fax: 202-366-9981; email: nathaniel.coley@fhwa.dot.gov). FHWA will announce final details on the peer exchange later this summer.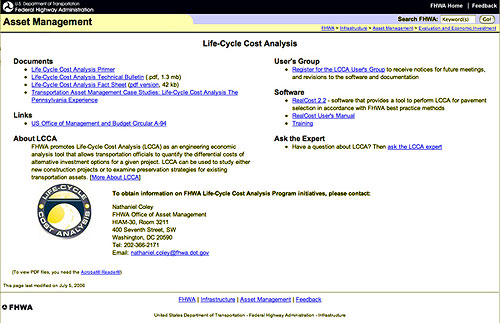 More information on life-cycle cost analysis is available online at www.fhwa.dot.gov/infrastructure/asstmgmt/lcca.htm.