Publication Number: FHWA-HRT-06-026
Date: June 2006

New SAFETEA-LU Initiatives Address Today's Transportation Challenges
What can SAFETEA-LU do for you? The 2005 Safe, Accountable, Flexible, Efficient Transportation Equity Act: A Legacy for Users (SAFETEA-LU) features a range of initiatives designed to maintain and enhance the Nation's transportation infrastructure and address today's transportation challenges, including improving roadway safety and quality and reducing traffic congestion. The following are among the new Federal Highway Administration (FHWA) programs being launched under SAFETEA-LU. As these programs develop, Focus will continue to provide regular updates and information.
Long-Term Bridge Performance (LTBP) Program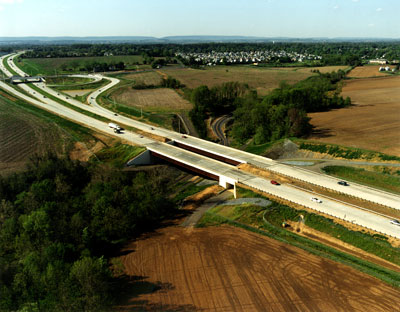 New programs under SAFETEA-LU focus on improving the safety and quality of the Nation's roads and bridges.
FHWA's Office of Infrastructure Research and Development is introducing the LTBP program, a research initiative modeled in part on the Long-Term Pavement Performance program. The planned 20-year program will conduct detailed inspections and evaluations of a representative sample of bridges throughout the United States to monitor and measure their long-term performance. These bridges will represent many structural types and materials and a variety of conditions, exposures, and locations. Data will be collected on deterioration, corrosion, and other types of degradation; structural impacts from overloads; and the effectiveness of various maintenance and improvement strategies. Depending on funding availability over the life of the program, FHWA may also instrument bridges to obtain continuous performance data and conduct detailed forensic autopsies on structures decommissioned by State transportation departments. The resulting LTBP database is expected to provide high-quality, quantitative performance data for highway bridges that will support improved designs and predictive models and better bridge management systems.
SAFETEA-LU features a range of initiatives designed to maintain and enhance the Nation's transportation infrastructure and address today's transportation challenges.
FHWA will conduct workshops this year to introduce the initiative to State departments of transportation and others. In addition, an international technology scanning tour on bridge inspection and monitoring approaches and technologies is planned for early fall 2006. The tour is modeled on the FHWA and American Association of State Highway and Transportation Officials' International Scanning Program. For more information on the LTBP program, contact Hamid Ghasemi at FHWA, 202-493-3042 (email: hamid.ghasemi@fhwa.dot.gov).
Innovative Pavement Research and Deployment Program
This program will promote, demonstrate, support, and document the application of innovative pavement technologies and practices, including long-life pavements, accelerated construction, recycled materials, and the deployment of nondestructive test methods. FHWA's Office of Pavement Technology and Office of Infrastructure Research and Development are now conducting outreach to State transportation departments, industry, and academia to obtain their input and participation in the program. This outreach includes forming expert task groups that will provide technical input in the areas of concrete and asphalt. FHWA is also working with the Transportation Research Board to form a pavement stakeholder technology committee that will provide overall strategic direction for the program. For more information, contact John Bukowski at FHWA, 202-366-1287 (email: john.bukowski@fhwa.dot.gov).
Highways for LIFE (HfL)
The new HfL program is dedicated to bringing a higher level of innovation and technology to improving the Nation's roadways. Its goals are to increase safety and highway quality, while reducing congestion caused by construction. The program will include demonstration construction projects, technology transfer, technology partnerships, information dissemination, and monitoring and evaluation.
The Highways for LIFE program's goals are to increasesafety and highway quality, while reducing congestion caused by construction.
A Federal Register notice announcing the HfL program was published in late December 2005. After comments on the program were reviewed, a revised Federal Register notice was published on May 25, 2006(to view the notice, visit www.fhwa.dot.gov/hfl and click on "Federal Register Notice"). FHWA is now soliciting grant applications for HfL demonstration construction projects for fiscal years (FY) 2006 and 2007. A State transportation department can apply for HfL funding for a highway project if the project constructs, reconstructs, or rehabilitates a route or connection on an eligible Federal-aid highway and uses innovative technologies, manufacturing processes, financing, or contracting methods that meet performance goals for safety, congestion, and quality. Additional consideration will be given to projects that propose to use performance contracting to achieve the HfL performance goals. The HfL funding allocated for a project may be up to 20 percent, but not more than $5 million, of the total project cost.
Project applications must be submitted online at www.Grants.gov. FY 2006 applications are due by August 30, 2006, with FY 2007 applications to be submitted by November 30, 2006. State departments of transportation should coordinate with their FHWA division office to submit an application. For more information, contact your local FHWA division office. For additional information about HfL, contact Mary Huie at FHWA, 202-366-3039 (email: mary.huie@fhwa.dot.gov), or Byron Lord at FHWA, 202-366-1325 (email: byron.lord@fhwa.dot.gov). Information is also available on the HfL Web site at www.fhwa.dot.gov/hfl. Visitors to the site can join the HfL Community, an online forum for asking questions and exchanging information and ideas about the HfL program and innovative approaches to building highways.