Publication Number: FHWA-HRT-06-023
Date: March 2006

Prefabricated Bridge Systems: A Decisionmaking Tool
Is it time for you to go prefab? The use of prefabricated bridge elements and systems, ranging from superstructures or substructures to totally prefabricated bridges, offers faster and safer bridge construction and better quality. Depending on the specific project, construction costs can also be comparable to or lower than conventional construction. Prefabricated bridge systems are manufactured offsite at a prefabrication plant or adjacent to the project site by the contractor, under controlled conditions, and brought to the bridge location ready to install. Building in a controlled environment reduces weather-related delays and enhances constructibility, while also reducing traffic congestion and improving work zone safety. Now the Federal Highway Administration's (FHWA) new Framework for Prefabricated Bridge Elements and Systems Decision-Making gives transportation departments and contractors a quick and simple tool to use in deciding on whether to use prefabrication for a particular bridge project.
"The framework helps in answering the questions, "Is prefabrication the best solution for this project? Will it be a good long-lasting solution?,'" says Mary Lou Ralls of Ralls Newman, LLC.
The framework concisely presents issues that should be considered when making a decision on using prefabrication. It is offered in three formats for users: a one-page flow chart, a one-page matrix, and a more detailed question-and-discussion format. The flow chart takes the user through a series of questions about different factors of the bridge project, such as "High traffic volumes?," "Emergency replacement?," "Worker safety a concern?," and "Environmentally sensitive site?" The matrix lists these and other questions in more detail, while the question-and-discussion format presents an indepth evaluation of the use of prefabrication. The three different formats are designed to accommodate the different responsibilities of potential users.
"A State Bridge Engineer or Chief Engineer making the initial decision of whether to use prefabrication may prefer the flow chart or matrix, while the bridge design engineer and project manager may want to review the more detailed question-and-discussion section for consideration of the many issues that may impact the technical details of the project," says Benjamin Tang of FHWA.
State champions in the use of prefabricated bridges to accelerate bridge project delivery include New Jersey, New York, Texas, Utah, and Washington State. Utah has been working on institutionalizing the practice and is enjoying great success. "The impetus for using prefabricated bridges came from hearing a presentation on the technology at the 2001 Transportation Research Board Annual Meeting," says Jim McMinimee, Project Development Director for the Utah Department of Transportation (UDOT). Since then, UDOT has used prefabricated bridge technology on a rural section of I-80 near Coalville and on I-215 in Salt Lake City. The I-80 project was a rapid deck replacement, while the I-215 project involved a deck replacement on one bridge and the whole bridge replacement of another structure. The I-80 deck replacement was accomplished in 7 days, versus the original estimate of 30 days. "The project on I-215 was also completed quicker, with improved quality and less disruption to traffic," says McMinimee.
UDOT is now using a "Decision Tree" adapted from FHWA's new framework to make decisions on when to use prefabricated bridge systems. Among the lessons learned on the projects to date is the need to familiarize contractors and other industry personnel with the process, involve contractors and prefabricators in the design process, and consider construction issues, such as staging areas needed, work hours required, and contingency plans. "It is also important to educate staff internally. You need champions in your agency for this technology," says McMinimee.
From a contractor's perspective, notes William Duguay of Traylor Bros, Inc., using prefabricated bridge systems lowers the risk of such factors as weather delays, site constraints, and worker exposure to traffic. It is important, however, that project goals be effectively communicated and the work clearly defined. "As the technology is more widely implemented, repeatability of designs and elements will also have an important impact on continuing to lower costs," says Duguay.
The decisionmaking framework and other information on prefabricated bridge elements and systems are available online at https://www.fhwa.dot.gov/bridge/prefab/index.htm. For more information, contact Benjamin Tang at FHWA, 202-366-4592 (email: benjamin.tang@fhwa.dot.gov). To learn more about Utah's prefabricated bridge projects, contact Jim McMinimee at UDOT, 801-965-4022 (email: jmcminimee@utah.gov).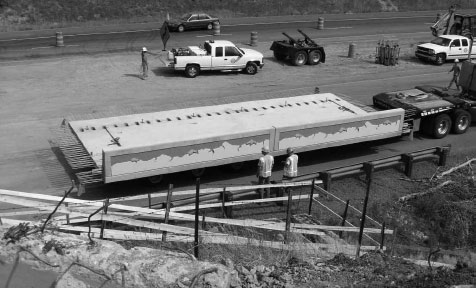 Photo 1. Prefabricated concrete deck panels are transported for the Utah Department of Transportation's rapid deck replacement project on I-80.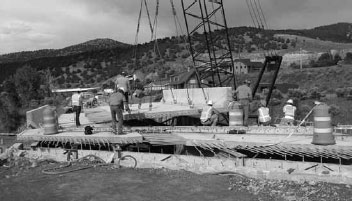 Photo 2. The prefabricated concrete deck panels are placed.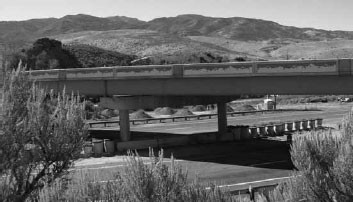 Photo 3. A view of the completed bridge on I-80.