Publication Number: FHWA-HRT-06-025
Date: May 2006

Save Time and Money with Two-Coat Painting Systems for Steel Bridges
Paint steel bridges faster and more cost-effectively using fast-dry two-coat systems. Traditionally, zinc-rich epoxy/polyurethane systems that require three coats have been considered the best coating systems for protecting steel bridges from corrosion. However, applying three coats, including the spraying and drying time for each coat, is time consuming. The new two-coat system consists of a zinc-rich primer with a topcoat of fast-dry polyaspartics, polyurethane, and polysiloxane. "This is an attractive coating system for protecting steel bridges since the intermediate layer is eliminated," says Shuang-Ling Chong of the Federal Highway Administration (FHWA). Using the two-coat system saves time, decreases overall labor and material costs, and minimizes the impact of lane closures on the traveling public.
FHWA compared the performance of the two-coat systems with the conventional three-coat systems using both a 5,000-hour accelerated laboratory test at its Turner-Fairbank Highway Research Center in McLean, Virginia, and a 2-year test of outdoor exposure in a marine environment in New Jersey. "The test results showed comparable good performance of four recently formulated two-coat zinc-rich systems on a steel surface compared to three three-coat zinc-rich systems," says Chong. No surface failures were seen for either system. A small amount of rust creepage was exhibited where an intentional scribe or scratch had been made on the test panels. The scribe represents the worst scenario of defects in paint films and at the edges and corners of steel structure members. Both the two-coat and three-coat systems exhibited similar low levels of rust creepage, demonstrating their comparable performance. "The excellent performance of the two-coat systems suggests that they can be used to protect steel bridges as well as three-coat systems," says Chong. Based on the study, interchanging use of different vendor's products is not recommended for two-coat painting, due to the risk of surface failures.
For new steel bridges, FHWA recommends that the two-coat system be applied in a fabrication shop. The controlled conditions of shop painting will eliminate salt contamination and aid in proper curing and drying of each coat, ensuring good durability. When repainting existing bridges, use of a rapid deployment strategy is recommended. Rapid deployment is primarily designed for use on highway overpasses where the structural steel is easily accessible from the roadway below using a mobile work platform. This mobile work unit includes a containment device, dust collector, and blast equipment. Using the two-coat systems, painting jobs on overpasses can often be completed overnight. This compares to a minimum of 24 hours for traditional painting.
"The excellent performance of the two-coat systems suggests that they can be used to protect steel bridges as well as three-coat systems."
The Connecticut Department of Transportation (ConnDOT) has used the rapid deployment two-coat system to paint five steel bridges to date. These structures have primarily been overpasses and bridges on limited access highways. At a bridge on I-84 in Danbury, ConnDOT painted one side of the bridge using a two-coat system and the other side using a three-coat system to compare the impact on the contractor's time and cost. "It is cheaper to use the two-coat system but the biggest difference was the minimal interference with traffic," says Brian Castler of ConnDOT. "Ninety-nine percent of the work is done at night and the two-coat system cuts significantly the length of time a lane needs to be closed, greatly lessening the total impact on the traveling public." ConnDOT's contractor has suggested refinements to the rapid deployment system, including coming back and applying the second coat of paint separately, sometimes on the same night and sometimes on the next night, to save time on having to switch equipment. While time savings vary by project, Castler estimates that on average the length of a project can be cut by 25 to 30 percent using rapid deployment. Several bridges that ConnDOT has painted using the two-coat rapid deployment system have now weathered two winters and are performing satisfactorily.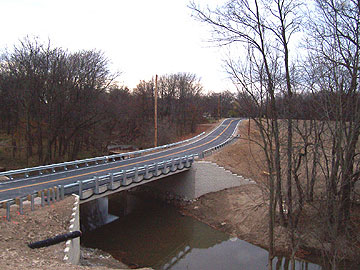 The finished bridge over I-84 in Danbury, CT, after the Connecticut Department of Transportation repainted it using the two-coat rapid deployment system.
Other States that have used rapid deployment for steel bridge painting include Kentucky, Ohio, Maryland, New York, and Pennsylvania.
For more information on two-coat painting systems for steel bridges, contact Shuang-Ling Chong at FHWA, 202-493-3081 (email: shuang-ling.chong@fhwa.dot.gov). For more information on ConnDOT's use of the rapid deployment system, contact Brian Castler at ConnDOT, 860-594-2201 (email: l.brian.castler@po.state.ct.us).]