Publication Number: FHWA-HRT-06-025
Date: May 2006

Excellence in Utility Relocation and Accommodation 2006
The Federal Highway Administration's (FHWA) inaugural 2006 Excellence in Utility Relocation and Accommodation Awards Program honors the best in utility innovations nationwide. The awards recognize those that excel in improving the utility relocation and accommodation process while protecting the rights of property owners and other stakeholders. Awards are given for the categories of Innovation, Leadership, Relocation, and Subsurface Utility Engineering (SUE). Each category recognizes projects costing $100 million or less and projects costing over $100 million. Award winners were announced at the American Association of State Highway and Transportation Officials' Right-of-Way and Utilities Subcommittee Meeting on May 1, 2006, in Baltimore, Maryland. For more information about the awards program, contact Donald Jackson in FHWA's Office of Program Administration, 202-366-4630 (email: donald.jackson@fhwa.dot.gov).
Excellence Award Winners-Projects Over $100 Million
Leadership I-595, Fort Lauderdale, FL, Florida Department of Transportation (FDOT)
FDOT assembled a multidisciplinary team of its own personnel and consultants to address the alignment, right-of-way, and utility issues for improvements to be made along the I-595 corridor. Team members provided expertise in areas such as utility engineering, right-of-way, planning, environmental management, structures, design, drainage, and surveying. The team also used value engineering methods to cut costs and keepthe project on track.
Contact: Howard Webb at FDOT, 954-777-4439 (email: howard.webb@dot.state.fl.us).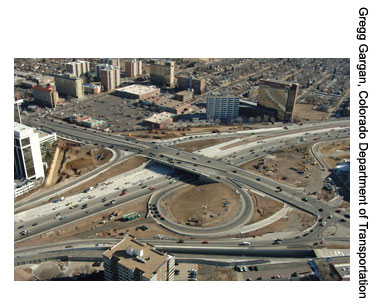 Looking east from I-205 along Sunnyside Road in Clackamas County, OR, after construction.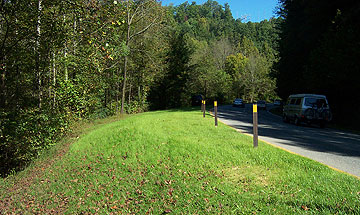 An aerial view of the Marquette Interchange in Milwaukee, WI.
Innovation and SUE
Transportation Expansion (T-REX) Project, Denver, Colorado, Colorado Department of Transportation (CDOT)
The multimodal T-REX project is improving 27 km (17 mi) of highway and adding 30 km (19 mi) of light rail in the metropolitan Denver area. It is the largest design-build project in the country and the first design-build initiative to encompass both highway and transit elements. During project planning, a T-REX utility task force met regularly to foster partnering and share information and ideas. Task force members included representatives from CDOT, the Regional Transportation District, and utility companies. A major accomplishment of the task force was obtaining input and buy in from utility companies on legislation establishing CDOT's utility relocation and accommodation program for design-build projects. Passed in 2000, the new legislation requires a project-specific utility relocation agreement for each utility company on design-build projects. This has led to a new level of cooperation and coordination among CDOT, utility companies, and the project contractor.
Contact: Kevin Custy at CDOT, 303-357-8583 (email: custykt@trexproject.com).
Relocation
Clybourn Street Advanced Contract (CLAC), Milwaukee, Wisconsin, City of Milwaukee
The $810 million Marquette Interchange Reconstruction project is located at the heart of downtown Milwaukee, Wisconsin. This junction of three Interstate highways is severely over traffic capacity and greatly deteriorated. To help meet the accelerated 4-year construction schedule, CLAC was set up to speed the relocation of the adjacent Tory Hill roadway and its numerous complex utility lines, including water, gas, steam, and electric lines; critical communications links to city police and fire departments; and cross-country fiber networks. CLAC's $10 million budget for utility relocation and coordination played a vital role in finishing the project on time and within budget.
Contact: Jeffery Mantes, City of Milwaukee, 414-286-3300 (email: mlindh@mpw.net).
Excellence Award Winners-Projects Under $100 Million
Leadership
Sunnyside Road Improvement Project, Clackamas County, Oregon, Clackamas County Department of Transportation and Development (DTD)
This $80 million reconstruction of a major arterial roadway is the largest road project ever undertaken in Clackamas County. The project affected numerous utilities, as Sunnyside Road serves as the main east-west utility location for the majority of utility providers in the area. The county held a utility summit early during the project development process, giving utilities early input on property requirements, scheduling impacts, and other construction issues. Utilities also provided comments and input during the design phase, and weekly meetings were held with them once construction started. This early coordination and regular communication has helped to build effective working relationships and facilitate completion of the project.
Contact: Jody Yates at Clackamas County DTD, 503-353-4658 (email: JodyYat@co.clackamas.or.us).
Innovation
Minnesota Department of Transportation and Development (Mn/DOT) Utility Manual Accommodation Policy Rewrite and Training Delivery Project, Mn/DOT
Unexpected utility issues that occur late in a transportation project's design or construction phases can result in extra cost, time, and effort. Mn/DOT collaborated with TBE Group, Inc., the University of Minnesota's Center for Transportation Studies, and communications consultant Darlene Gorrill to develop a new utility coordination process that promotes communication and strengthens partnerships. The new 15-step process aims to minimize project delays, construction costs, and contractor claims, while maximizing the number of necessary utility relocations that can be accomplished before construction begins. Mn/DOT expects to use the new process on all of its projects by the spring of 2007.
Contact: Marilyn Remer at Mn/DOT, 651-296-7018 (email: marilyn.remer@dot.state.mn.us).
Relocation
Route 21 Project, Newark, New Jersey, New Jersey Department of Transportation (NJDOT)
To meet the project's aggressive design and construction schedule and reduce utility-related delays, the NJDOT implemented four new innovative procedures. These procedures included a "test excavation" process used to identify subsurface objects and minimize delays resulting from encountering unknown obstructions during utility installations. This was a major concern due to the project's dense urban location. Another new procedure allowed the NJDOT contractor, with the concurrence of New Jersey's Public Service Electric and Gas Company (PSEG) and using a PSEG-approved subcontractor, to construct electrical conduits and manholes and gas mains in order to simplify utility coordination.
Contact: Lawrence Vogel at NJDOT, 609-530-5529 (email: Lawrence.Vogel@dot.state.nj.us).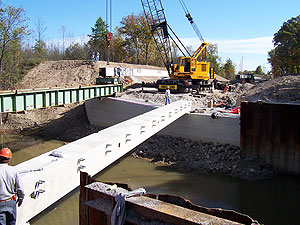 A joint trench with vaults for power and fiber optic lines relocation in Clackamas County, OR.
SUE
GIS-Based Inventory of Utilities, Houston, Texas, Texas Department of Transportation (TxDOT)
In recent years, the use of technologies such as geographic information systems (GIS), computer-aided design, and high-precision global positioning systems to manage utility installations has been on the rise. However, most utility data modeling efforts currently in place are specific to different utility industries, making it more difficult for transportation departments to integrate data and manage all utilities within a project's right-of-way. To address these issues, TxDOT has sponsored research at the Texas Transportation Institute (TTI) to develop a GIS-based utility inventory model that enables the capture and management of utility feature data and accommodates a variety of business processes, including utility inspection and permitting. TTI researchers are now testing the utility inventory model using data from the Katy Freeway Reconstruction project in Houston.
Contact: Jesse Cooper at TxDOT, 512-416-2874 (email: jcoope2@dot.state.tx.us).