Publication Number: FHWA-HRT-06-025
Date: May 2006

New NHI Course Promotes Effective Use of Maintenance Management Systems
Faced with the challenges of improving services and meeting increasing customer expectations with limited funding, transportation departments are turning to enhanced maintenance management systems (MMS) to better manage routine highway maintenance and operations. "An MMS provides managers with the business processes, management tools, and technologies to maintain a safe and efficient transportation system over the life of the highway," says Celso Gatchalian of the Federal Highway Administration's (FHWA) Office of Asset Management. To promote the effective use of an MMS, FHWA's National Highway Institute (NHI) is offering a new 2.5-day course, Principles and Practices for Enhanced Maintenance Management Systems (Course No. FHWA-NHI-131107). The course was developed in cooperation with the American Association of State Highway and Transportation Officials' (AASHTO) Highway Subcommittee on Maintenance.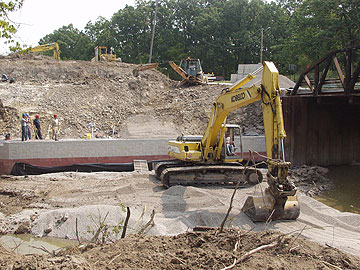 Transportation departments are using enhanced maintenance management systems to better manage routine highway maintenance and operations.
The course features lectures, discussions, and interactive hands-on exercises. One of the primary course reference materials is the new AASHTO Guidelines for Maintenance Management Systems. Using the guidelines, the course looks at how an enhanced MMS for highways can be used to plan, budget, schedule, and report on maintenance work. Participants will learn:
The meaning of performance-based budgeting and how to connect an MMS to agency goals and mission statements.
The value of data, including how to analyze data, identify the gaps, and then proceed according to MMS data requirements. The course also helps participants decide what level of investment is required to meet their data collection and analysis needs.
To describe how highway service levels support the programming and budgeting activities incorporated into an MMS, and how to apply a monetary value to current highway condition data for presentation to financial directors, senior managers, and legislators.
Details on new technologies that can assist in data collection.
How to develop strategies for resource management, so that available resources are used efficiently during peak and off-peak periods. For example, should staff be supplemented with part-time, contract, or temporary help?
How an MMS can interface with other agency management systems such as financial, bridge information, safety, and environmental management systems to share data and reduce redundant data collection, storage, and processing costs.
The Utah Department of Transportation (UDOT) hosted the pilot for the course in October 2005. "The course provided direction to us as we develop and refine our own MMS program. We got some answers to questions we had, so it was a validating process for where we are going with our system," says Richard Clarke, UDOT's Engineer for Maintenance. Lloyd Neeley, Deputy Engineer for Maintenance at UDOT, notes that the course's emphasis on the need to develop performance measures was valuable. "We were impressed with the focus on outcomes versus outputs," says Neeley. "That's what the public is interested in."
The target audience for the course includes State and local maintenance engineers, maintenance supervisors, asset managers, and their industry counterparts. The course is specifically designed for individuals responsible for directing and managing maintenance operations and budgets, maintenance project and treatment selection, and the monitoring of system conditions.
For more information on the course, contact your local FHWA division office or Celso Gatchalian at FHWA, 202-366-1342 (email: celso.gatchalian@fhwa.dot.gov). To schedule the course, contact the NHI Training Team at 703-235-0534 (email: nhitraining@fhwa.dot.gov).